What's On? Byron Bay New Year's Eve 2019

For a perfect end to 2019 and great start to 2020, we suggest coming to Byron Bay for New Year's Eve! Whether you are down for a beach party, festival, or fine dining you will find it here.
We've collected the best Byron Bay New Year's events in one place so you don't have to spend time searching for them. 
Let's see what's on offer in Byron Bay for NYE celebrations!

Byron Bay NYE Parties
1.'Soul Street 2019′ Byron Bay New Year's Eve, 4 pm – midnight

Image Source: Soul Street 2019
Byron Shire Council's unique New Year's Eve street party, Soul Street, will be open for everyone from 4pm – midnight. Located in the heart of the town, Johnson Street will transform into a whole new world of live and local entertainment. 
There will be artisan stalls, food vendors, fire twirlers, circus performers, and multiple interesting children/s activities. Sounds like a lot of fun, right?  If you are interested in a community-driven, safe, and alcohol-free event, this is the Byron Bay New Year's event for you!
2. Falls Festival, 31 Dec '19 – 2 Jan '20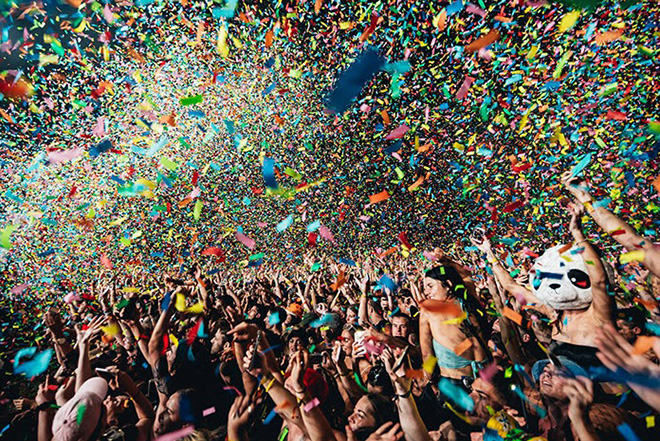 Image source: Falls Fest
Falls Music & Arts Festival is a quite unusual festival experience that ensures a fun start to the new year. It is an amazing multi-day experience, a mixture of multiple art forms, such as dance, music performances, comedy, theatre, circus and cabaret. 
Party from dusk till dawn at this Byron Bay New Year's Eve event that features Halsey (only Aus show), Peking Duck, Vampire Weekend, Disclosure, Playboi Carti, Tash Sultana, PNAU, Of Monsters and Men, Lewis Capaldi, Milky Chance, John Farnham, Banks (only Aus show) and many more…
You can find tickets on their website fallsfestival.com/byron-bay so you can get onto planning your Byron Bay NYE!
3. Byron Bay NYE with Claptone, Rebūke and others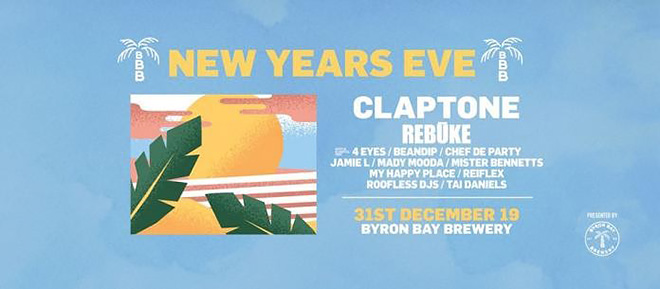 Image Source: Byron Bay Brewery 
Byron Bay Brewery has prepared something special for your Byron Bay New Year's Eve! It has managed to bring headline international music acts Claptone and Rebuke to Byron Bay so you can have a great time! There is also a huge lineup of electronic artists that will be performing on two stages and it will last from  2pm – 2am. If you like electro acts make sure not to miss the countdown at this Byron Bay New Year's event! 
Only tickets accepted will be those purchased through Oztix and guests must be 18+.
4. Funk Soul Disco Byron Bay NYE Party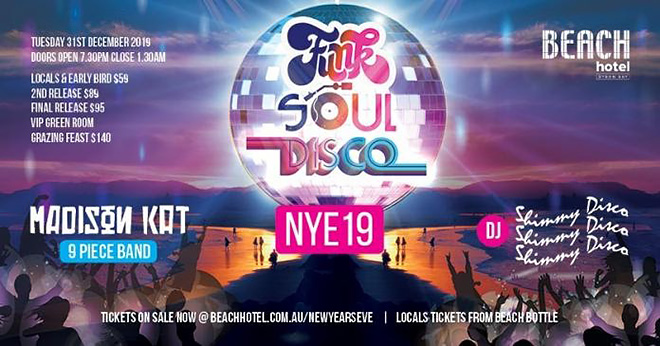 Image Source: Beach Hotel
Groove into the new year at the Funk Soul Disco beach party! This Byron Bay New Year's event promises to be a high-quality event with a great DJ line up featuring big names such as: DJ  Madison Kat and Shimmy Disco. Again, tickets for this event are available at Oztix.
5. Cosmo Ritmo x Locura Byron Bay NYE: Cut Copy DJs & Jono Ma (Jagwar Ma)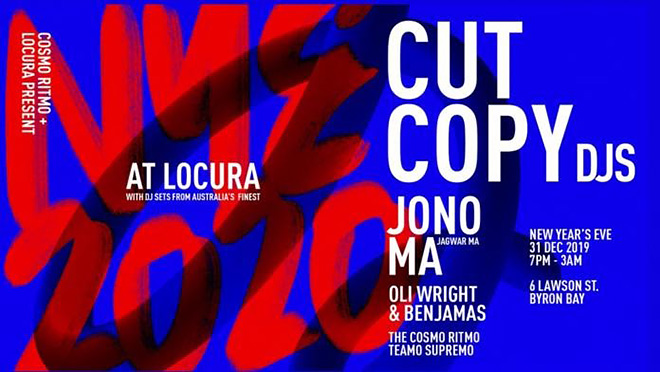 Image Source: Cosmo Ritmo + Locura
Beach club Locura guarantees a memorable Byron Bay New Year's Eve! They will host the Australian Dance legend Cut Copy who will get the crowd partying hard.  
The night wouldn't be complete without Jono -Jagwar- Ma, the mind behind the internationally recognised dance group Jagwar Ma. The party starts at 7 pm and lasts until 3 am. Before 9 you get a free drink on entry.
Buy your tickets here.
6. Casablanca New Years Eve 2020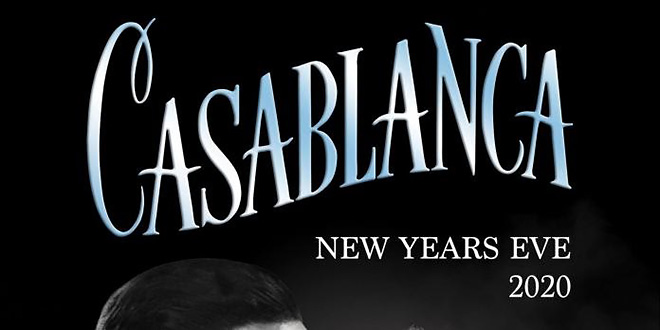 Image Source: Casablanca
The Mez Club is planning on cheering in the New Year in style with a Casablanca themed party. At midnight everyone will raise their champagne glasses while enjoying the dance worthy tunes DJ will play until late. From 8 pm to midnight you can enjoy an open bar that includes the finest wines, beers and canapés. 
Book your tickets online.
Best Byron Bay New Year's Eve Dinner Specials
If you just want to do dinner in Byron Bay for NYE we've got some suggestions for that too:

Byron Bay NYE 2020 – Balcony Bar & Oyster Co

– three sittings available, 8, 8.30 or 9 pm. A cocktail on arrival and free flowing canapés ensure a good start to your Byron Bay New Year's Eve! Tickets are $125 per person.

Byron Bay NYE at Fish Heads

– Glam up your New Year's Eve with an elegant dinner at this Byron Bay beachfront restaurant. A set three course menu for $110 per person.

2020 New Years Eve at Loft

– Tasty food, quality drinks and a live DJ is the perfect Byron Bay NYE mix. Festivities start at 7pm and you'll get a 3 course snacking & grazing menu + beverages for $199 per person. 
Make your NYE resolutions and head to Byron Bay!

So you have your Byron Bay New Year's Eve choices but now you need to find accomodation so nothing ruins your night! Luckily, you are in the right place to make that happen. 
We offer a wide range of highly comfortable deluxe beach cabins as well as beach cabins and beach shacks that are comfortable, affordable and fully self contained. So get in touch with us now to secure your NYE accommodation so you don't miss out!