4 Breathtaking Byron Bay Beaches

Byron Bay is famous all over the world for its great beaches and surf spots. If you want to learn to surf, or if you have some skills and want to master the art, then you've come to the right place. The temperature ranges from 18°C to 20°C in the winter, so if you bundle up in a wetsuit you can enjoy your time on Byron Bay beaches all year round. If surfing doesn't appeal there's always snorkelling, paddle boarding, swimming or simply relaxing on the sand and watching the waves.
In this Byron Bay beaches guide you will find the perfect beach for you. Let's check out the pros and cons of 4 of the most well known Byron Bay beaches!
1. Main Beach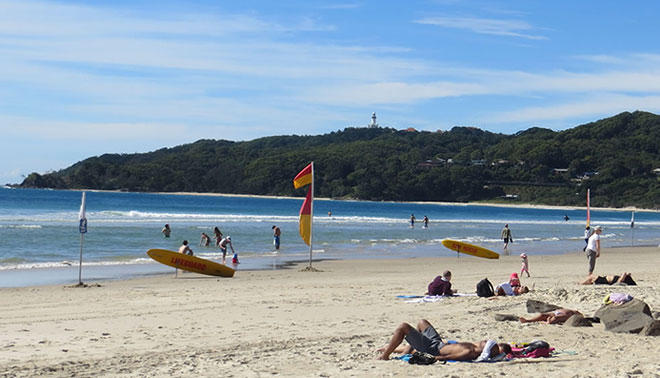 Source: https://www.byronbay.com.au/sights-activities/beaches/main-beach
As it name says, this Byron Bay beach is where everything happens. Main Beach is popular with locals, tourists and surfers alike. It has a large grassy park with picnic tables BBQ areas, playgrounds and proper toilet blocks. It is surf patrolled every day of the year by Byron Bay Surf Lifesaving Club, so ideal for families.
Where the Johnson street ends, Main Beach starts so you are close to many cafes, restaurants and shops as well. However, as it is close to everything and a favourite for both locals and tourists it gets busy so it is not the best place if you want to catch a peaceful break.
Best for: being near to the town, evening walks and activities

Worst for: having a quiet and peaceful day
2. Clarkes Beach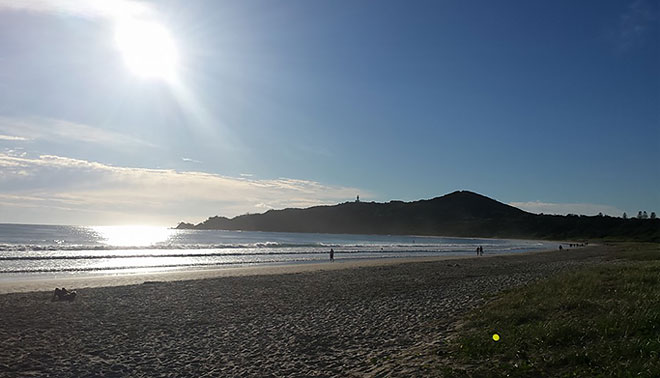 A 10 minute walk to the east side of Byron Bay township, near Cape Byron Lighthouse takes you to Clarkes Beach. The further you are from the town centre, the quieter it gets, so you can enjoy a calmer experience on this Byron Bay beach. This is a perfect beach for learning to surf due to its smaller waves compared to the other Byron Bay beaches. It's also a great beach for swimming and snorkelling.
The only thing that might not impress you is the parking in front of the beach, but it still doesn't lower its beach score significantly!
Best for: taking to the waves for the first time

Worst for: parking your car
3. The Pass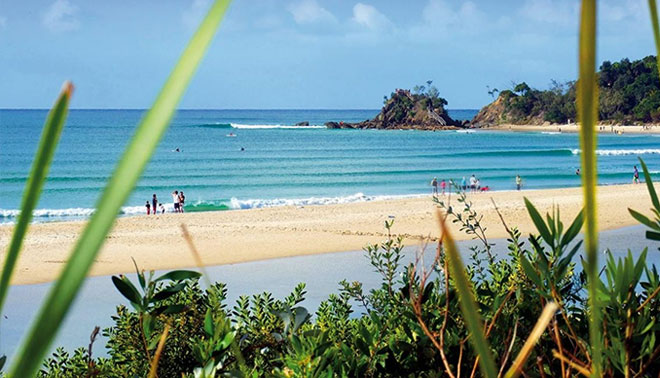 Source: https://byronandbeyond.com/northern-life/top-5-byron-bay-beaches/
At the end of Clarkes Beach is The Pass. At this Byron Bay beach you can check out how professional surfers beat the waves. It is also a great spot for whale watchers as the whales really like this beach too! By exploring this beach to its end you'll find a set of stairs that take you up a rocky outcrop to a timber viewing platform. This is Fisherman's Lookout from where you can enjoy panoramic ocean views and search for dolphins or whales from May to November.
The Pass is quieter than the Main beach but busier than the Clarkes Beach, so it's ideal if you want to have a bit of fun and chill out at the same time.
Best for: experienced surfers

Worst for: big swells
4. Wategos Beach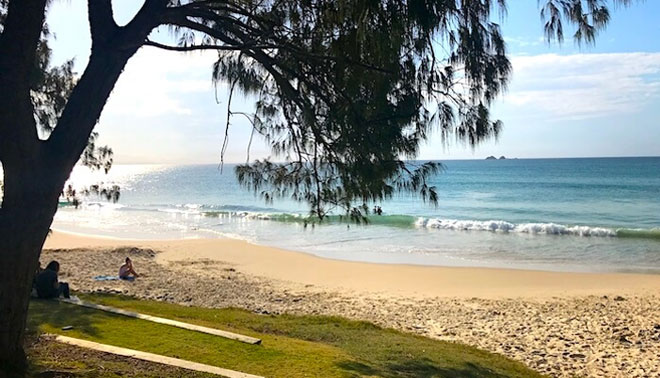 Source: https://www.takemetoaustralia.com.au/things-to-do-in-byron-bay/wategos-beach-byron-bay/
One of the Byron Bay beaches you won't want to miss is Wategos Beach. Wategos Beach is smaller than the others and is nestled at the bottom of Cape Byron Lighthouse. Here crystal clear waters roll gently over tiny rocks dotted along perfectly soft sand. When it comes to surfing, this is another popular Byron Bay spot for beginners, though due to its smaller waves compared to the Pass beach, it is more suitable for longboarders.
If you want a beach day with your family this is a sheltered bay where you can find some shade take a break from the sun.
Best for: scenery and harmonic atmosphere

Worst for: experienced surfers
Where to stay in Byron Bay to enjoy the beaches?
We've only covered four of Byron Bay's beaches but there are plenty more, click on this handy map to find out where they are.
Have you reserved your Byron Bay accommodation yet? Don't worry, you only need to call or email us to quickly reserve a bed! At Broken Head Holiday Park we offer a range of unique beachfront accommodation that includes, campsites (powered and non-powered) beach cabins, shacks and houses and deluxe cabins. We look forward to meeting you soon!