What's On? Renew Weekend, Mullumbimby 10-12 May

Renew Fest is an annual festival that focuses on ecological, economic and social renewal, which takes place in Mullumbimby Showgrounds. The festival brings speakers on such topics as community-owned renewal energy, ethical economics, nature's biodiversity, better food and human habitats.
While Renew Fest won't happen this year, there will be a smaller-scale Renew Weekend 2019 held on 10-12 May. The full Renew Fest will happen again in 2020.
Renew Weekend 2019
The Renew Weekend, 10-12 May, will focus on "grief and elder hood in a time of climate crisis." Two featured events will be the highlights of the weekend: author and founder of Orphan Wisdom, grief walker and elder hood teacher Stephen Jenkinson on Friday evening 10 May and Saturday 11 May.
The rest of the weekend will be a 30-hour Vigil for Grief, from 1 pm on Saturday through Sunday at 6 pm. All happening at the Fig Tree Grove at the Mullumbimby Showground, the event will involve "immersive deep listening space, with music-scape by live musicians, poetic readings, labyrinth walk, indigenous welcome to country, and quiet contemplation.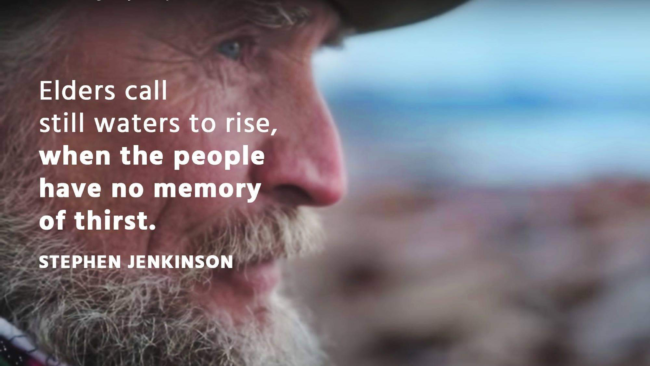 Featured speaker: Stephen Jenkinson
Canadian author Stephen Jenkinson holds a Master's degrees from Harvard University (Theology) and the University of Toronto (Social Work).  He has worked extensively with dying people and their families, is former programme director in a major Canadian hospital, former assistant professor in a prominent Canadian medical school, consultant to palliative care and hospice organisations and educator and advocate in the helping professions.
He is an author of Come of Age: The Case for Elderhood in a Time of Trouble (2018) and award-winning Die Wise: A Manifesto for Sanity and Soul (2015) and other teachings. He is also the subject of the feature length documentary film Griefwalker.
Vigil schedule
The vigil will begin on Saturday at 1 pm with a 'Welcome to country' by Arakwal Bumberbin Custodian Delta Kay and Minyungbal Yugambeh musician Uncle Magpie (who will also hold a smoking ceremony).
Expect more than a dozen local musicians, poets and indigenous artists to listen to during the vigil.
The following spoken word poets and writers will be part of the weekend vigil:
Renew Fest director Ella Rose Goninan
Thomas 'Compost' Kelly, who is program coordinate for Renew Fest
Tanith Roberts
Story Tree founder Jenni Cargill-Strong
Natural Death Care Centre founder Zenith Virago
Musicians who will perform during the vigil are:
HHAARRPP (also known as Luke Jaaniste)
Violinist Cye Wood (Cave in the Sky)
Georgia Shine, who will play the cello
Jolanda Moyle, who will sing and play the sarangi
Brandon Cassidy, who will play electric guitar and soundscape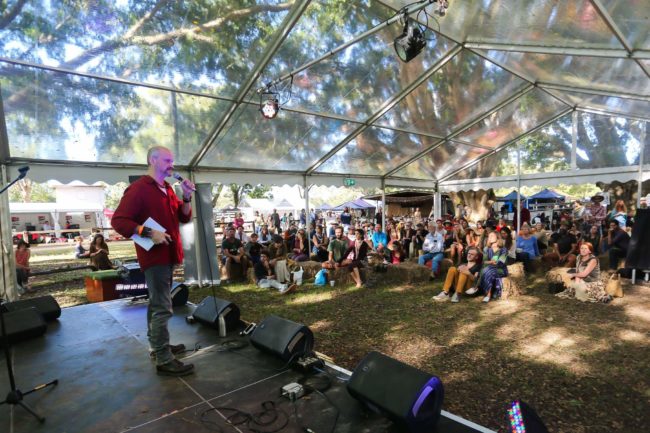 FAQs
Here is what you need to know if you want to attend the Renew Weekend.
There is no fee for the weekend, so stay as long as you like.
It's BYO—bring food, drinks, blankets and weather appropriate tools (for rain or sun).
Renew is a zero waste event. In fact, it's the first festival in Australia to become completely 'zero waste.'
If you plan to continue your vigil overnight, bring everything you'll need to be comfortable.
Attend Renew Weekend and stay at Broken Head Holiday Park 
Whether you plan to keep vigil overnight or attend part of Renew Weekend, you should plan to stay before or afterwards for a holiday in Byron Bay at Broken Head Holiday Park. With excellent facilities and a space for everyone from non-powered sites, to beach shacks you'll be able to participate in the Renew Weekend and take a holiday at the same time. So hop in your car and head to the Byron Bay Area this weekend!