10 Yummy Gluten-Free Camping Meal Ideas

Anyone who deals with food issues knows how hard it can be to travel, especially when you're first navigating it. But with some planning and research, you can figure out how to work around any food intolerance, allergy or even something like celiac when you travel.
The same goes for planning out your camping food. Before you leave, if someone in your family or group has celiac, then bring extra cooking utensils, packed in their own sealed bags, and use them only when cooking up the gluten-free food.
Whether you're new or an old pro at gluten-free cooking, it's always nice to look through a few ideas for gluten-free camping meals. Just because it's gluten free doesn't mean it needs to be super complicated to whip up a delicious meal.
Here are a day's worth of gluten-free camping meal ideas.
1. Coconut Rice Pudding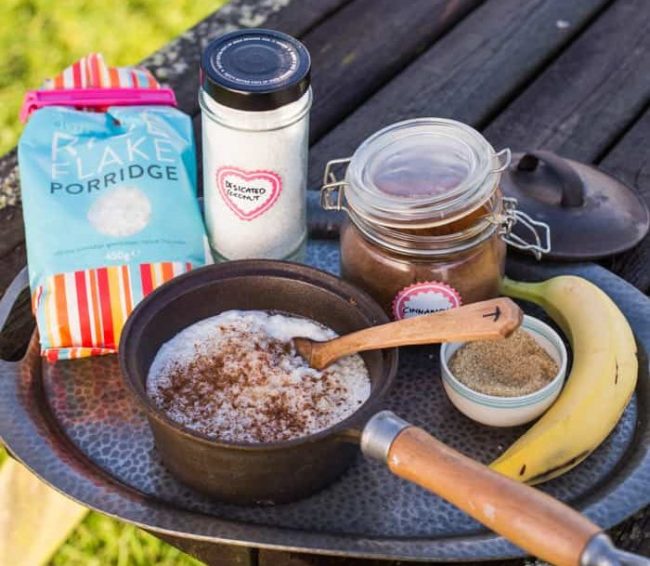 This recipe is excellent because the ingredients are simple, it comes together quickly and it fills you up for the morning.
Ingredients:
100 g rice flake porridge
400 ml can coconut milk
Toppings to serve such as cinnamon, banana, brown sugar, fresh fruit or desiccated coconut.
Method:
Mix the rice flakes and coconut milk together and gently bring to a simmer.
Keep stirring and within a few minutes you'll have thick, yummy rice porridge.
Recipe source: Hedgecombers
2. Hot Mess Skillet

Image source: Buy This, Cook That
Ingredients:
450 kg smoked kielbasa sausage
2 small yellow squash (or courgettes)
2 medium red tomatoes
1 green capsicum
1 brown onion
2 tbsp vegetable oil
1/2 tbsp minced garlic
1/2 tsp Cajun seasoning blend (optional)
1/2 tsp black pepper
1/4 tsp salt
1/2 tsp cayenne pepper
Method:
Cut up the vegetables and sausages into bite-size pieces.
Using a cast iron skillet, brown the sausage with the oil.
Once the sausage is brown, scoot them to the side and start cooking your fresh vegetables.
Add the onion, squash/courgettes and capsicums first so they will get nice and brown.
Layer the tomatoes over the top. The heat from the sausage and vegetables will release the juice in the tomatoes, making a sauce.
If you need more moisture during the cooking process, add a little water).
Add simple seasonings, stir and simmer until the vegetables are tender but still firm.
You can use salt and pepper, or spice it up a little with your favourite Cajun seasoning.
Recipe source: Buy This, Cook That
3. Tomato Stew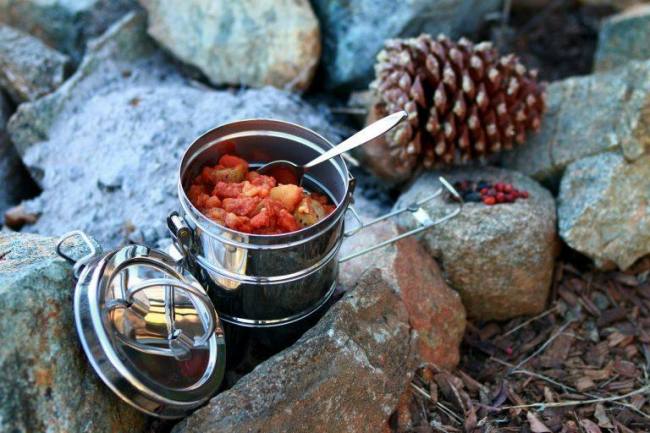 Image source: Gluten-Free Traveller
Serve this finger-licking tomato stew with your favourite gluten-free bread or rice.
Ingredients:
2 tablespoons olive oil
1 capsicum chopped
1 onion, diced
3 potatoes, cubed
1 can tomatoes, cubed
1 can black beans, rinsed
Water
Spices of choice
Salt to taste
Method:
Saute the onions and capsicum in olive oil for about 5 minutes, then add the potatoes, tomatoes, and black beans.
Add salt to taste and just enough water to cover the ingredients.
Add spices and simmer for 20 minutes, or until the potatoes are soft. Serve warm.
Recipe source: Gluten-Free Traveller
4. Grilled Corn with Aioli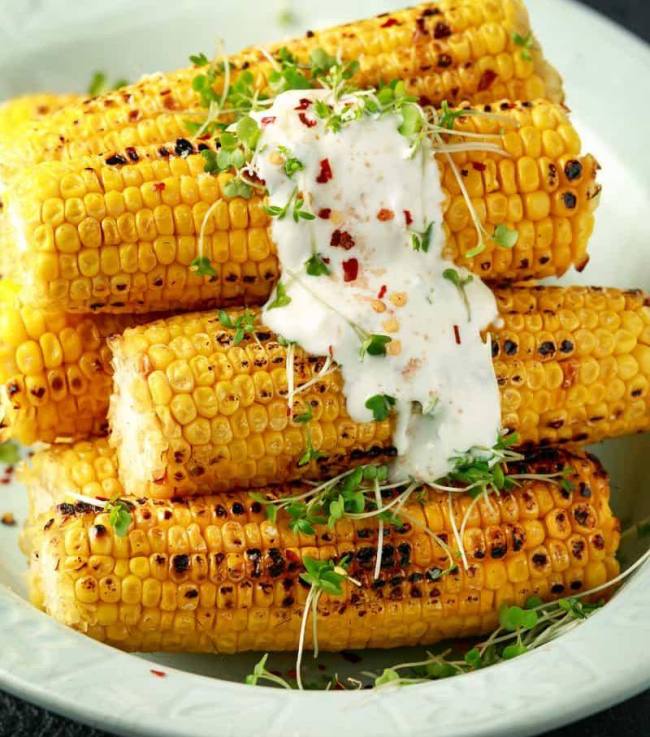 Image source: Easy and Delish
Elevate your favourite mayonnaise with jalapeño and lime, and spread it on this super tender corn on the cob.
Ingredients:
4 fresh corn ears without husks and threads
Olive oil
Salt, pepper and nutmeg to taste
Aluminium foil
For the aioli:
1 jalapeño, chopped (remove the seeds and stem first)
1½ tablespoons fresh lime juice
½ cup mayonnaise
½ teaspoon paprika
1 teaspoon garlic powder
Freshly ground black pepper to taste
Shredded parmesan cheese
Method:
Soak the corn cobs in cold water for up to 30 minutes for juicy, tender kernels.
Place each cob in a piece of aluminium foil. Brush the corn cobs with olive oil and season with salt, pepper and nutmeg.
Seal the foil and grill for about 15 minutes, turning them over for even cooking.
Remove the cobs from the foil and char on the grill for about 2 minutes.
Mix the aioli ingredients, spread on the cobs and top with cheese.
Recipe source: Easy and Delish
5. Loaded Baked Potatoes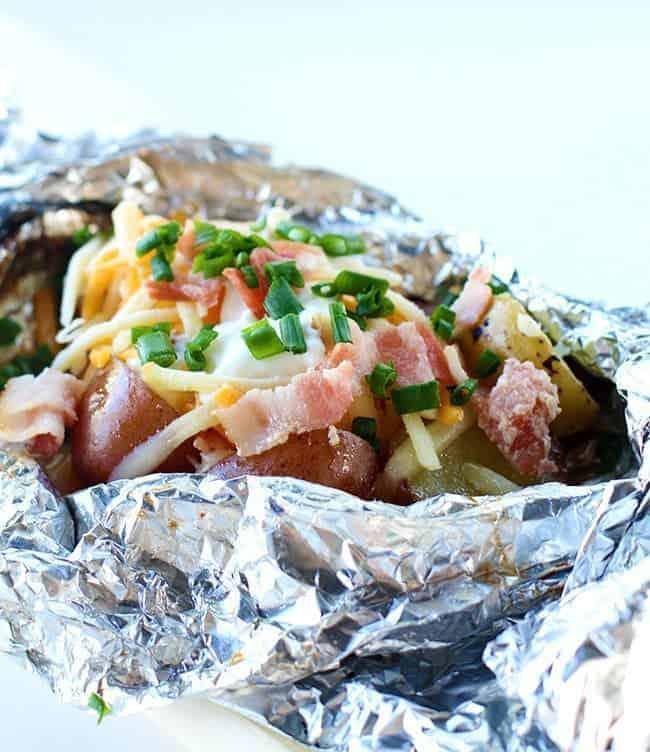 Image source: The Kitchen Magpie
Load up your BBQ baked potatoes with this quick, no-mess camping recipe.
Ingredients:
4 large potatoes, cut into even pieces
8 slices of bacon, pre-cooked and chopped
8 tablespoons green onion, chopped
4 tablespoons butter
2 teaspoons salt
Pepper to taste
1 cup cheddar cheese, shredded
1 cup sour cream
Cooking spray
Aluminium foil
Method:
Cut 4 large sheets of aluminium foil and coat one side with cooking spray.
Portion the potatoes, butter, bacon and salt into each of the 4 sheets of foil. Seal and grill for about 25 minutes, turning every few minutes.
Remove the packets from the heat. Season with salt and pepper, and top with green onions, cheese and sour cream.
Recipe source: The Kitchen Magpie
6. Campfire Beef BBQ Goulash

Image source: The Touring Camper
Ingredients:
450 kg ground beef
olive oil
4-6 potatoes diced or whole, drained
green beans
carrots
1 can baked beans
1 cup barbecue sauce (be sure to check the label and make sure it's gluten free)
water as needed for moisture
Method:
Begin by browning the ground beef and onion in olive oil until meat is no longer pink and onions are tender.
Drain off any extra fat.
Add potatoes, vegetables, baked beans and barbecue sauce.
Let simmer until heated through.
More barbecue sauce or a little bit of water can be added if additional moisture is needed.
Recipe source: The Touring Camper
7. Gluten-Free Chicken Stir Fry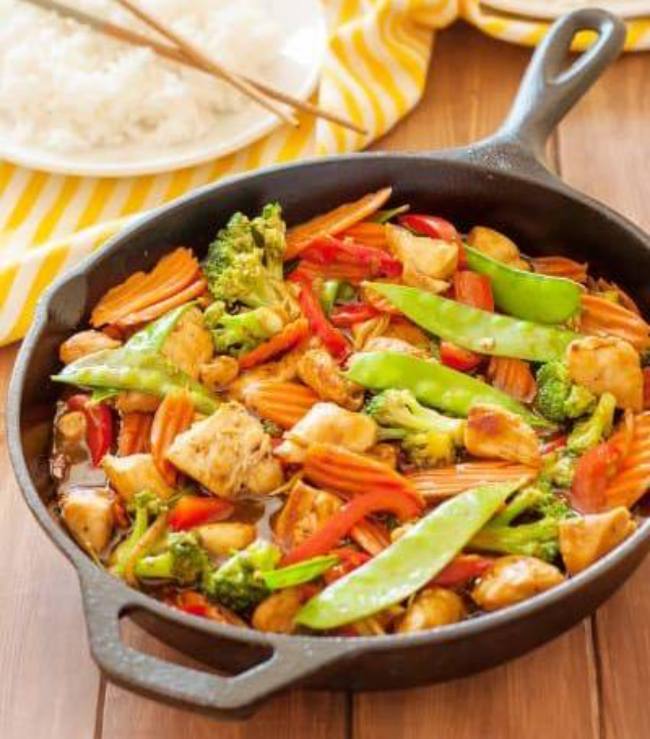 Image source: SFlippin' Delicious
This one-pot chicken stir fry adds a spicy kick to your favourite veggies.
Ingredients:
Cooked chicken chunks
1 tablespoon olive or vegetable oil
1 teaspoon garlic, minced
4-5 cups of mixed vegetables of choice
For the stir fry sauce:
¼ cup soy sauce
1 cup chicken broth
½ teaspoon ground ginger
¼ teaspoon red pepper flakes
2 teaspoons cornstarch
Method:
Mix the stir fry sauce and set aside.
Season the chicken with salt and pepper, then sear it in the oil until golden brown.
Add garlic and veggies. Saute until tender.
Add the stir fry sauce and stir. Simmer until thickened.
Recipe source: Flippin' Delicious
8. Marinated Beef Kebabs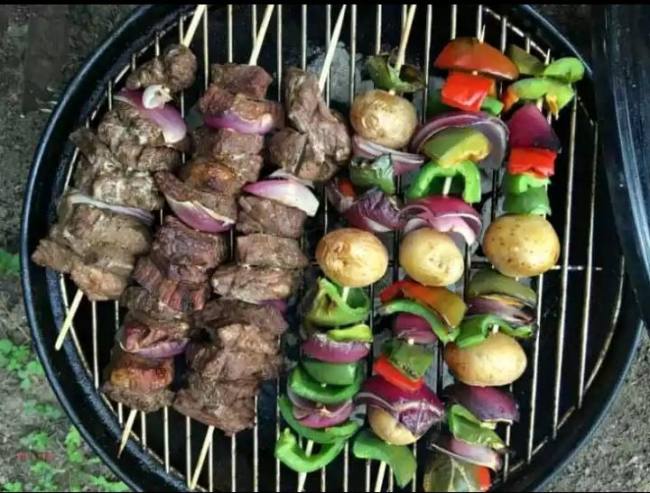 Image source: Must Have Mom
Use any cut of beefsteak for this gluten-free meal. Marinate the beef in the fridge overnight before heading out for your camping trip.
Ingredients:
4 steaks of beef, cut into 1-inch cubes
Your favourite vegetables (onions, potatoes, bell peppers, mushrooms), cut into 1-inch pieces
Presoaked skewers
For the marinade:
1 cup olive oil
¾ cup low sodium soy sauce
¼ cup Worcestershire sauce
1 teaspoon black pepper
2 cloves garlic, crushed
¼ cup lemon juice
Method:
Place beef cubes in a plastic bag and add the marinade ingredients. Seal and refrigerate overnight.
Skewer the beef and cook on the grill for 10 minutes, or until done to your taste.
Grill your veggie kebabs beside the beef skewers until done.
Recipe source: Must Have Mom
9. Apple Crisp Foil Packets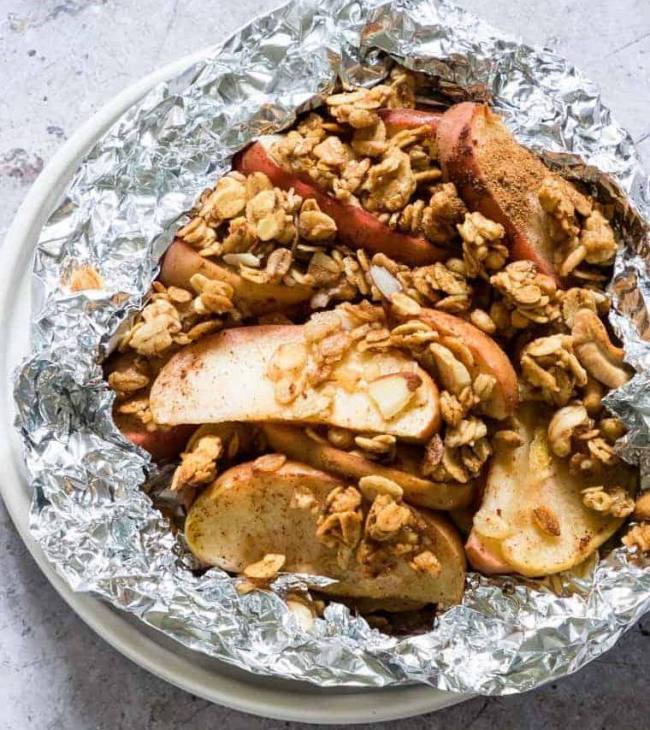 Image source: Recipes from a Pantry
This deceptively simple gluten-free dessert will satisfy your sweet tooth in under 20 minutes.
Ingredients:
4 crisp apples, cored and thinly sliced
1 tablespoon olive oil
3 tablespoons maple syrup
1 tablespoon ground cinnamon
⅔ cup granola
Aluminium foil
Method
Divide the apple slices into 4 foil sheets, drizzle the olive oil and maple syrup, and sprinkle with cinnamon and granola.
Seal the foil packets and grill for 15-20 minutes or until the apples are soft.
Remove the packets from the heat and serve with yogurt or ice cream.
Recipe source: Recipes from a Pantry
10. Banana Boats

Healthy, gluten free banana boats.
Ingredients
bananas
chocolate chips
peanut butter,
nuts
fresh berries
dried fruit
mini marshmallows (or large ones quartered),
sprinkles (optional)
candy (optional)
coconut shreds, etc.
foil
Method:
Cut bananas lengthwise cutting through only one side of the peel.
"Open" up the pocket you've just created.
Stuff the inside of the banana with desired toppings.
Wrap banana in foil, cutting the stem down if needed. Place directly on the grill for approximately 10 minutes.
Your banana skin may turn black but that's ok. The inside still tastes super yummy.
Allow to cool a few minutes, then dig in with spoons!
Recipe source: Recreating Happiness
Bring your gluten-free camping meals to Broken Head Holiday Park
Whatever your food preferences or issues, we can't wait to host you and your crew. Broken Head Holiday Park is a great place to enjoy your camping holiday and cook up some tasty gluten-free camping meals, so plan to do both while you're here!