Yummy Gluten-Free Camping Meal Ideas

Anyone who deals with food issues knows how hard it can be to travel, especially when you're first navigating it. But with some planning and research, you can figure out how to work around any food intolerance, allergy or even something like celiac when you travel.
The same goes for planning out your camping food. Before you leave, if someone in your family or group has celiac, then bring extra cooking utensils, packed in their own sealed bags, and use them only when cooking up the gluten-free food.
Whether you're new or an old pro at gluten-free cooking, it's always nice to look through a few ideas for gluten-free camping meals. Just because it's gluten free doesn't mean it needs to be super complicated to whip up a delicious meal.
Here are a day's worth of gluten-free camping meal ideas, including a dessert.
Breakfast: Coconut Rice Pudding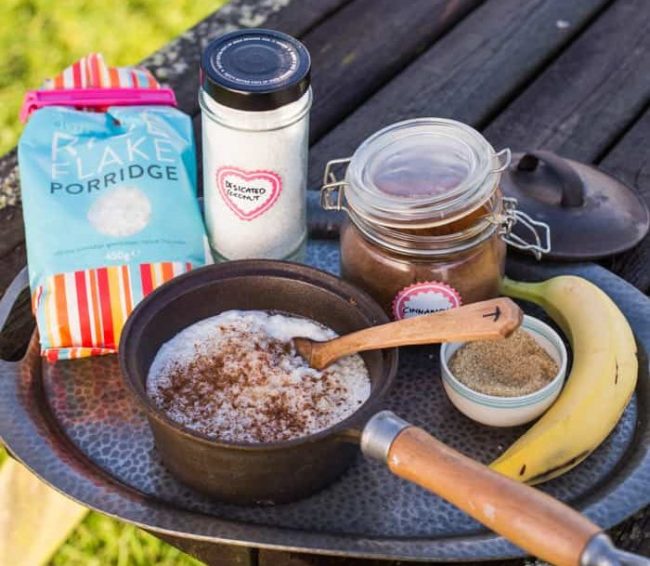 This recipe is excellent because the ingredients are simple, it comes together quickly and it fills you up for the morning.
Ingredients:
100

 

g

 

rice flake porridge

400

 

ml

 

can coconut milk

Toppings to serve such as cinnamon,

 

banana, brown sugar, fresh fruit or desiccated coconut.
Method:
Mix the rice flakes and coconut milk together and gently bring to a simmer.
Keep stirring and within a few minutes you'll have thick, yummy rice porridge.
Recipe source: Hedgecombers
Lunch: Hot Mess Skillet
Ingredients:
450 kg smoked kielbasa sausage
2 small yellow squash (or courgettes)
2 medium red tomatoes
1 green capsicum
1 brown onion
2 tbsp vegetable oil
1/2 tbsp minced garlic
1/2 tsp Cajun seasoning blend (optional)
1/2 tsp black pepper
1/4 tsp salt
1/2 tsp cayenne pepper
Method:
Cut up the vegetables and sausages into bite-size pieces.
Using a cast iron skillet, brown the sausage with the oil.
Once the sausage is brown, scoot them to the side and start cooking your fresh vegetables.
Add the onion, squash/courgettes and capsicums first so they will get nice and brown.
Layer the tomatoes over the top. The heat from the sausage and vegetables will release the juice in the tomatoes, making a sauce.
If you need more moisture during the cooking process, add a little water).
Add simple seasonings, stir and simmer until the vegetables are tender but still firm.
You can use salt and pepper, or spice it up a little with your favourite Cajun seasoning.
Recipe source: Buy This, Cook That
Dinner: Campfire Beef BBQ Goulash
Ingredients:
450 kg ground beef
olive oil
4-6 potatoes diced or whole, drained
green beans
carrots
1 can baked beans
1 cup barbecue sauce (be sure to check the label and make sure it's gluten free)
water as needed for moisture
Method:
Begin by browning the ground beef and onion in olive oil until meat is no longer pink and onions are tender.
Drain off any extra fat.
Add potatoes, vegetables, baked beans and barbecue sauce.
Let simmer until heated through.
More barbecue sauce or a little bit of water can be added if additional moisture is needed.
Recipe source: The Touring Camper  
Dessert: Banana Boats
Ingredients
bananas
chocolate chips
peanut butter,
nuts
fresh berries
dried fruit
mini marshmallows (or large ones quartered),
sprinkles (optional)
candy (optional)
coconut shreds, etc.
foil
Method:
Cut bananas lengthwise cutting through only one side of the peel.
"Open" up the pocket you've just created.
Stuff the inside of the banana with desired toppings.
Wrap banana in foil, cutting the stem down if needed. Place directly on the grill for approximately 10 minutes.
Your banana skin may turn black but that's ok. The inside still tastes super yummy.
Allow to cool a few minutes, then dig in with spoons!
Recipe source: Recreating Happiness
Bring your gluten-free camping meals to Broken Head Holiday Park
Whatever your food preferences or issues, we can't wait to host you and your crew. Broken Head Holiday Park is a great place to enjoy your camping holiday and cook up some tasty gluten-free camping meals, so plan to do both while you're here!