Yummy Vegan Camping Recipes For Breakfast, Lunch & Dinner

Vegans can enjoy delicious meals on a camping holiday. And no, we don't mean soy dogs!
There are lots of recipes online that will get you started on creating a menu while you're on holiday. Planning ahead for your camping meals is a must whether you're vegan, vegetarian, omnivore or even a carnivore!
Here we've featured vegan breakfast, lunch and dinner options, along with a couple of snacks, to show you the range of vegan camping recipes available. Start planning your vegan camping meals now!
Healthy Vegan Breakfast Recipes
Coconut Chia Oatmeal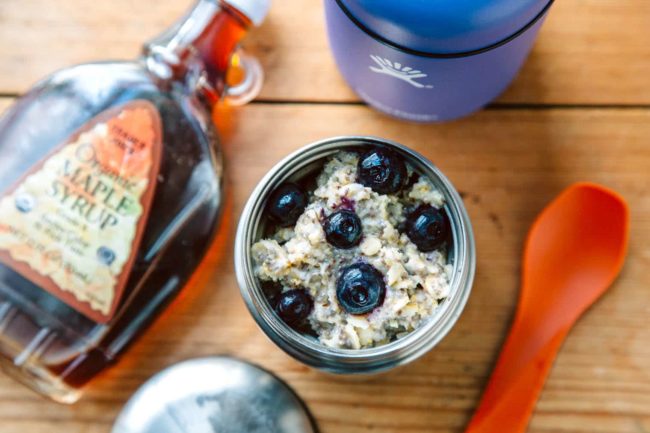 Image source: Fresh Off the Grid
The awesome bonus of this vegan recipe? It cooks up almost entirely in an insulated thermos! Perfect for easy camping food, and a quick breakfast before you head out to explore Byron Bay.
This recipe makes enough for two.
400 gm can

coconut milk

2

tablespoons

honey

1

cup

rolled oats

2

tablespoons

chia seeds

1/4

teaspoon

salt

Mix ins: berries, sliced bananas, nuts, coconut flakes, etc.
Heat the coconut milk and maple syrup in a saucepan until simmering. Pour into a preheated insulated food container with the oats, seeds, salt and any other mix-ins. Seal and let cook in the container for about 30 minutes. Note: Make sure the insulated container is vacuumed sealed so it traps the heat.
Recipe source: Fresh Off the Grid
Apple Pie Quinoa Porridge
Image Source: Fresh Off The Grid

Why not try something different for your next camping trip and ditch the oatmeal for this delicious alternative porridge? It's the closest thing you can get to apple pie, and perfect for chilly mornings in the fall.
Ingredients:
1 cup quinoa, rinsed if possible
1 apple chopped into cubes
1 ½ cups coconut milk
½ cup water
Pinch of salt
1 teaspoon cinnamon
½ teaspoon vanilla
2-3 tablespoons maple syrup, to taste
¼ cup walnuts chopped
Method:
Rinse the quinoa and add to your pot with the ⅔ of the apples, coconut milk, water, salt, and cinnamon. Bring to a boil.
Once the quinoa starts to boil, reduce to a simmer and cover until most of the liquid is absorbed, about 10-15 minutes.
Remove from heat and stir in the vanilla and maple syrup.
Top with the remaining apples and walnuts, a sprinkle of cinnamon and any other toppings you like.
Recipe Source: Fresh Off The Grid
S'Mores Granola Bars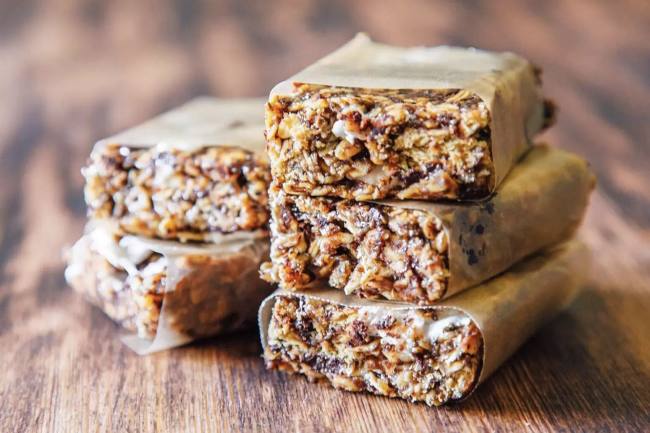 Image Source: Fresh Off The Grid
Start your day with something sweet! These vegan breakfast bars make a perfect portable meal or snack. While this recipe does require the use of an oven, it's well worth the effort to make beforehand to take on your next camping trip.
Ingredients:
6 dates, pitted and roughly chopped
½ cup water
¼ cup maple syrup
2 tablespoons chia seeds
¼ teaspoon salt
1 cup oats
1 cup crushed vegan crackers
½ cup mini vegan marshmallows
1.5 oz dark chocolate, chopped
1 tsp coconut oil or butter, (optional if greasing pan)
Method:
Preheat the oven to 350.
Place the dates, water, maple syrup, chia seeds, and salt into the bowl of your food processor. Let it all soak for 5 minutes, then process until fairly smooth (it's OK to have some pieces of dates remaining, but you don't want any big chunks).
Toast oats over medium heat in a heavy bottomed skillet until golden brown, about 5 minutes. Stir frequently to ensure even toasting and prevent them from burning.
In a medium mixing bowl, add the oats, crackers, marshmallows, dark chocolate and the date mixture. Mix well with a spoon until all the dry ingredients are completely covered in the date mixture.
Line a 8.5″ x 4.5″ loaf pan with parchment paper, or grease the pan with coconut oil or butter. Spread the mixture evenly into the pan, then press down on it to really compact it.
Bake for 20 minutes. Cool completely, then remove from the pan and cut into 6 bars.
To make these portable, wrap them in parchment paper, plastic wrap, or small ziplocks, then throw them in your pack and go!
Recipe Source: Fresh Off The Grid
Mouth-Watering Vegan Lunch Recipes
Vegan Hummus Wrap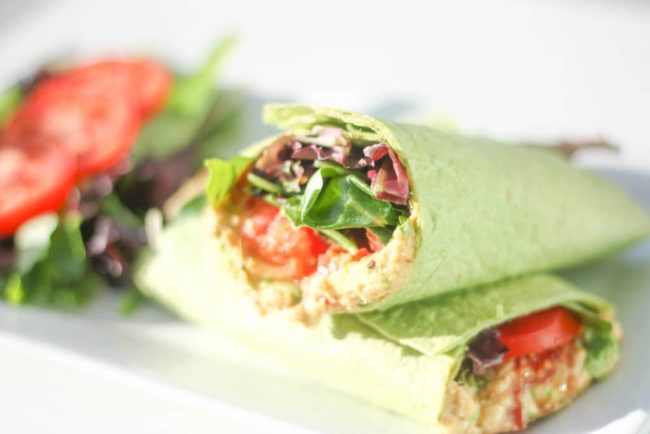 Image source: Ahead of Thyme
You could make your own hummus and bring it along. Or, better yet, try out hummus from the Farmers Market (I'm sure they can tell you about every ingredient!) or grab some from one of the excellent food stores in Byron Bay like Santos Organic. In fact, you could pick up fresh ingredients for the whole recipe at the market or store, if you'd like!
You can keep making these until you have enough for your whole crew, if everyone wants to eat vegan!
Ingredients:
1 tortilla wrap
3/4 cup hummus
1/2 tomato, sliced
1/2 avocado, sliced
1 cup spinach and mixed greens
salt and pepper to taste
Method:
Spread the hummus into a long rectangular shape down the centre of the tortilla wrap.
Next, layer the sliced avocado and tomato on top. Top up with mixed greens.
Season with salt and pepper to taste.
Wrap the tortilla into a burrito shape and cut in the middle.
Recipe source: Ahead of Thyme
BBQ Fajitas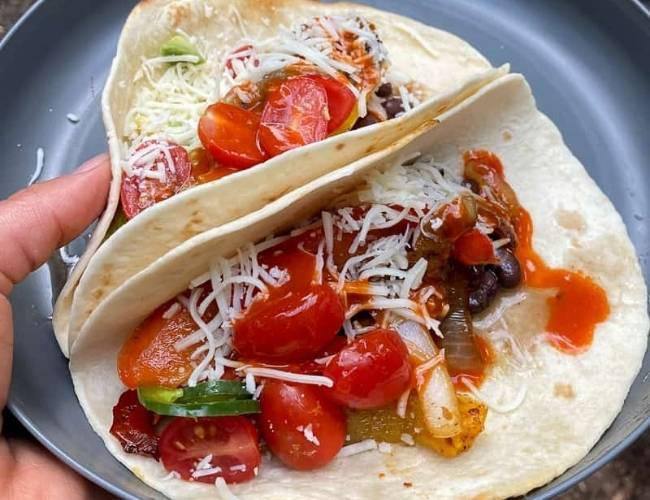 Image Source: Insanely Good Recipes
One of the best parts about camping is relaxing by the BBQ while lunch is cooking. BBQ fajitas are a great, healthy and super-tasty option for you, your family and your friends.
Ingredients:
Fajitas:
8 – 10 flour tortillas (already cooked) use small fajita-style tortillas
1 tablespoon oil
1 onion, diced
2 capsicums, thinly sliced (seeds + membrane removed)
1½ teaspoon taco or fajita seasoning, divided
½ teaspoon sea salt
14 ounce can black beans
Optional Toppings:
halved cherry tomatoes (optional)
diced avocado
sliced jalapeños
shredded cheese omit for vegan fajitas, or use vegan shredded cheese
hot sauce
Methods:
Add oil, diced onion, peppers, tomatoes (if using), and 1 teaspoon taco seasoning and salt to the skillet. Set on a hot BBQ grate and cook until tender.
Add beans (not drained) and remaining taco seasoning to a campfire-safe saucepan. Set on the BBQ grate until beans are simmering.
Wrap tortillas in aluminium foil and set them on the hot BBQ grate, turning after a minute or two to warm both sides. (Tortillas will do best over indirect heat.)
Cook Until Peppers + Onions Are Tender.
Unwrap the tortillas. Serve the tortillas with the fajita veggies and the beans, along with any optional toppings.
Recipe Source: Champagne Tastes
Vegan Mexican Tortilla Soup
Image Source: Fresh Off The Grid
One-pot recipes like soup make a great meal for camping. This healthy, fresh, and delicious soup is perfect and packed full of veggies! The soup makes a great meal for a hungry camper during lunchtime.
Ingredients:
1 tablespoon grapeseed, coconut, or sunflower oil
1 medium yellow onion, diced
2 cloves garlic, minced
1 green capsicum, chopped
1 zucchini, chopped into cubes
1 teaspoon cumin
½ – 1 teaspoon chili powder, depending on spice preferences
3 cups water or vegetable broth
1 (15 oz) can of diced tomatoes
½ cup of canned or frozen corn, optional
1 (15 oz) can of black beans
½ teaspoon oregano
Salt and pepper to taste
Method:
Add oil to a pot and heat over medium heat. Once hot, add onion and garlic and saute until translucent, about five minutes, stirring frequently.
Add the peppers, zucchini and saute another 4-5 minutes.
Add the cumin and chili powder and stir to coat, continually stirring until fragrant, about 30 seconds. Next, add the water or vegetable broth and tomatoes and bring to a boil.
Reduce to a simmer and add the beans and corn, if using. Cover and simmer for 20-30 minutes. The longer it simmers, the more flavorful.
Serve with desired toppings (but definitely don't forget about those tortilla chips!)
Recipe Source: Fresh Off The Grid
Delicious Vegan Dinner Recipes
Vegan Chili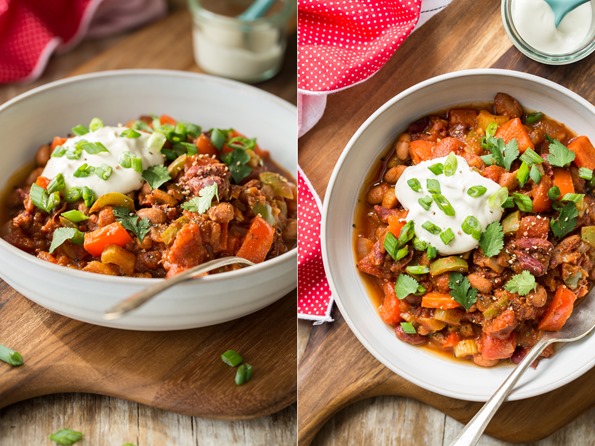 Image source: Oh She Glows
This might be a vegan camping recipe that you make ahead of time and plan to warm up here at camp. However, if you'd rather pack all the ingredients and make on site, then just plan to bring a large pan to cook it up on one of the BBQs.
Ingredients:
1 1/2 tablespoons extra-virgin olive oil

1 diced red onion (medium)

2 tablespoons minced garlic (about 4 large cloves)

115 g finely chopped celery (about 2 large stalks)

1 large red capsicum, seeded and diced

2 cans diced tomatoes, with juices

250 ml low-sodium vegetable broth

6 tablespoons tomato paste

1 400 ml can kidney beans, drained and rinsed

2 tablespoons chili powder

2 teaspoons ground cumin

1 teaspoon dried oregano

1/2 to 3/4 teaspoon fine grain sea salt, to taste
Method:
In a large pot, sauté the onion and the garlic in the oil over medium heat until soft and translucent, about 5 minutes.
Season with a pinch of salt and stir. Add the celery, and capsicum and sauté for another 5 to 7 minutes or so, until softened.
Now add the can of diced tomatoes (with the juice), broth, and tomato paste. Stir to combine. Increase heat to medium-high.
Add the drained and rinsed beans, along with the chili powder, cumin, oregano, and salt.
Simmer the mixture, uncovered, until thickened, about 10 to 15 minutes.
(You'll see in the picture that the recipe creator added sour cream!)
Recipe source: Oh She Glows
One Pot Mushroom Pasta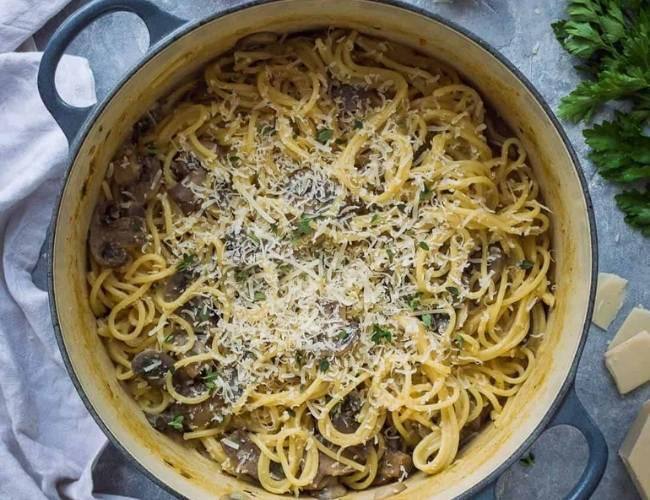 Image Source: Domestic Gothess
One pot mushroom pasta is a great recipe to cook while camping, as most camping stoves only have one hob. This recipe only uses one pan, and mostly uses simple ingredients that you can easily take camping with you.
Ingredients:
1 Tbsp olive oil
1 small brown onion peeled and diced
400 g mushrooms sliced
4 cloves garlic peeled and crushed (or use ½ tsp garlic granules)
750 ml (3 + ⅛ cups) vegetable stock
500 ml (2 cups) unsweetened dairy free milk such as oat or soy
1 Tbsp fresh thyme leaves (or 1 tsp dried herbs)
2 Tbsp nutritional yeast
2 tsp miso paste (optional)
¼ tsp smoked paprika (optional)
1 tsp salt (plus extra as needed)
350 g (12 oz) dry spaghetti
a good grinding of black pepper
Method:
Heat the oil in a large pan and add the onion. Cook over a low heat until the onion is translucent.
Add the mushrooms and garlic and continue to cook, stirring regularly, until the mushrooms have softened and all of the excess water has evaporated.
Add all of the rest of the ingredients and bring up to a simmer. Press down the spaghetti so that it is covered by the sauce, give it a good stir, and allow to simmer for about 10-15 minutes, stirring often, until the spaghetti is al dente and the sauce has reduced down and thickened.
Check the seasoning and add more salt/pepper etc as needed. Serve straight away.
Recipe Source: Domestic Gothess
Spicy Chickpea Veggie Burgers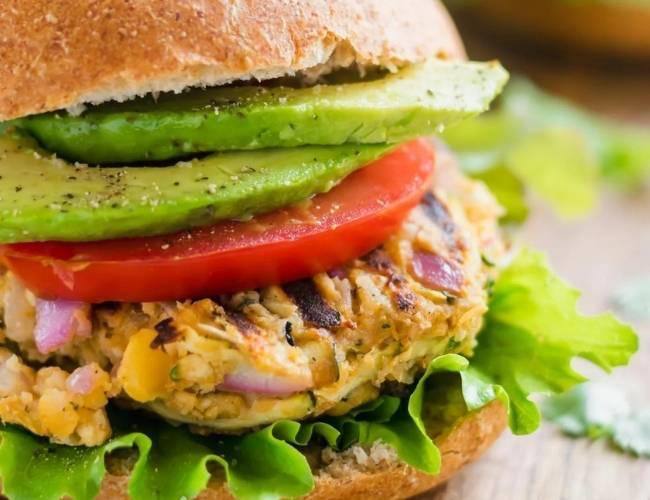 Image Source: Running On Real Food
Chickpeas are a versatile vegan protein source that can be used in a variety of dishes. For example, these delicious burgers are perfect for campers who want a hearty meal.
Ingredients:
1 can (2 cups) chickpeas, drained, well-rinsed and mashed
1/2 red onion, finely diced (50 g, approx. 1/3 cup)
1 small zucchini, grated (100 g, approx. 1 cup lightly packed)
3 tbsp (15 g) finely chopped fresh coriander
3 tbsp (45 mL) red wine vinegar
1 tbsp (15 mL) Sriracha sauce
2 tbsp (30 g) peanut butter
1 tsp cumin
1 tsp garlic powder
2 tsp black pepper
1/2 tsp sea salt
1 cup (100 g) quick oats (gluten-free if needed)
2 tbsp (30 ml) extra virgin olive oil
Methods:
After draining and rinsing the chickpeas, place them in a bowl and mash them with a fork or pulse a few times with an immersion blender.
Add all the other ingredients to the bowl and use your hands to mix very well.
Use your hands to shape the mixture into 6-8 patties.
Cook on the BBQ at 400 F for approximately 10 minutes per side or heat 1-2 tsp oil in a nonstick pan over medium heat and cook the burgers for about 5 minutes per side until browned and firm. The patties can also be oven-baked at 400 F for 20-30 minutes, flipping half-way through.
Serve on a toasted bun with your favourite burger toppings like lettuce, onion, tomato, ketchup and mustard.
Recipe Source: Running On Real Food
Tasty Vegan Snack Recipes
Peanut Butter and Jelly Bars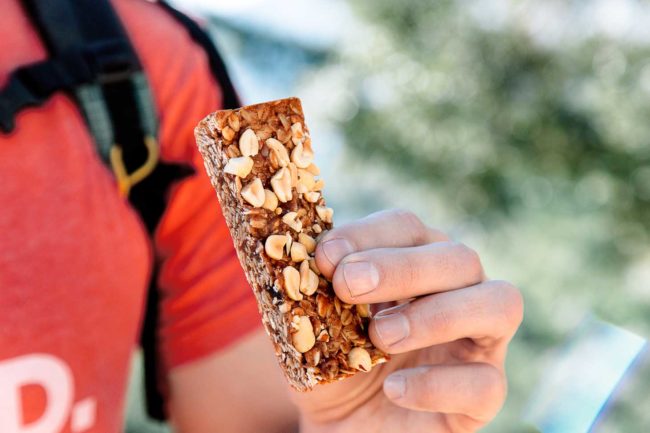 Yum! These are certainly easy to make ahead. Wrap up individually and carry along for quick snacks during your day out in Byron Bay. This recipe makes six bars.
Ingredients:
1 ½

cup

rolled oats

½

cup

jam

¼

cup

peanut butter

2

tablespoons brown

sugar

1

tablespoon coconut

oil

¼

teaspoon salt

¼

cup chopped

peanuts
Method:
Preheat the oven to 180. Line a 20cmX10cm loaf pan with baking paper or foil.
Spread the oats on a baking sheet and toast in the oven for 10 minutes, stirring at the 5 minute mark to ensure they toast evenly.
Remove from the oven and set aside.
Heat the jam, peanut butter, sugar, oil, and salt in a small saucepan.
Simmer for about 3 minutes over medium heat until slightly thickened, stirring constantly.
Pour the toasted oats into the pot and stir to thoroughly coat.
Transfer the mixture to the lined loaf pan in an even layer. Press the chopped peanuts into the top of the mixture.
Bake the bars for 15 minutes until golden brown. Remove from the oven and allow to cool.
Remove the bars from the pan and cut into bars using a sharp knife.
Recipe source: Fresh Off the Grid
Vegan Skillet Brownie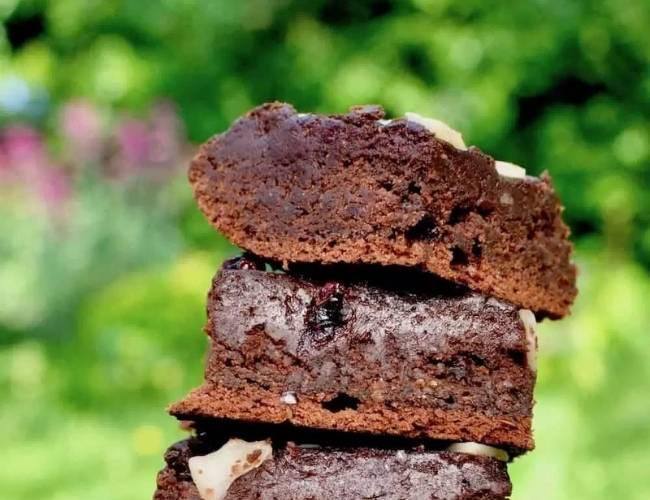 Image Source: Vegan On Board
If you are looking for a vegan chocolate brownie that can be made in a pan or over a BBQ, then look no further! Give this delicious easy-to-make brownie recipe a try!
Ingredients:
½ cup flour
1 tbsp ground flaxseed
¼ cup sugar
¼ cup cocoa powder
½ tsp baking powder
1 pinch salt
¼ cup oil sunflower or vegetable
¼ cup water
1 tbsp flaked almonds optional
1 tbsp dried cranberries optional
Method:
Mix all the dry ingredients together – flour, flaxseed, sugar, cocoa powder, baking powder and salt
Then add the oil and water and mix to a smooth dough
Leave for a few minutes whilst you prepare your toppings or extras, you can use dried fruit, nuts, peanut butter, jam, choc chips.
Press the dough into your skillet or pan. Top with your chosen extras, pressing them down lightly into the dough. Place a lid on top.
Cook on a low/medium heat for approximately 10 minutes.
You will know it is ready when the edges start to look lighter and cooked, but the middle is still dark and fudgy
Either let the brownie cool and cut into squares, or just dig in straight away!
Recipe Source: Vegan On Board
Don't forget that Byron Bay is home to excellent vegan restaurants as well, just in case you'd like to take the night off from cooking.
Bring your vegan camping recipes to Broken Head Holiday Park
We love our campers, no matter what they like to eat. Broken Head Holiday Park is a great place to enjoy your camping holiday and make your vegan camping recipes, so plan to do both while you're here!