8 Local Hangouts in Byron Bay That You'll Love

Even if you've been to Byron Bay many times, it's not the same as being a local. You don't have the knowledge of someone who lives here day in and day out.
But we do!
So we thought we'd share a few places that us locals love to hang out. We'll let you in on some of our local favourites that make you feel like you've lived in Byron Bay for years. We bet you'll love these places just as much as we do!
1. Get Your Coffee On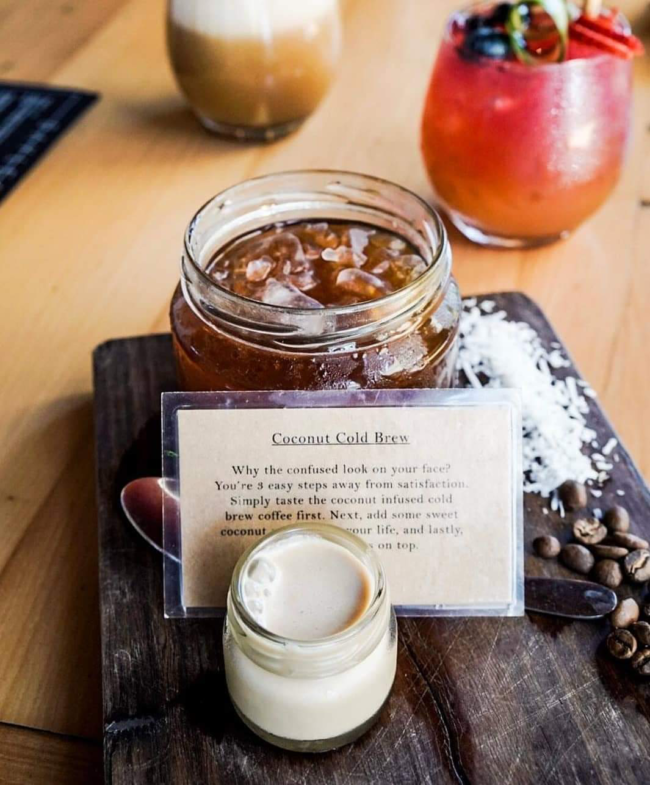 Image source: Bay Leaf Coffee
If you love, and we mean really love, coffee, then you need get yourself to Bayleaf Cafe next time you're in Byron Bay. Here you'll find some of the best local coffee served up in the area, Marvell Street Coffee, as well as they often brew up what they call "guest roasters." For example, they recently served up Skittle Lane Coffee from Sydney.
But what you need to try is the cafe's "Bayleaf Coffee Experience" because you may find yourself coming back again and again during your holiday. You'll be given two specialty coffees to try as well as a taste of the amazing coconut cold brew. Warning! You might get addicted to the coconut cold brew, which is a "coconut infused cold brew" that you add coconut cream and shredded coconut to and serve over ice.
Plus while you're here you should think about trying out some of the yummy breakfast and lunch items as well. You won't be disappointed!
Where to find Bayleaf Café: 1 Marvell St., Byron Bay
2. Pack a picnic and get to the beach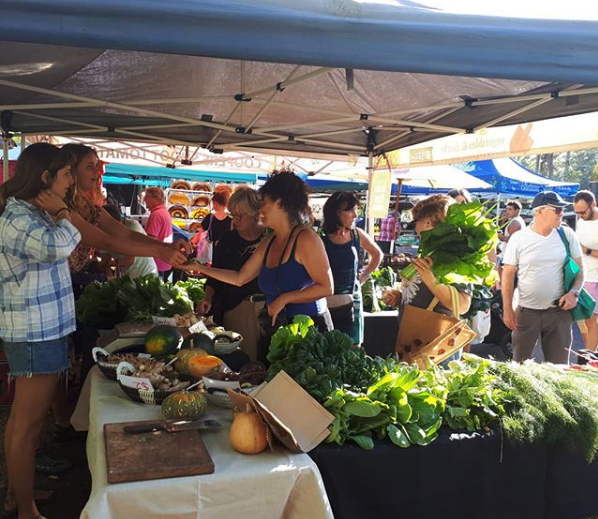 Image source: Byron Bay Farmers
Head to the Byron Farmers Market to pick out food to take with you for a delicious, locally sourced picnic. When you visit the market, which you should plan to do on Thursday between 8 and 11 am, you'll be able to select from food from more than 70 local farmers and growers in the Byron Bay Area.
Located in the Butler Street Reserve, you can buy fresh bread, olives, olive oil, cheese, fruit that is in season as well as many other locally produced food and even beverages, such as organic coffee and wine. There's even meat, and there are free beachside BBQs at the beach we recommend, so go ahead and pick out something to cook. There are all the makings of an excellent picnic, so pick up what sounds good to you and your crew.
Then head to our favourite locals beach, Wategos, which is found on the northern side of Cape Byron Lighthouse. (See featured photo for this blog post to get an idea of what the beach looks like!)
Once you hit up the farmers market, then it should be about 10 minutes from there to the beach. Now that you're at the beach, you can find those BBQs and eat either at a picnic table or on the beach. Watch for bottlenose dolphins while you're there—they like to hang out in the area. Plus, you might hop over to Little Wategos Beach while you're there and check some amazing rock pools during low tide.
All in all the makings of an awesome Byron Bay day!
Where to find Byron Farmers Market: Butler Street Reserve
3. Must-eat falafel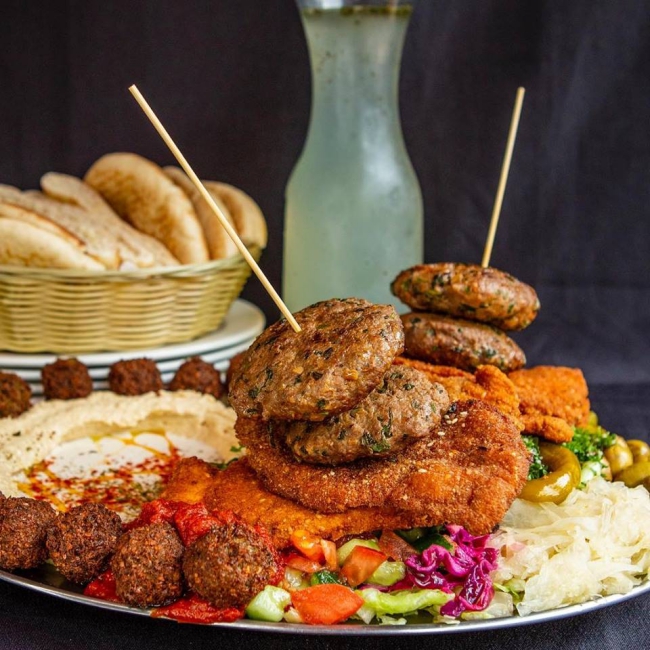 Image source: Orgasmic Food
Check out some of the reviews on Yelp and TripAdvisor, and you'll know why Orgasmic Food is a popular local hangout as well as something visitors to Byron Bay should try out. You might have even tried one of their awesome falafel balls since they hand out free tastings at the end of Bay Lane.
"I've been to 45 countries in the world including ones that make falafel traditionally and this was hands-down the best falafel I've ever had in my life! No kidding."
"I visit this shop at least once a week for the best falafels I have ever tasted! highly recommended!!"
So head here after a long day of surfing, kayaking or any of the other great things to do in Byron Bay.
Where to find Orgasmic Food: 11 Bay Lane
4. Grab a cocktail and relax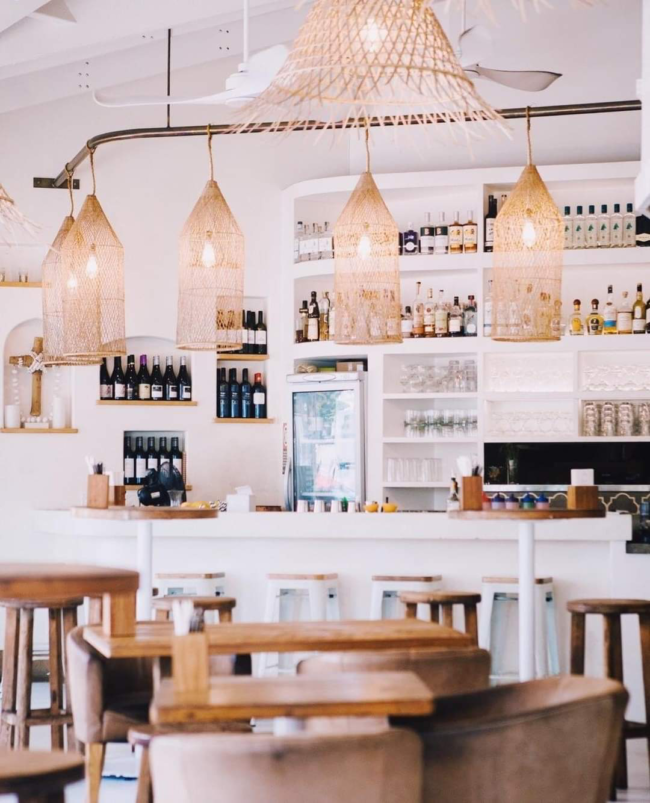 Image source: The Mez Club
The Mez Club is located along Jonson Street, so it's a perfect spot to stop by for either it's regular happy hour between 4 and 6 pm or the late one between 9 pm and midnight. Either time you'll want to check out the unique signature cocktails.
During the early one, you can pick from:
$6 Stone & Wood Pacific Ale
$10 Ink Gin & Tonic, Brookies Gin & Tonic, Kir Royale or Aperol Spritz
$12 MezClub Margy, Mojito, Too Easy, Cloud 9, Too Easy, Daiquiri, Gimlet
$14 Espresso Martini
The late night happy hours offers up $12 concoctions, such as the Psychedelic Sunset and the Salted Caramel White Russian. But don't stop there as you'll want to check out all the signature cocktails.
Plus, you can grab some food while you're here, and you can truly soak up the vibe of this gorgeous restaurant and bar.
Where to find The Mez Club: 4/85-87 Jonson St.
5.
Chupacabra Mexican Restaurant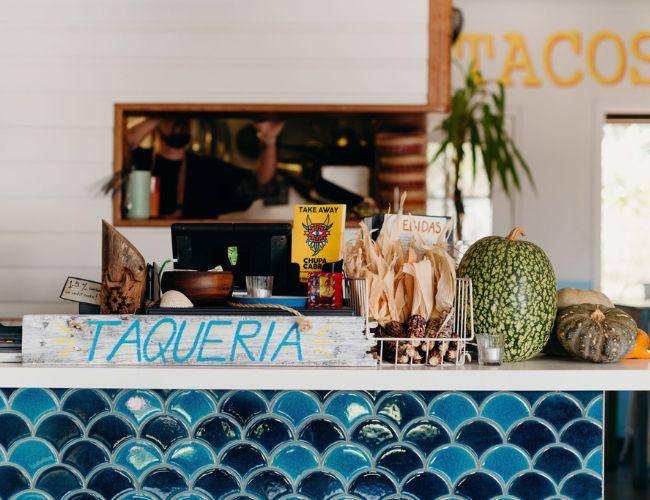 Image Source: Chupracabra.com
Head to Chupacabra for a dining experience that will transport you to the coast of Mexico! Their vibrant, light, and wholesome dishes are sure to please your palate. The colourful atmosphere and style of their restaurant will make you feel like genuinely sitting in Mexico. So round up your friends and come enjoy a delicious, authentic meal with Chupacabra!
Tasty food, served fresh daily!
Their menu features fresh-pressed tortillas made in-house daily, filled with a choice of slow-cooked, smoky meats, grilled vegetables, and salads or fresh seafood offerings. You're sure to find something to your liking – and it'll all be delicious!
Don't forget to try their cocktails!
Their amazing cocktails include a signature classic margarita with tropical twists available seasonally, a specialty spin on the classic michelada (salty spicy lime-y beers), and classics with a Mexican flair, like 'Horchata Coladas' and a mezcal and lime-cello Negroni.
Mexican taqueria in Suffolk Park not far from Broken Head Holiday Park – only a 5 minutes drive away or a 40 minute walk if you feel up to it.
6.
Rae's Dining Room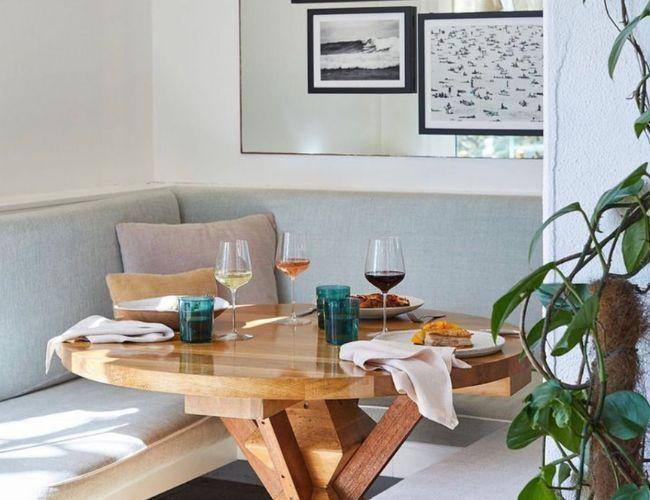 Image Source: Instagram @raesonswatego
Step into Raes Dining Room and instantly feel transported to a world of Australian-Mediterranean fusion cuisine, all while surrounded by the stunning natural beauty of Wategos beach. Whether you're looking to share some small plates with friends or indulge in a romantic dinner for two, their menu has something for everyone to enjoy. So go and let them take your tastebuds on a journey!
Executive Chef Jason Saxby and his Dining Room team offer individual reservations, as well as exclusive hire options for special occasions.
Rae's food and beverage offerings are carefully curated to showcase the best of what the region has to offer, with a Mediterranean influence.
They recently introduced the Prix Fixe menu or six-course tasting menu to ensure all guests enjoy the complete Raes Dining Room experience.
Price:
Three courses – $115.00

Tasting Menu – $140.00
Raes on Watego is a 16 minute drive from the Broken Head Holiday Park.
7. Arts and Industrial Estate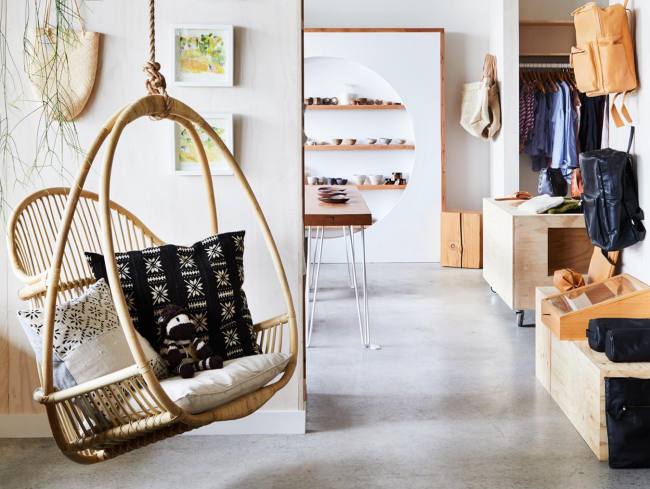 Image Source: Elements of Byron Bay
Visitors who don't visit the Arts and Industrial Estate in Byron miss out on the complete Byron experience.
Since the 1960s, Byron Bay has become a renowned destination for those who appreciate a barefoot, relaxed lifestyle. This transformation is largely due to the influx of hippies and surfers who have made Byron Bay their own. It's a melting pot of creativity and inspiration: a world-famous playground for earth lovers, healers, and free-spirits.
In addition to boutique shops, wellness centres, cafes, and art galleries, it offers artisan fashions, stunning artwork, and boundless creativity.
It's a fantastic place to discover the latest artisan fashions, stunning artwork, and unlimited creativity.
Located only 18 minutes away from The Broken Head Holiday Park.
8. Combi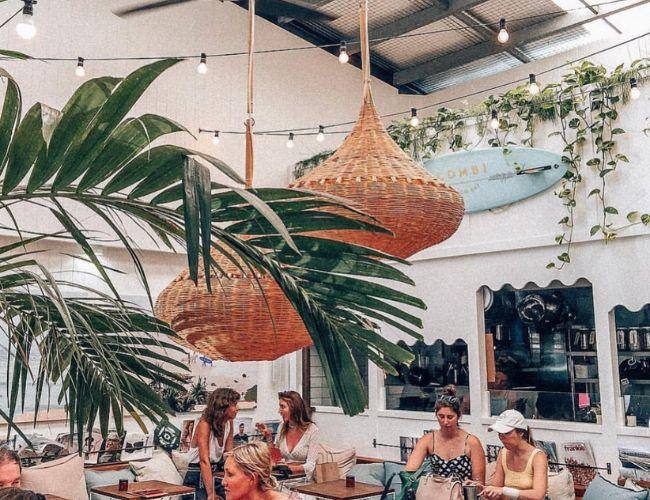 Image Source: Instagram @wearecombi
Combi has been nourishing the residents and visitors of Byron since 2008 with their philosophy of using local organic products.
Combi's menu is full of delicious dishes, like açai bowls with sourdough bread and apricot cardamom jam, buckwheat pancakes with raspberry chia jam and fresh strawberries and bananas, and coconut ice cream with maple syrup and macadamia crunch. Everything is made with only the freshest ingredients.
If you're ever in the mood for a delicious healthy meal and a place to hang out with your friends, be sure to check out the impressive cafe! With over 588 4+ star reviews, it's clear that this cafe is a popular choice among locals and visitors alike.
Plus, it's only a short 16 minute drive from The Broken Head Holiday Park, so you can easily swing by before or after exploring everything this beautiful area has to offer.
Check out all the local hangouts and stay at BHHP
Stay with us at Broken Head Holiday Park where you'll be able to book reasonable accommodation that will give you more budget to check out all the local hangouts. Plus any of the fun things to do in Byron Bay that you've got on your to-do list. We can't wait to hear what you think of these and other local hangouts!