5 Best Cafes for a Delicious Lunch in Byron Bay

Lunch – the oft forgotten holiday meal for eating out provides an excellent chance to visit many cool Byron Bay cafes, but perhaps at a lower price point. That means more money available to try additional Byron Bay activities or awesome bars/restaurants.
Our list of lunch picks below is just the tip of the iceberg. Check out all our dining guide blog posts for ideas on whatever type of food you like, whatever meal you'd like (from breakfast to happy hour to romantic dinners) and more.
1. Top Shop
Head here for a perfect outdoor lunch in between Byron Bay activities or perhaps after a morning spent surfing at Bryon Bay beach, The Pass. Top Shop, known both for its excellent burgers and great coffee, happens to be just a five-minute walk from the city centre.
Due to the limited seating, you'll often see quite a few people gathered on a lawn eating delicious food from eco-friendly containers (because it's Byron Bay, of course). This former milk bar attracts both locals and tourists and is almost always busy, but it's worth it and would be an excellent lunch option for you during your Byron Bay holiday.
Location: 65 Carlyle St, Byron Bay
2. Beach Byron Bay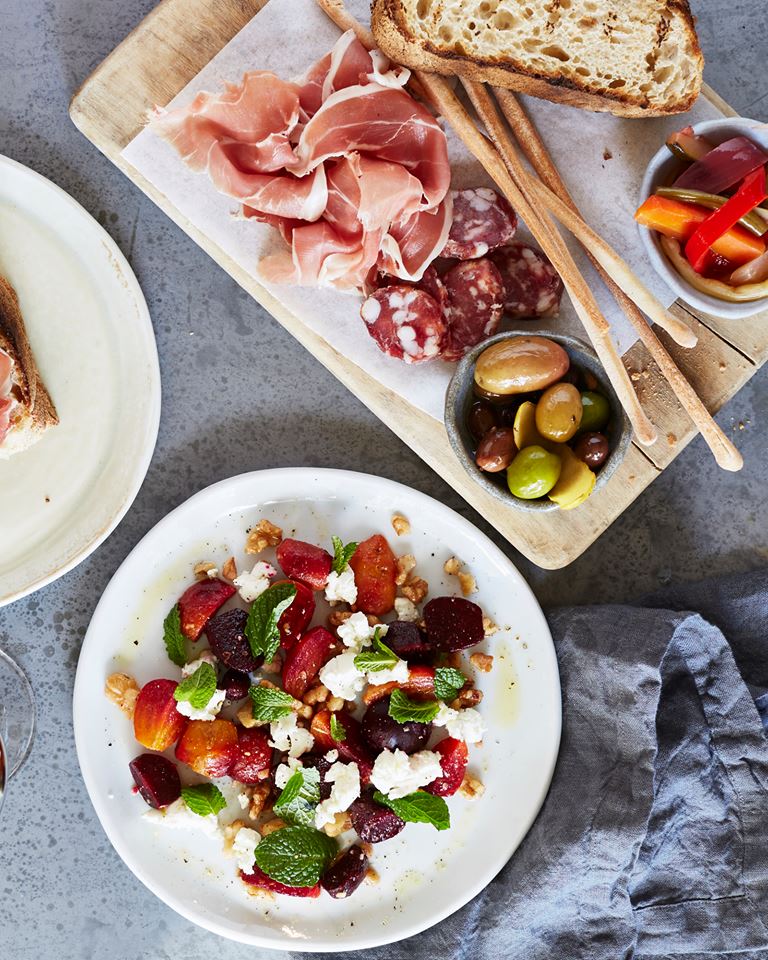 It's all about the view, and of course the scrummy food.
Located along Clarkes Beach on Lawson Street, The Beach Byron Bay  features amazing views that make for a good long lunch stop. You're on holiday, right? So snag a cocktail, check out the lunch menu and chat it up with your mates or partner while you take in the sounds of the ocean in the background.
You could even do takeaway and head down to the actual beach to enjoy your lunch. Whatever works for you, but don't leave this off your list of must-do lunches in Bryon Bay.
Location: 2 Massinger St., Bryon Bay 
3. Folk
This charming eatery, located a bit off the beaten path, just cries for enjoying your lunch outdoor. From the thoughtful style, including wooden bowls and throwback kitchenware, Folk hits the perfect Byron Bay vibe — plenty of hippie culture with a side of excellent food. And be sure to listen to the background music, there is usually a great selection of records playing. Don't be surprised if people are just milling around the front yard, siting on anything from benches and milk crates, to the grass. Follow the restaurant on Instagram so you can drool over the delicious concoctions they create.
Location: 399 Ewingsdale Rd., Byron Bay
4. Safya
Perfect for people watching, Safya, located at the corner of Bay Lane and Fletcher Street, offers up traditional Egyptian dishes–recipes that have been in the owners' family for generations–as well as other more modern takes. But in keeping with Byron Bay style, the food is preservative free, locally sourced, seasonal and organic whenever possible. Plan to get an outdoor table to soak up the sun during your lunch and watch the world go by as you munch on your delicious food. It is open seven days a week.
Location: 8 Fletcher St., Byron Bay 
5. Mac's Milkbar & Café
A favourite place to grab a yummy burger and a shake, Mac's Milkbar & Café is worth a stop for a cheap lunch. Located on Bangalow Road, Mac's is on the way into the main drag of Byron Bay or a perfect pit stop after exploring some of the eastern side of Byron Bay. All the bread, buns and sweets are made fresh daily by Byron Hot Bread Kitchen, and the café serves up Australian Genovese Coffee. Plus, it offers gluten-free bread options so you can still experience the great burgers in buns. All in all, locals and holiday visitors highly recommend this restaurant!
Location: 26 Bangalow Rd., Byron Bay
Don't just eat out during your holiday, be sure to check out this excellent roundup of places around Byron Bay to have a picnic. You'll be glad you did.
Stay at Broken Head Holiday Park and lunch away
Our reasonable accommodation makes it possible for you to grab more lunches out while you're on your holiday. Check out our various campsites, beach shacks and more as there's sure to be something suitable for you and your companions. There's so much delicious food to be had here in Byron Bay so don't delay in making your reservation!