What's On? Byron Bay Bluesfest 6-10 April

Easter weekend is approaching, and you know what that means, at least here in Byron Bay: It's Bluesfest weekend. This five-day Byron Bay festival of music is celebrating its 34th anniversary this year.
Bluesfest is Back!
One of Australia's most beloved annual events returns to Byron Bay this Easter weekend, April 6th through April 10th at Byron Events Farm.
Since 1990, Bluesfest has been Australia's premier rock, blues and roots music festival. This year, you can expect to find more than 100 performers across four stages with music playing from noon to midnight every day. That's a lot of music to take in!
The Byron Bay Bluesfest 2023 features a range of musicians from huge international superstars to independent artists and local musicians. Even if you don't consider yourself a blues fan, the Byron Bay Bluesfest is so much more than the blues. Music lovers of every generation and genre will find something to love – whether it's rock, folk, jazz, or reggae.
The Byron Bay Bluesfest is held each year (this year, 18-22 April) at Tyagarah Tea Tree Farm, located north of Byron Bay proper. The almost 300 acres provides space for over 100,000 people who annually come to the fest. Over the years, audiences attending the Byron Bay Bluesfest have been treated to performances by some of the biggest names in music, including:
Bob Dylan
John Mayer
Zac Brown Band
John Legend
BB King
Paul Simon
Dave Matthews Band, and
Lucinda Williams.
That's just a small list, check here for the previous years' lineups.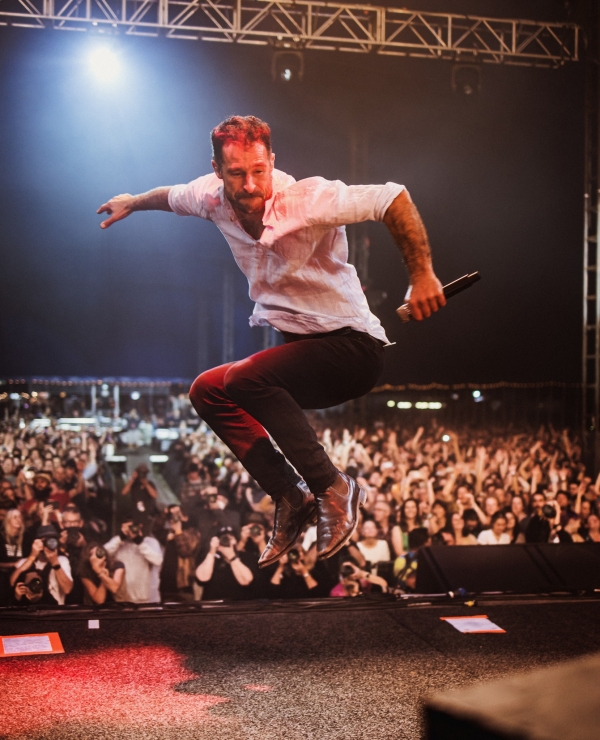 Image source: Bluesfest Facebook
2023 Bluesfest Lineup Highlights
Who's playing the 2023 Bluesfest? There are so many artists on each year's Bluesfest lineup that it is impossible to name all of them.
Major headliners this year include Elvis Costello and the Imposters, the Counting Crows, Tash Sultana, Paolo Nutini, Beck, Gang of Youths, Bonnie Raitt, Jackson Browne, Nathaniel Rateliff and the Nightsweats, and the Doobie Brothers, who are marking their 50th anniversary tour.
Also scheduled to play Bluesfest is Buddy Guy, the legendary American blues guitarist who has influenced countless artists during his 70-year career in music. Bluesfest will be part of Buddy Guy's final Australian tour, so don't miss this chance!.
Other highly anticipated performances include Lucinda Williams, Mavis Staples, and the Heartfelt Tribute to Uncle Archie, to honour the life and legacy of our beloved Gunditjmara and Bundjalung songman Uncle Archie Roach through story and song. 
Bluesfest Tickets
These great acts will be spread across the festival's five days. Tickets are available as single day passes, or as three-day and five-day passes. There are a variety of options available, but Bluesfest tickets are selling out quickly. As of now, adult, youth, and children's tickets are still available, but they are known to sell out!
Festival-goers may purchase tickets for one day or all five; adult ticket prices apply to all entrants ages 18 and older, youth tickets are available for children ages 15-17, and children's tickets are available for children ages 6-14. Children under the age of 6 get free admission.
For those who want an even more special experience, VIP upgrades are available for one-day, three-day, and five-day passes. VIP tickets are available to adults only, and must be purchased as standalone upgrades in addition to regular tickets. VIP upgrades give you access to the comfortable VIP lounge and premium restrooms.
For those who plan to camp at the event, camping tickets, parking passes, and vehicle add-ons are also available.
Festival-goers may purchase lockers to keep belongings safe during their visit to Bluesfest. You can book a locker on a daily basis, or for the entirety of the festival. 
A payment plan through LatitudePay is available at ticket checkout.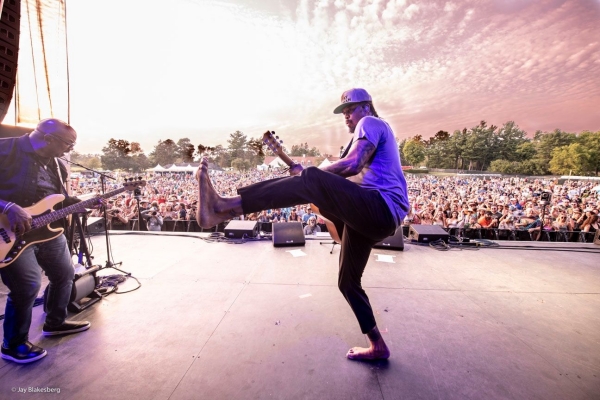 Image source: Bluesfest Facebook
To and From the Bluesfest
Bluesfest is held at Byron Events Farm, formerly Tyagarah Tea Tree Farm, just off the Pacific Highway, north of Byron Bay. Byron Events Farm is easily accessible from these nearby locations:
Travel times to Bluesfest (Byron Events Farm):
Mullumbimby: 5 mins
Byron Bay: 15 mins
Ballina: 35 mins
Coolangatta/Gold Coast Airport: 50 mins
Coffs Harbour: 2 hrs 25 mins
Surfers: 1 hr 10 mins
Brisbane GPO: 1 hr 45 mins
Brisbane Airport: 1 hr 50 mins
Noosa: 3 hrs 25 mins
If you are flying in for Bluesfest, the local airport, Ballina Byron Gateway Airport is situated less than 30 minutes by car from the festival. The vehicle hire service SIXT will have cars available to bring festival attendees to the festival from the airport.
The Byron Bay Bluesfest 2023 offers shuttles for attendees from Byron Bay, Lennox Head, Ballina, Bangalow, Brunswick Heads, Ocean Shores, and Mullumbimby areas.
For more information on the bus and train schedules, gate entrance locations, parking policies, and directions, visit the festival website.
Bluesfest Busking Competition
One of the most unique aspects of Byron Bay Bluesfest is the annual Busking Competition. Now in its 19th year, this tradition has evolved into a major opportunity for unsigned original artists to have a platform to showcase their talents.
Busking Competition finalists have the chance to play the Bluesfest stage alongside legendary artists. Finalists and winners will enjoy all kinds of prizes and opportunities to further their musical careers. 
Kids Bluesfest Program
Bluesfest is an all ages event, and children will find plenty to keep entertained at the festival. There are a number of kids' activities happening at Bluesfest 2023. Two sessions are available everyday from 2-3 pm and 4-5 pm, and keep in mind that all children must have a parent or guardian with them (it's not a babysitting service!).
Food, Markets and Charity Stalls
Byron Bay Bluesfest is more than just music.
When you get hungry, if you need a break from the music, or you just feel like wandering the grounds, head over to the stalls. There you'll find a vast array of food stalls that should suit any kind of taste. Either while you're eating or after you finish, take a stroll through the market stalls and find some treasures to take home after your holiday in Byron Bay.
More than your typical festival food offerings, Bluesfest is home to 36 different dining stalls serving all types of cuisine, from barbeque and wood-fired pizza to pho, falafel, Greek street food, and Japanese noodles.
There will even be vegetarian and vegan options and fresh pressed juice for something more refreshing to keep you energised all day. For a sweet treat, sample Byron Bay Organic Doughnuts, or crepes from the French House. 
Shop dozens of independent vendors selling leather goods, one-of-a-kind jewellery, festival-wear, clothes, and more.
Also, don't miss out on checking out the charity stalls where you can learn about everything from the Cystic Fibrosis Australia to Byron Youth Service.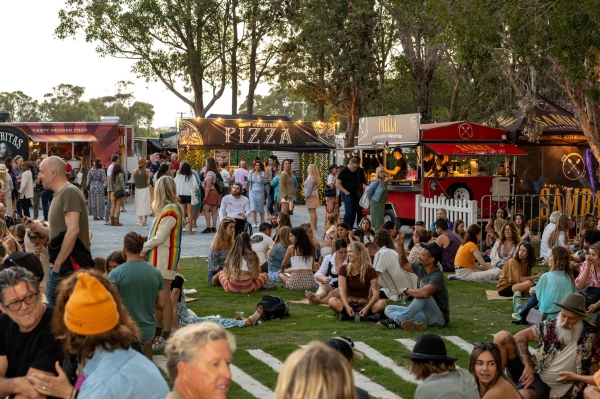 Image source: Bluesfest Facebook
Bluesfest Volunteers
Applications for event volunteers are now open! In exchange for their time, volunteers are compensated with one five-day ticket, giving them access to the entire festival.
Volunteers must be at least 18 years of age to apply. Volunteers must commit to at least 25 hours of work in order to receive their five-day pass.
That time may be allocated in five-hour increments each day during the festival, or completed before or after the festival itself. Volunteers are responsible for their own accommodations and transportation to the event. 
If you apply to volunteer during the festival, you must be available to work all five days, Thursday through Monday.
During festival volunteer work areas and roles include:
Bar fridge stocking
Cloakroom assistance
Customer feedback/surveys
Crowd and traffic guidance
Charity stall assistance
Camping assistance
Kitchen hands
Recycling/waste management/bar cleaning
Production/stage hand assistance
Pre-Festival volunteer work areas and roles include:
Bar stock load-in
OHS / Covid Safety
Kitchen set up
Décor / dressing room set up
Scaffolding building
General site set up
Camping and stalls set up
Volunteering at Bluesfest is physically demanding work with long workdays and elemental exposure, but it can be a great way to access the festival and be a part of the excitement!
Stay at Broken Head over the Byron Bay Bluesfest Weekend
Wondering where to stay during Bluesfest weekend? Choose affordable Byron Bay accommodation where you can crash after a long, busy day at Bluesfest such as Broken Head Holiday Park. You can easily grab the shuttle from Suffolk Park to the Byron Bay Bluesfest for any or all of the days, but staying here gives you the chance to relax in a quiet setting away from the busy festival grounds.
Our picturesque location and excellent facilities won't disappoint, and we bet you'll appreciate a little time away from the festivities. Book your spot today!