Top 10 Activites in Byron Bay for Animal Lovers

Love animals? Fascinated by seeing animals up close? Do you like to observe animals in their natural habitat? Then it's time to make plan for a holiday in Byron Bay.
Here in Byron Bay, you'll find there are lots of excellent tours, excursions and even just hikes where you'll be able to watch and sometimes get up close and personal with animals. We've created a top 10 list for you to show just how much variety and fun animal things to do in Byron Bay exist.
Check out our list and start figuring out what you'll pick to do first on your next holiday in Byron Bay!
1. Whale watching tours (and tips for on your own!)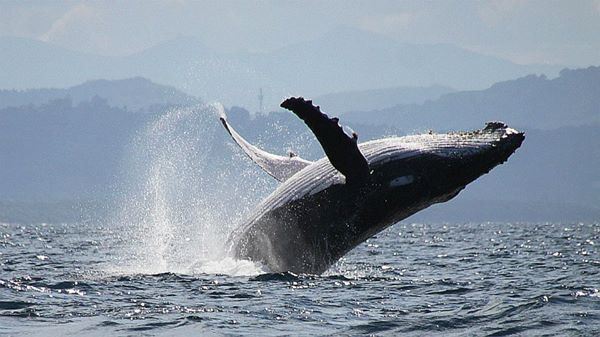 Come between June and November, and you're likely to see one of these magnificent beasts making its way past Byron Bay. Our location is well known throughout the country as one of the best locations to admire migrating whales.
An almost guaranteed way to observe whales is through taking a whale watching tour. Most companies will give you another tour for free if you don't see whales on the tour, so you shouldn't be disappointed. Two of the largest whale watching tour companies are Whale Watching Byron Bay and Blue Bay Whale Watching. Either of these option will take about two to three hours of your time and guarantee a whale viewing.
If you would rather attempt to watch for whales while taking a walk, then we have some options for the best vantage points:
Cape Byron Lighthouse
Captain Cook lookout
Broken Head Nature Reserve (follow the Three Sisters walking trail to a lookout)
2. Sea kayaking (dolphins & sea turtles)
If you're a fan of dolphins, then you'll want to sign up for sea kayaking. These tours will get you up close to the bottlenose dolphins that hang around the Byron Bay Area.
Go Sea Kayak Byron Bay offers a three-hour tour that heads to Cape Byron Marine Park, where you'll almost always find dolphins. Plus, there's the bonus that you might see sea turtles and if the timing is right, perhaps a whale will check out what you're doing. Tours are approximately three hours long and take place 7 days a week at 9:30 am and 2 pm. All equipment is provided, even wetsuits in the winter months. Cost is $69 per person and available for ages 5 and up (cost is $59 per child, under 12).
Another tour option is with Cape Byron Kayaks, which also provides two tours daily.  This kayak company has tours at 9:30 am and 1 pm (summer) and 10 am and 1:30 pm (winter) and leaves from Clark Beach and heads out to the marine park. Included is a stop at Wategos Beach for tea, kayak "surfing" and a drop-off/pick-up service from your accommodation. It costs $69 per adult and $59 per child (for under 12 years old).
In case you really enjoy the kayaking, then you might want to check out Sea Kayak's additional tour — river kayak tours along Brunswick River. Like the sea tours, you'll have the chance to see wildlife up close, including turtles, dolphins, rays, fish (mangrove jacks, flatheads, bream and whiting) and birds (any of more than 22 migratory and eight resident shorebird species). The two-hour tour also features snorkelling, drinks and refreshments and free photos for downloads. Same prices as the other tour, and no experience required.
3. Snorkelling with turtles and more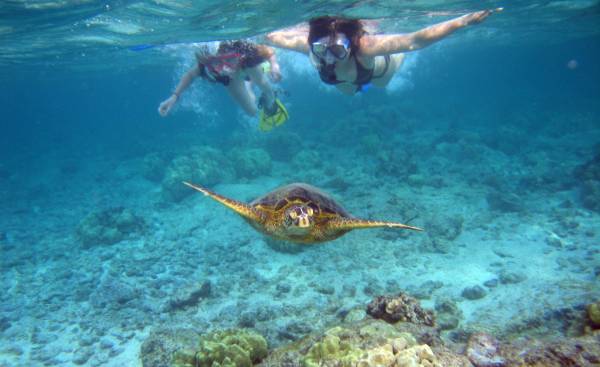 A great way to observe sea animals is getting in the water, and you can do so with a snorkelling excursion. This activity, which is something almost anyone who can swim can do, gives you a chance to visit the Julian Rocks Marine Reserve. This amazing place is where more than 400 types of tropical fish, three species of sea turtles, rays and more marine life call home. The reserve rates as one of the best locations in Australia to snorkel and dive! Companies like Byron Bay Dive Centre provide snorkelling tours that includes all the equipment and even a free snorkel lesson if you need one. The cost is $75 for adults and $65 for ages 5-15 (minimum age is 5 for this activity).
4. Night vision walk (check out frogs)
Take a walk through Byron Bay's hinterland at night, and you'll experience what the wildlife does during some of its peak active hours. Not only will you see a colony of glow worms, but through the use of night vision googles you might view such animals as possums, bandicoots, tawny frogmouths and sometimes even an owl or koala. This memorable tour winds you through the hinterland with a final stop at the top of Minyon Falls where you sip hot chocolate and enjoy the night sky view. Cost runs $99 per adult ($300 for a family of four, two adults and two children). Make sure you have good walking shoes and any children (age 10 or more) coming along are able to walk two miles.
5. Hiking (birds, turkeys and others)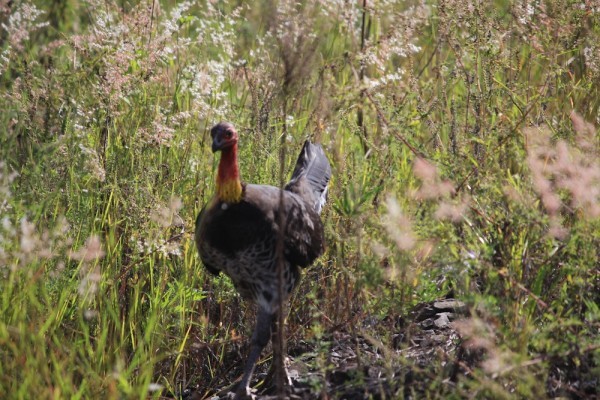 Hiking the popular Nightcap National Park's rainforest will almost guarantee you see a few of the Byron Bay land animal species.
Minyon Falls: Here you'll want to look up for a chance to see peregrine falcons and down for brush turkeys, especially in the picnic area.
Quite a few threatened animals, such as the red goshawk, rufous scrub bird, sooty and masked owls and regent bowerbirds, find refuge in the rainforest.
Protestors Falls: Swimming isn't permitted in the falls because the endangered Fleay's barred frog is found here. You should be able to observe the pale brown frog hiding near streams or looking for food. However, it's possible you might just hear, keep your ears alert for the frog's unique "arrrrk."
6. Fishing
If you're looking to do some fishing while you're here on holiday, then you'll want to check out our post on fishing spots (as well as information on rules and what not).
However, since you're on holiday, sometimes it's easier to leave it to the local experts to help you have the best experience. If that's what you want, then check out a tour with Paul's Fishing. Each tour lasts five hours with small groups of four adults or less.
Paul's Fishing provides bait and tackle, snacks and refreshments, and even sunscreen. You don't need to worry about looking license rules or putting in applications. All the licenses and permits as well as following fishing regulations are handled. Just show up with a pair of sunglasses and a hat — you're going to be out in the sun on the beach.
If you want to keep any legal catches, then those will be prepared and kept cool for you until the end of the tour. The tour company picks up and drops you off at your accommodation as long as it is within the Byron Bay to Ballina costal zone. If you aren't, then just note in your reservation that you are going to meet up with the group at another pick up. Email Paul's Fishing: paulsfishing1@yahoo.com to find out about pricing and bookings.
7. Koalas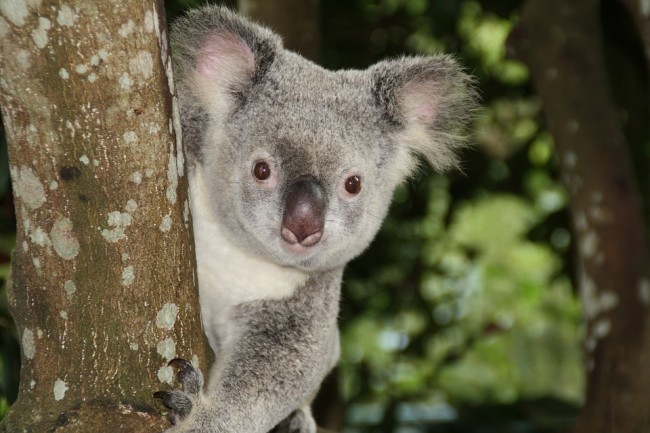 Despite some population decrease in recent years due to loss of habitats and other threats, koalas still live in the Byron Bay Area; you just have to work a little harder to see them. Take a drive down Whian Whian Forest Drive, follow any side roads with signs that read "koalas are nearby" and then go slow as you won't catch a view of the koalas otherwise. '
Hopefully more koalas will be in the Byron Bay in the near future as the area has committed to increase the population through the Koala Connections project. We don't want to lose any more of these beloved creatures!
8. The Farm Byron Bay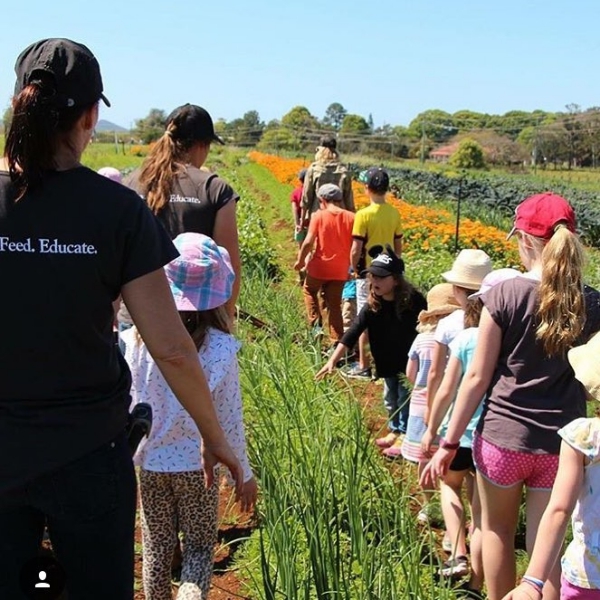 Not only is The Farm an awesome place to indulge in a delicious meal, but your kids (and you too!) might enjoy getting to view the pigs, chicken and cattle located on the property. There also are bees! Be sure to check out the What's On page on The Farm's website as it lists workshops and events where you and your family could experience animal fun such as learning about pig farming and caring for bees.
9. Ride a horse on the beach
What a memory you'll make if you pick to ride horses on the beach while on your holiday in Byron Bay!
Seahorses Riding Centre features daily beach rides at Brunswick Beach during the week only (weekends are too busy on the beach to safely go on rides). The options for times are either 10:30 am (through 1 pm) or 1:30 pm (through 4 pm). The horseback ride features 90 minutes of riding and then an amazing "swim" in the ocean with your horse. Also, rest easy if you are nervous or a novice rider, the guides from Seahorses can lead the horse into the ocean for you. Refreshments are included in the rides, and make sure you have your camera or even Smartphone because this isn't something you'll want to miss documenting. Cost is $100 per person.
A short 15 minute ride away, Pegasus Park also provides beach horseback rides that last one to two hours, depending on which type you pick. You should note that the two-hour version includes a ride on your horse bareback into the ocean. How cool would that be?! The rides are done at 7 Mile Beach and cost $80 for an hour (per adult, $10 less for children) up to $130 for two hours.
And finally: 10. New! Swimming with whales
One of the newest animal activities available in the Byron Bay Area is swimming with whales.
Yep, you read that correctly.
Through Wild Byron you may experience this amazing interaction. This once-in-a-lifetime tour provides the chance for four people maximum and a guide to view and interact with the whales. This small number increases the chance that whales will approach. The two and a half hour tour gives you an opportunity to swim with whales if they appear interested and, as long as there is time, diving at Julian Rocks. The cost is $150 per person. Masks, fins and wetsuit are provided, but if you own your equipment, it's recommended you bring that along.
Animal lovers book a stay at Broken Head Holiday Park
Bring your love for animals and book your holiday stay with Broken Head Holiday Park. You can pick your perfect accommodation, and you're sure to find a reasonable price, which means more budget available to do additional animal experiences. Plus, you should note that Broken Head Nature Reserve is one of the best places to view migrating whales, so you're that much closer to getting in more of your animal activities!