What's On? Australia Day in Byron Bay
Australia Day 2017 falls on a Thursday, so it'd be the perfect opportunity to take a four-day weekend. Combine sun, surf and the celebration of this national holiday into your plans. Byron Bay area festivities feature a breakfast, community awards and live entertainment. Plus, this year marks the return of the popular Byron Bay Australia Day Paddle.
So, go for it and enjoy that holiday you've been needing by taking advantage of all the excellent things to do in Byron Bay. The summer weather will aid you in your quest to try out the Byron Bay essentials, including the beaches, surfing and a walk up to the Cape Byron lighthouse. Especially if this is your first time in Byron Bay, check out our blog post about what to do in 24 hours in Byron Bay—it's too short to capture everything, but it's a start!—and try to check off many of these must-dos.
For the actual Australia Day, you'll find lots of activities going on in the Byron Bay area.
Breakfast – Come down to Byron Bay's most popular beach, Main Beach, and grab some delicious brekkie and live music, starting at 7:30 am. This event, put on by the Rotary Club of Byron Bay, will provide free Australian flags and food to attendees. Taking place next to Byron Bay Surf Club, the morning event will run through 11 am.
Another breakfast option is in Brunswick Heads at the Housie Tent from 7:30 to 10 am. Breakfast will be $5 (with vegetarian and gluten-free options), and the activities include a sing along and live music.
Byron Bay Australia Day Paddle – This charity event begins at 10 am, with the option to paddle on a surfboard, paddle board, nipper board or a stand up paddle board. The paddle starts at Wategos Beach and goes over to the Byron Bay Surf Life Saving Club on Main Beach. Individual entries are $10, and all the money raised goes to charity. Refreshments and BBQ will be served at noon on the club's deck.
Official Australia Day Ceremony – The official holiday ceremony, where the community awards will be given out, begins at 11 am at the Mullumbimby Ex-Service Bowling Club in nearby Mullumbimby. After an address about Australia Day, the following awards will be given:
Citizen of the Year
Young Citizen of the Year
Sports Person of the Year
Community Event of the Year
Volunteer of the Year
Environmental Volunteer Project of the Year
The ceremony is scheduled to be complete by 1 pm.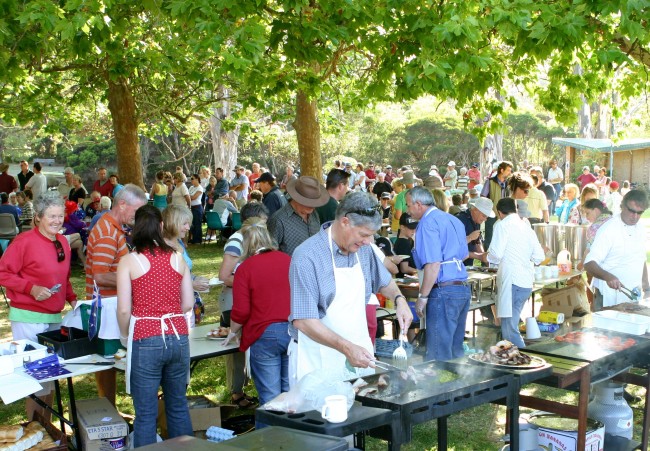 Afternoon Byron Bay activities:
There are a variety of things to do on Australia Day 2017 in the Byron Bay area during the afternoon hours. In Byron Bay proper, there will be a Celebration of the Survival of Indigenous Culture at Main Beach that will feature dancing, music and kids activities. This event runs from 11 am to 3 pm.
Suffolk Park, just a short drive from the main drag of Byron Bay, will hold a sausage sizzle and provide attendees with cake, drinks and free Australian flags among other things between noon and 5 pm.
Book Your Australia Day Holiday at Broken Head
Celebrate the national holiday, Australia Day, this year by using it to give yourself a well-deserved long weekend in Byron Bay. Keep costs low by booking your stay at Broken Head Holiday Park where you can choose anything from an unpowered campsite to a beach house. Our location makes it easy to join in on the festivities in the area for Australia Day as well as take in the Byron Bay essentials.