10 Ways To Make the Most of Wet Weather Camping

Sure, we like to think that every holiday will be filled with sunny, gorgeous days each and every day. But sometimes it just doesn't happen that way, and we need to remember that wet weather certainly doesn't need to ruin a holiday.
The key to camping during wet weather is bring the right outdoor gear so you, your tent and your stuff don't get soaked. We've put together some camping tips for you so you can make the best of a rainy holiday.
1. Bring the right camping gear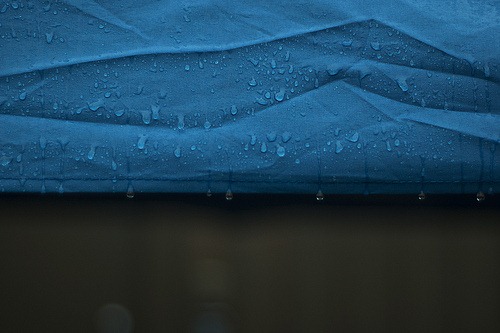 Image
This is probably an obvious camping tip, but you'll want to make sure to bring along the right outdoor gear if there's even a chance of rain during your holiday. From bringing along an extra tarp and plenty of plastic and ziplock bags, to outdoor clothing such as hooded rain jackets, you'll find yourself happier and spending less money at the last minute if you ensure you're prepared for any weather situation.
The most important thing is to double-check your tent is truly waterproof and comes complete with a rain fly before you leave for your holiday. We suggest setting up your tent at home before you leave and spraying it with the garden hose. If you need to purchase a new tent check out the section 'Planning for the wet' in our tent buying guide:
2. Set up your tent properly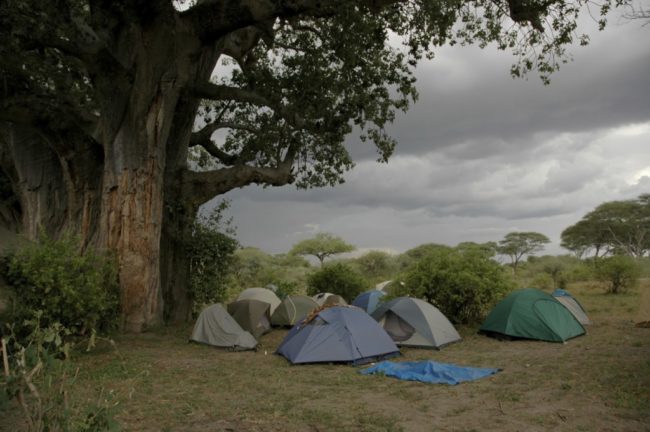 Image
Save yourself grief during your holiday by spending the extra time to set up your tent in a good location, adding extra protection against rainy weather and properly ventilating your tent. When you are getting ready to pitch your tent, check your spot and make sure you don't pitch it in any dips or hollows on your campsite.
If you're stuck with a slope, then make sure the doorways face the lower ground, which ensures the tent doesn't fill with water. Place a waterproof tarp under and another over your tent, while still making sure the tent is properly ventilated so as not to create condensation. Also, don't place any sleeping bags or other camping gear near or touching tent walls, which could lead to water leaking into the tent.
3. Plan fun, indoor activities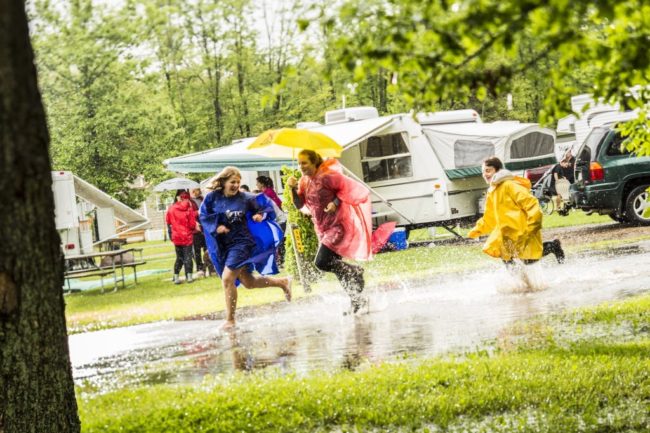 Image
Don't let the rainy weather get the best of your camping holiday, especially if you're camping with kids. Embrace the weather and besides having an impromptu rain puddle jumping party, you'll find there are still lots of fun things to do in Byron Bay in particular if it does rain.
In fact, we already put together a whole post with ideas for you and your family for wet weather activities:
4. Bring indoor, or in-tent, entertainment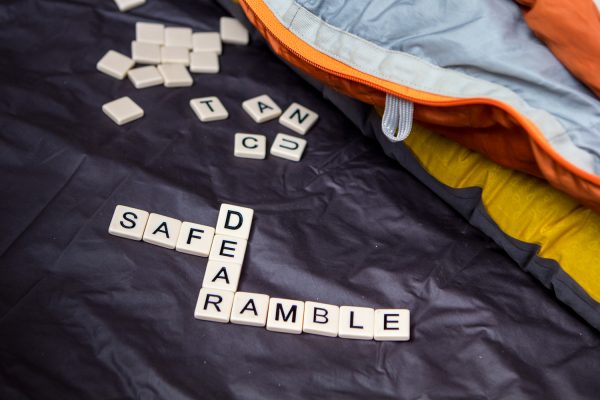 Image
When putting together your camping checklist, you should always to include some campsite entertainment options, such as iPads for movies, books, games and colouring books and crayons. While considering your options, you'll need to think about what can be transferred inside—whether that's in your camper or your tent.
Check out Wi-Fi options or whether you need data available in order to watch movies while you're on holiday. (For example, Broken Head Holiday Park provides free wifi access to all guests!)
Beyond the good old iPad or laptop, we've gathered a list of camping games, some of which will work in wet weather conditions or others that could be modified for rainy days. Check it out for ideas:
5. Go hiking in the rain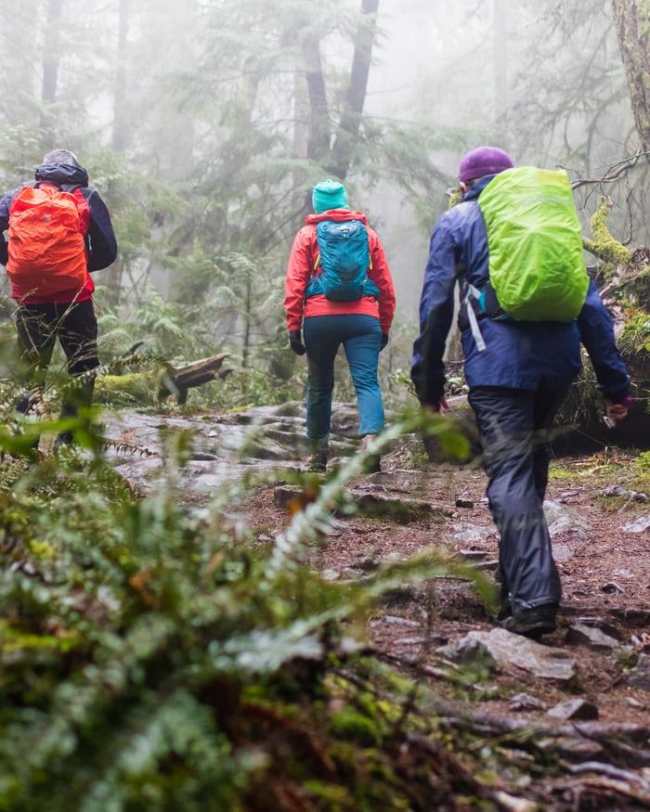 Don't let the rain ruin your hiking plans unless it's a serious downpour. All you have to do is to remember a few extra tips before you go hiking in Byron Bay in winter:
Watch out for streams, rivers, and other water crossings. The rain increases the water volume, and speeds up the flow.
Watch out for loose, slippery rocks. You might feel like the rocks and stones are slipping and sliding underfoot in the rain. Walk slower and keep a sure footing on the trail.
Expect mud in dirt paths. A sturdy pair of waterproof hiking boots will give you a firm grip on muddy trails.
Stay hydrated, especially since rain makes you forget that you're sweating as you go. Keep your water bottle close and drink up even if you don't feel super thirsty.
Prepare for hypothermia: Keep as warm and dry as possible to avoid shivering uncontrollably or getting slow and drowsy. These symptoms show if your body temperature gets too low.
6. Separate and dry your camping gear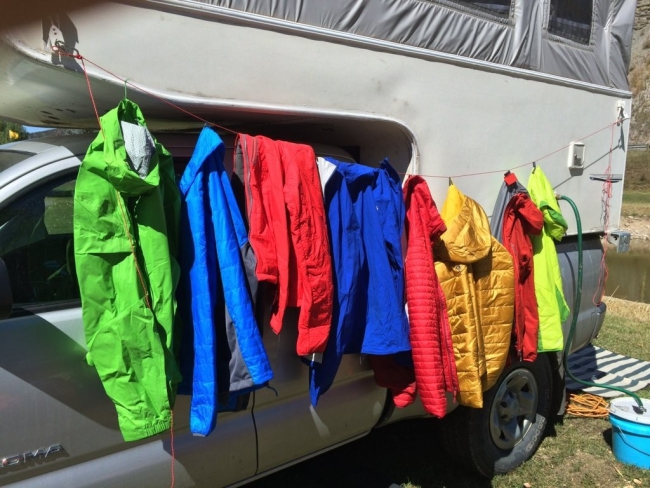 Image
During set up, while you're there and after you get home, you'll want to be diligent in making certain your wet camping gear dries properly and doesn't get near your sleeping bags. All electronic gear, such as phones, cameras and iPads, need to stay in dry plastic bags when not in use to be extra sure they don't get wet.
Wet gear needs to be properly dried and should be stored in plastic bags or even garbage bags until it can be dried (and really the best option is washed and dried in laundry machines). When you get home, dry out all your outdoor gear thoroughly so you avoid anything getting smelly or damaged. Plus, you'll want them ready to go for your next camping trip!
7. Make carbs your friend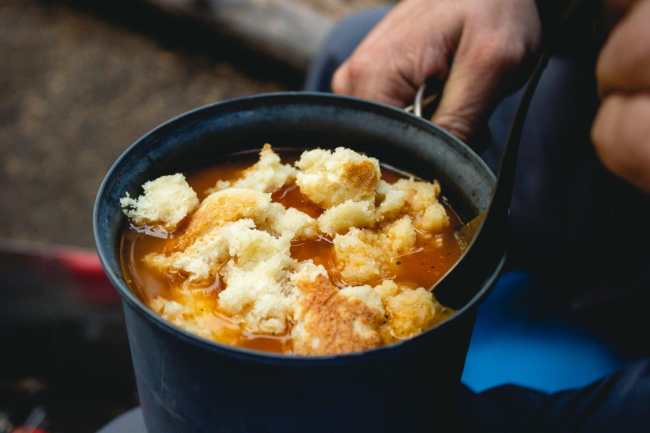 If you get freezing when camping in the winter, you shiver because your body is working extra to keep you warm. One way to stay toasty in the rain is to wear the proper clothing. But it's also a great chance to pack carbs in your camping recipes.
In fact, Byron Bay in winter is the perfect time to bring out your Dutch camping oven. Throw in all kinds of delicious ingredients like potatoes, beans, even ribs, meatballs, and dumplings. Make wholesome, filling camping meals that will warm you right up. Of course, eat lots of fresh fruit to boost your Immunity and fight colds and flu.
8. Keep your gadgets safe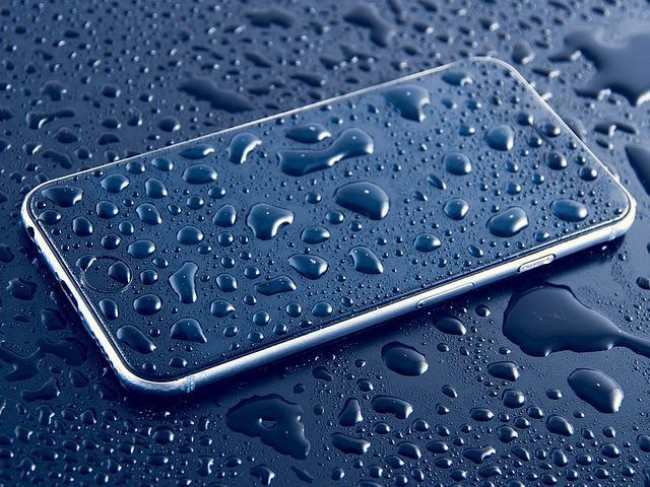 You really can't go camping nowadays without a smartphone, at the very least. But some campers pack serious tech, too, from smartwatches to speakers, headphones, cameras, and power banks to keep everything fully charged.
But what happens when the rain comes down during your camping trip? No matter the weather, keep your gadgets in waterproof bags to keep them free of moisture. You can also buy waterproof covers for oversized items like generators. Don't leave any of your devices directly on the ground, either. A wet surface can be just as damaging as rain.
9. Reminisce with old magazines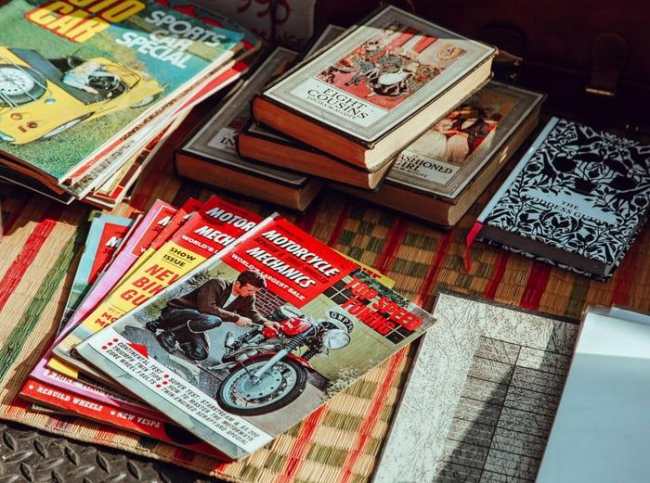 You may have your smartphone or tablet with you during your outdoor adventure, but how about brushing up on those old magazines for your camping trip in Byron Bay in winter? If you have any old pamphlets or comics lying around, bring them to camp too.
The rain is always a good chance to set the tech aside for a few hours and go down memory lane. And if you're camping with kids and your old magazines aren't too precious, bring a pair of scissors, extra paper, and glue to make magazine cutouts or papercrafts.
10. Do some improvised storytelling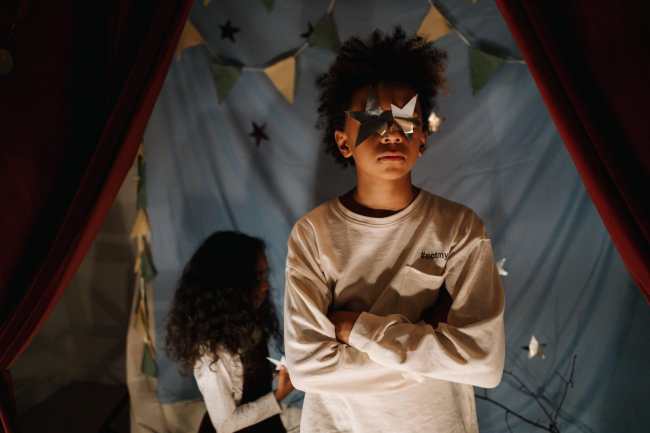 Tell crazy tales to pass the time in the rain, or just for the sheer fun of it. This activity isn't just for kids–everyone can take turns weaving a good yarn. Improv storytelling is so enjoyable that you won't even notice when the rain stops! If you're wondering where to start, here are some great improv ideas:
Circle story: Begin your story by saying, "There once was a lone camper in Byron Bay in winter." The following person picks up the plot using the very last word of your sentence, so "winter was pretty quiet that year…" and so on. Build up an exciting story until you reach the end.
Best/worst: You'll need a signal for this game, either a bell, a whistle, or a clap of hands. Start telling a story where only good things happen, but once the signal sounds, continue the story but with only bad things happening. Switch back and forth to see if the overall story has a good plot.
Nouns-in-a-hat: Even a mug or a bowl will do for this game. Write down some interesting nouns on pieces of paper and put them into your container. Start telling your story, pick a noun, and use it to continue with the story. Go wherever the noun leads, and the weirder the nouns, the crazier the story!
Bring all your gear for a great holiday at Broken Head
If you follow these camping tips, you'll still have a great holiday at Broken Head Holiday Park even if you do run into some of the wet stuff. So even if you've booked a weekend that might bring rain, you'll still be able to come on your holiday to Byron Bay and have a fun time.
Booking a campsite means you'll have access to power if you'd like as well as an excellent set of facilities. So don't worry, prepare yourself and you'll be ready for whatever weather you encounter.