Camping Food: What to Buy Locally & What to Bring From Home

One of the best ways to save money on a holiday is to eat-in at your accommodation for at least a few meals.
You can take advantage the facilities at your camping ground or in your caravan to be able to serve up some great camping food. Not only is it better for the budget, you can also easily cater for the tastes of everyone in your family or group.

However, it's not possible to bring the entire contents of your pantry and fridge with you on holiday! So, that leaves you with the decision of what to bring from home and what to buy locally. 
We'd suggest a visit to local farmers markets and food stores to secure such things as produce and other perishables (milk, butter, etc.). And bring some staples and non-perishables with you from home.

The following articles aim to jump start your brain in thinking about camping meals that you can supplement with local Byron Bay food once you get here for your camping holiday:
10 one-pot camping recipes to make on your camp stove
20 easy camping recipes to please picky eaters
What to Bring from Home
Herbs & Spices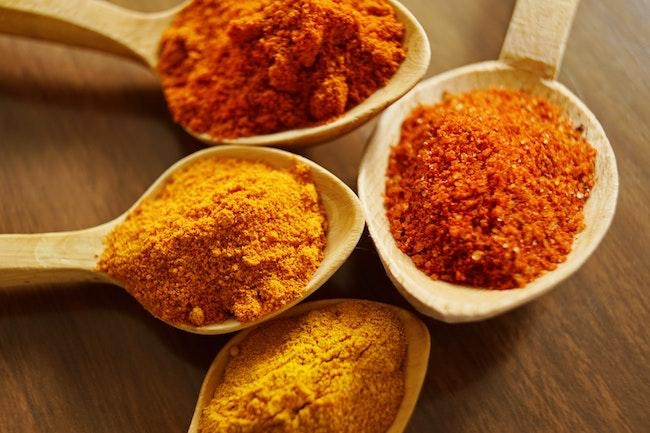 Image source: Pexels

Spices like salt, pepper, garlic powder, and herbs are used quite often in cooking. It's a great idea to bring along four or five of your favourite herbs and spices with you so you have them readily available for your eat-in meals.

If your herbs and spices are in glass containers, you can transport them in plastic baggies instead. This will save you space in your bags and avoid any spills!
Coffee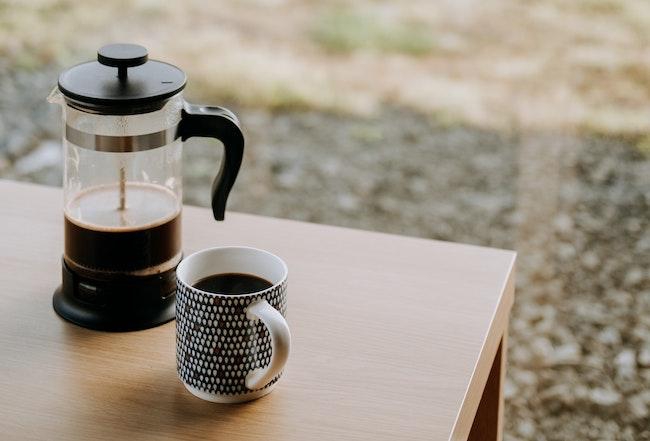 Image source: Pexels

We get it. Sometimes, you just can't wait to have your coffee! 
If you're the kind of person who needs a cup first thing when you wake up, it's a good idea to bring some coffee with you. Traveling to a coffee shop or waiting in line for your caffeine fix may not be ideal.

If you've elected for a non-powered campsite, try using a French press. All you'll need is some boiling water and voilà— your coffee is ready. 
Oil and Vinegar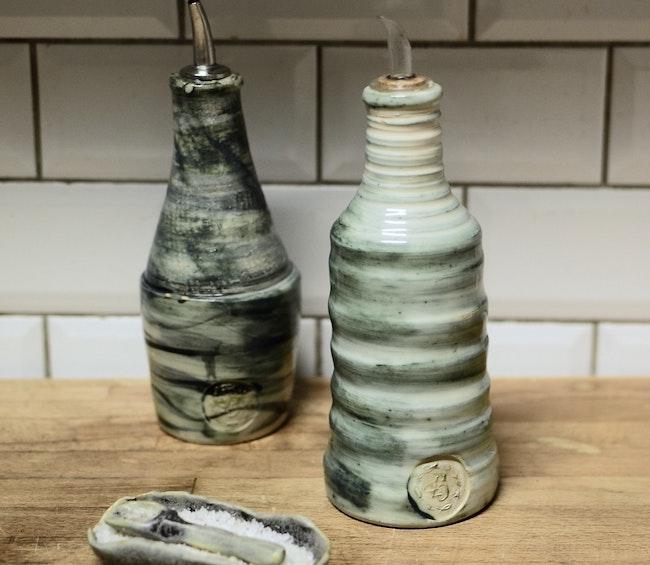 Image source: Pexels
Oil and vinegar are another pair of pantry staples that you can bring along for your holiday if you plan to cook. So many recipes use one or both of these ingredients, and because they can be a bit pricey you may not want to buy a set just for camping. 
If you're worried about transporting these items in glass containers, try putting a little into a plastic water bottle to bring along with you on your trip. 
Easy Snacks and Breakfast Items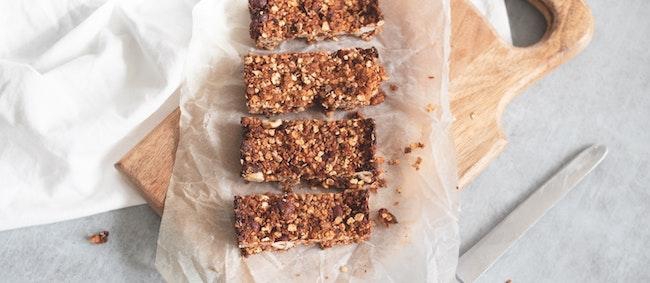 Image source: Pexels
Camping usually involves a lot of activities! Hiking, biking, and beach activities are common for campers here in the Byron Bay area. 
It's nice to have some easy snacks on hand that you can throw in your hiking backpack or take along to the beach with you. Muesli bars, snack nuts, protein bars, etc. are a great way to satiate your appetite and boost your energy during activities your holiday. Feel free to make some before you go camping and bring them along. 
Light breakfast foods, such as cereal or breakfast bars, are also great items to bring from home, so you are able to get up and out the door (or tent) quickly to go enjoy your day!
Dehydrated Foods and Canned Items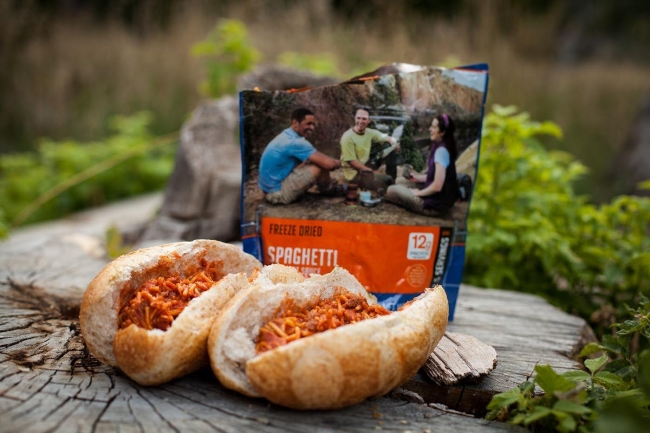 Image source: Pinterest
If you want to bring along some full pre-made meals for your camping trip, dehydrated and freeze-dried meals are a great option. There are plenty of tasty, convenient dehydrated and freeze-dried foods that require only boiling water for cooking. 
It's also a great money-saver to bring along any canned items in your pantry you think you might be able to use. Canned beans, veggies and even meats can make a great camping meal with the right variety of spices (like the ones listed above that you brought from home)!
Where to Buy Local Produce and Perishables 
Check out any of these locations for a great selection of Byron Bay food to make meals, provide snacks or finish out the ingredients you've brought from home.
Byron Farmers Market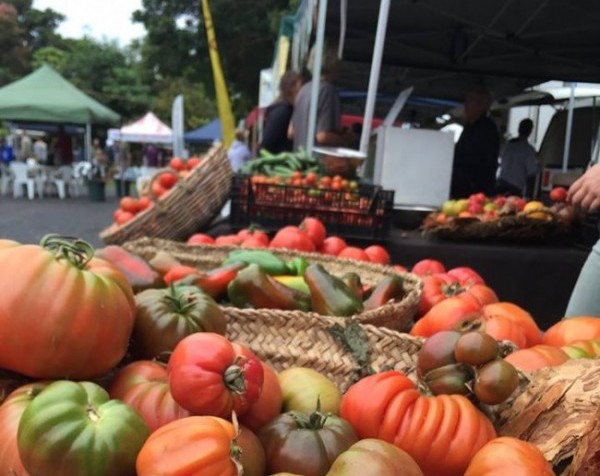 Image source: Coopers Shoot Tomatoes
The Byron Farmers Market, which takes place every Thursday from 7 to 11 am at the Butler Street reserve, offers visitors a chance to buy all kinds of fresh fruit and vegetables, free-range eggs, fresh meat and organic coffee. This Byron Bay market even features locally made wine!
You can stop by the Nomadic Kitchen stall to buy food that was made using the Byron Farmers Market produce. If you miss the Thursday market, the Bangalow Farmers Market, which is associated with the Byron market, is on Saturdays from 7 to 11 am. It is held behind the Bangalow Hotel.
Santos Organics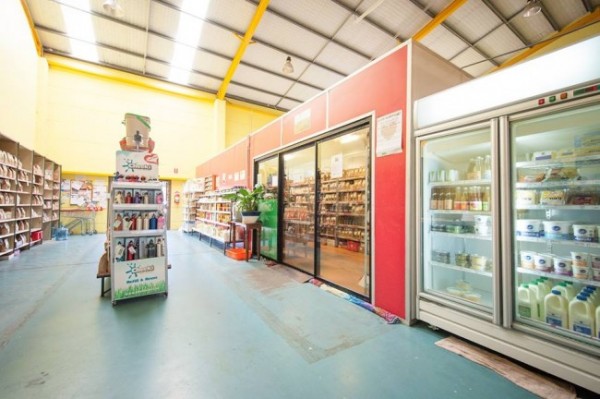 Image source: Santos Organics
This Byron Bay shop features organic, natural and GM-free food and is located in the city centre at 105 Jonson Street, across from Woolworth's. It's open 7 days a week, Monday to Saturday from 8.30 am to 6 pm (5 pm on Saturdays) and 10 am to 4 pm on Sundays.
The location makes it easy to stop by the store to pick up organic food in Byron Bay while out checking out the sights of Byron Bay. Santos also features an online ordering tool, so if you happen to discover something you love when you visit, then you can have it sent home (provided you live in Australia) to remind you of your Byron Bay holiday.
The Farm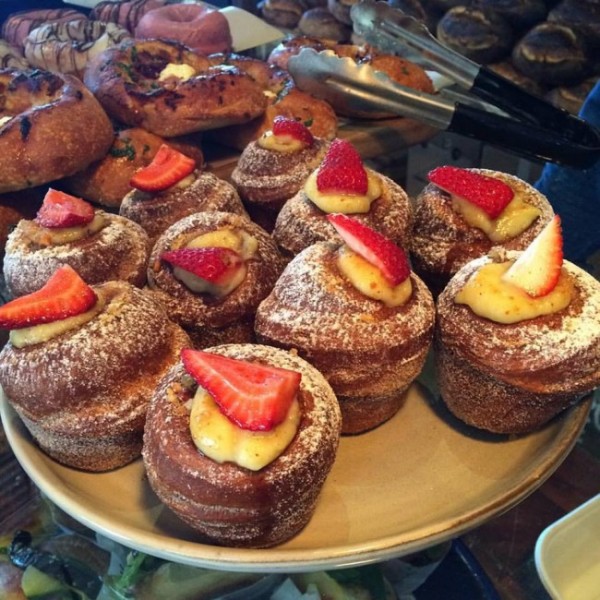 Image source: The Farm Byron Bay
Located on 80 acres outside of Byron Bay proper, The Farm, an actual working farm, brings together growers who want to provide sustainable, 100 percent chemical- and spray-free food.
Taking a trip here gives you access to several micro-businesses within one area where you can obtain fresh eggs, fruit, vegetables and breads and pastries. Both the Produce Store and Bread Social are open seven days a week from 7 am to 4 pm, and open late to 10 pm on Fridays, Saturdays and Sundays. Make note that you should get there early for fresh baked bread as it tends to sell out quickly!
Keep in mind, you might want to plan one of your meals out around your visit so you can try out Three Blue Ducks on The Farm, an on-site restaurant that gets rave reviews. The menu changes with the seasons and what the owners/chefs can find locally or on the farm.
Fundies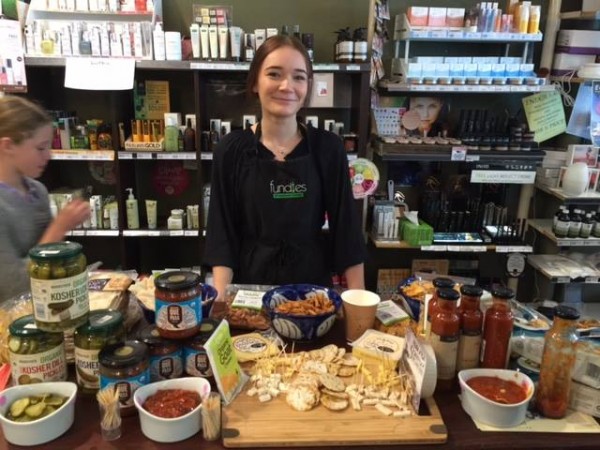 Image source: Fundies Whole Food Market
Fundies Wholefood Market & Café features organic produce, grains, flour, nuts and much more. The market is located in the heart of Byron Bay and is open seven days a week, from 8.30 am to 6 pm Monday to Friday, and 9 am to 5 pm on weekends (closes 4pm on Sundays).
This might be a good option to hit up if you find yourself running out of anything you brought from home and to pick up more produce for the rest of your holiday. As a bonus, there's a café in the store that serves fresh salads and vegetarian dishes, as well as coffee, juices and smoothies.
Come and enjoy delicious food while camping in Byron Bay
With excellent BBQ and camp kitchen facilities, Broken Head Holiday Park provides the perfect place to stay while on your Byron Bay camping holiday!
Keep your travel budget in check by making yummy camping food at your Broken Head campsite using some of the amazing local produce you'll find at any of the above listed Byron Bay markets. But be sure to leave some room in your budget to go out and experience some of the amazing array of restaurants in the Byron Bay area as well.