Top Stand Up Paddleboard Spots in Byron Bay

Due to amazing waves and other water spots, the Byron Bay area is known around Australia and even the world for having some of the best places to enjoy water sports, including stand up paddle boarding (or SUP as it is known to its fans).
SUP is one of the fastest growing water sports in the world. Originally introduced in Hawaii as a cross training option for surfers, SUP uses a surfboard (or a specially designed paddle board) and a paddle (like a longer canoe paddle). Participants stand on the board while using the paddles to push themselves along in calm waters.
One of the reasons the sport is gaining popularity so quickly is that any fitness level and age group can participate in stand up paddle – it is low impact and easy to learn.
So if you're coming to Byron Bay on holiday soon, why not try stand up paddle boarding as one of your Byron Bay activities? You might catch the SUP fever and want to get a board and paddle for home! We've made a list of places in the area that you could either hire a board and try it out or perhaps hook up with a company to take a lesson.
1. Cape Byron Marine Park's River Estuary
An excellent way to learn this fun sport is to go on the Byron Stand Up Paddle half-day tour, which takes place at the Cape Byron Marine Park's estuary. Not only will you learn how to stand up on a paddle board, you'll have a chance to see native animals, such as osprey, kingfisher and string ray.
For one adult, the tour runs $70 and includes:
Instruction on how to stand up on a paddle board and use your paddle
2 hours of paddling
Refreshments
Free pickup and drop off by bus (if staying in Byron Bay)
Photos
2. & 3. Main Beach and The Pass – When there are no waves!
Both of these locations are high up on surfers' must-do list for Byron Bay and recommended by the Guardian just this past July. But if you catch a day where the surf is flat, then both places turn into a great place for stand up paddle boarding! If you're already a SUP expert, then you can try out Byron Bay paddle boarding by hiring a board at one of the local surf schools. Soul Surf School has gotten into the SUP craze by hiring out boards for anywhere from two hours to weekly rates ($40 to $200). Another option is Black Dog Surfing (offers ½ day hire for $35). Or, you can look up Byron Bay SUP School, located on Shirley Street at the beach, if you would like to take a lesson. The school, which is a partner with the Byron Bay Surf School, offers three-hour lessons daily, starting at either 9 am or 2 pm.
4. Lake Ainsworth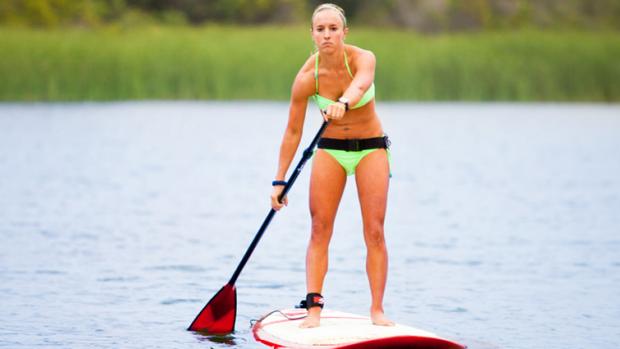 For a unique SUP experience, we suggest heading to Lake Ainsworth. If you drive about 15 minutes south of Byron Bay, you'll find the small coastal town of Lennox. There you'll go to the north side of town to visit the fresh water lake, Lake Ainsworth. The nearby tea trees give the water its interesting stain. The calm waters of the lake provide the perfect spot to get in some great stand up paddle boarding. Be sure to pack a picnic lunch and take advantage of the picnic and BBQ facilities located here.
5. Belongil Creek
This creek is situated to the west of the main town centre of Byron Bay. It is about 3 km long and offers another calm water location to enjoy stand up paddle boarding. Be sure to not disturb the colony of rare Little Terns. You can access the mouth of the creek from Belongil Beach.
6. Cudgen Creek
If you decide to visit some of the nearby towns when on your Byron Bay holiday, add Kingscliff to the list for a fun place to participate in stand up paddle boarding. Here you'll head to Cudgen Creek where you'll have access to 9 km of calm water and no boat activity, making it a great place to learn SUP or enjoy it while on your Byron Bay holiday. Whether you need to hire the board upon arrival or would like lessons, meet up with Watersports Guru any weekend between 9 am and 3 pm at the Kingscliff Bridget on Sutherland Street.
Stay at Broken Head for your SUP adventures
You can try stand up paddle boarding, this fun water sport, more than once while you're in Byron Bay by staying at budget-friendly accommodation like Broken Head Holiday Park. With our range of cheap accommodation options from camping sites, to beach shacks, you can feel good about spending more on even more Byron Bay activities!