The Ultimate Family Camping Checklist

With summer in full swing, it's a great time to take a long weekend, get the whole family loaded in the car and head to Byron Bay. On a Byron Bay camping holiday you can swim at gorgeous beaches, hike nature trails, spot wildlife, browse the markets and sample great food. Plus, by making it camping weekend, you and your family will get to have loads of fun without the guilt of overspending on a holiday. Check out our prices on unpowered and powered campsites and see for yourself how reasonable a long weekend holiday can be!
After you book your campsite at Broken Head Holiday Park, it's time to think about the camping gear you need to pack. Let's make sure your family can focus on fun rather than being upset that a key item was left at home. No need to worry because we here at Broken Head Holiday Park have put together the ultimate packing list for you. It will ensure your Byron Bay camping holiday will be a happy, memorable one!
What you'll need for the campsite
◊ Waterproof tent
◊ Fly sheet
◊ Tent poles
◊ Pegs and hammer or mallet
◊ Guide ropes
◊ Ground sheet or tarp
◊ Air mattresses (or at least sleeping mats)
◊ Sleeping bags as well as sheets to line inside
◊ Camp chairs (and table if you have room)
◊ Gas lights (with extra fuel) and/or rechargeable lanterns
◊ Esky cooler
◊ Camp stove with butane gas
◊ Gas lighter
◊ Saucepans and frying pans
◊ Can opener
◊ BBQ utensils (fork, tongs, metal spatula and serving utensils)
◊ Cutting board and good, sharp knife (make sure you have it contained safely when not in use!)
◊ Garbage bags

Camping gear to pack for everyone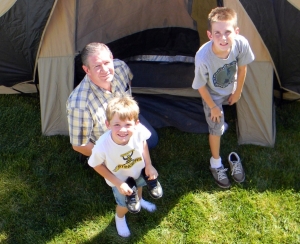 ◊ Comfortable clothes i.e. track pants and shorts
◊ Wet weather gear in case of rain
◊ Hiking boots
◊ Thongs for the showers
◊ Bathing suits, towels, goggles
◊ Hats and cover ups
◊ Toiletries
◊ Health insurance details
◊ Sunscreen
◊ Aftersun lotion
◊ Books/magazines
◊ Energy snacks

Camping gear for mum
◊ Handbag, purse, credit card and cash
◊ Antibacterial wipes/wet wipes for car and at the campsite
◊ First aid kit (consider including items such as antacids, antidiarrheal medicine, antihistamine, bee-sting medication, bug spray, bandages, paracetamol, thermometer, tweezers)
◊ Any regular medication for everyone
◊ Laundry detergent
◊ Bag for dirty clothes
◊ Chocolate and good book to read
Camping gear for dad
◊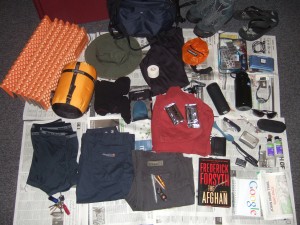 Wallet, credit card and cash
◊ Car insurance details
◊ Maps/navigation device (or just the campsite address if you have navigation in the car)
◊ iPad loaded with movies, good book to read
◊ Chargers for all electronic devices (phones, iPads, iPods for kids, camera, etc.)
◊ Extra batteries for any devices/toys that use them
◊ DVDs (for car as well as at campsite on laptop)
Camping gear for teens (14-18)
◊ Headphones for watching movies, playing music and games
◊ Laptop for watching streaming movies
◊ Personal phone/iPad/iPod
◊ Travel pillow
Camping gear for tweens (10-13)
◊ Headphones for watching movies, playing music and games
◊ Personal iPad/iPod/Kindle, etc.
◊ Travel pillow
Camping gear for young kids (6-9)
◊
Headphones for watching movies, playing music and games
◊ If this age child shares a tablet or iPod Touch or gaming device with a sibling, make sure to take two devices so they can switch
◊ Travel pillow and/or favourite stuffed animals (or whatever helps them sleep well!)
Camping gear for toddlers (2-5)
◊ Favourite cuddle toys/dummies
◊ Reading/bedtime books
◊ Colouring books/activity books and crayons
◊ Floaties or life jacket for swimming
◊ If your child is potty training or needs help with the bathroom, consider bringing a toilet seat to help make sure child feels comfortable
◊ Pushchair

Camping gear for babies (0-2)
◊ Favorite toys/lovies/blankets
◊ Pack 'n' play (and possibly booster seat if you want to use it if you're bringing a table or at the BBQ tables)
◊ Sippy cups
◊ Bibs
◊ Bottles and formula (if still using), baby food
◊ Dummies
◊ Nappies/nappy cream/wipes
◊ Swim nappies
◊ Life jacket for swimming
◊ Pushchair
◊ A packed travel bag for going out to dinner and whatnot (nappies, travel wipes, toys for distracting during meals out, extra dummies, snacks, bottles)
Book your Broken Head Camping Trip Now!
Join us at Broken Head Holiday Park on a fun, budget holiday in Bryon Bay. With the above checklist to get all your camping gear packed, you won't need to worry about anything but having a great holiday with the whole family. We look forward to seeing you at Broken Head Holiday Park!