Byron Bay Holiday Park Helper – Meet 'Ryan The Renovator'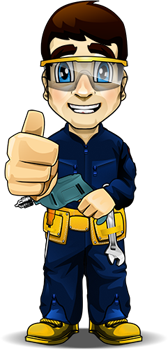 Tired of old, worn out facilities in your favourite campground? It's great to see that it's well loved, but with the busy modern schedule and growing families and friendship groups, more space and modern facilities just make life that little bit easier. And if there is one thing we know that is appreciated on holidays, it's anything that makes life a little bit easier!
With the Christmas holidays just around the corner, we are gearing up to offer you the best camping and holiday experience ever! Located just 7 kilometers south of the Byron Bay, our Byron Bay Holiday Park at Broken Head, offers stunning views of amazing rock formations and the majestic Pacific Ocean in the background, seamlessly blended with tranquil settings which makes holidaying in the park all the more alluring. More than just a caravan park, be here to 'get away from it all' without burning a hole in your pocket!
That is not all; we would like to introduce 'Ryan the Renovator' who will update you on all happenings here at the Byron Bay Holiday Park this holiday season and into 2013. Promising you a great family experience and an enjoyable, fun holiday! We are busy renovating and refurbishing the caravanning and camping areas to ensure you enjoy your holiday as much as possible! With the weather turning fabulous, you can visit Byron Bay Holiday Park mid-week, avoiding the weekend rush, and enjoy the best amenities to make your stay a great one.
Byron Bay Holiday Park Facilities
What's more, our Byron Bay Holiday Park has separate facilities for our guests with special needs and the kiosk has some basic supplies, including lollies and soft-drinks and Milk, perhaps a 'treat for the children' or nibble away to take care of your hunger pains, and if you happen to forget anything back home, the Suffolk Park shops are only a few minutes away by car. We have separate showers and toilets for men and women and our friendly reception team are ready to help you with any holiday questions. There is a good choice of ice creams and confectioneries to keep the little ones full, happy and satisfied too! Did we mention you can also buy bagged ice to keep your food and drinks cool? Enjoy;
Broken Head beach,

the fabulous Lighthouse

breath-taking views of the ocean
and make the most of this holiday season with surfing, swimming, maybe some dolphin-watching and fishing at our Byron Bay Holiday Park while cherishing some memorable moments with your family.
Make sure you keep an eye out, 'Ryan the Renovator' will update you on our latest refurbishments, our Byron Bay Holiday Park is always looking to provide you with the best holiday possible and ensure our facilities go beyond your expectations of a tucked away holiday park. We look forward to seeing you soon!