Heads Up on November Markets In and Around Byron Bay

Byron Bay in November is not just about the sun, surf, and sand. It's about the bustling markets that capture the essence of the region. Imagine aisles teeming with the craftsmanship of local artists—be it vibrant attire, shimmering jewellery, or the sweet allure of handmade soaps.
As you wander through Byron Bay markets, the scents of fresh, organic produce mingle with the aromas of world cuisines, tempting your taste buds at every turn. And there's more—the air is alive with the rhythm of live music, setting the perfect backdrop for a day of exploration and indulgence.
With markets popping up almost every day, there's no dull moment here. If you're planning to stay in Broken Head Holiday Park this November, here are the top Byron Bay markets you should explore.
Byron Farmers Market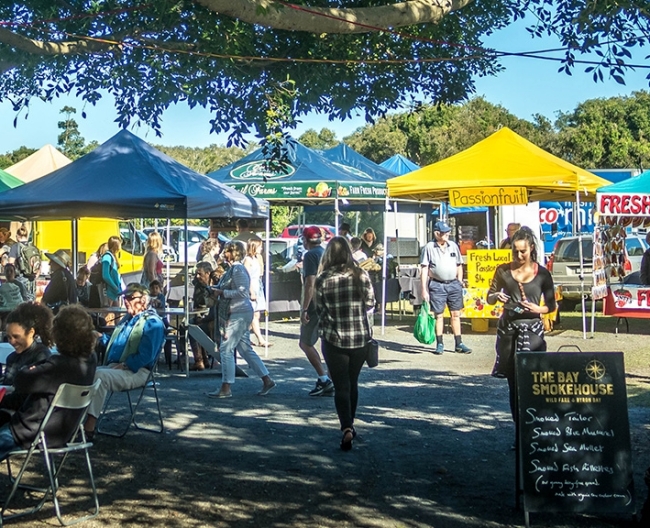 Image source: ByronBay.com
Byron Farmers Market is established on the philosophy of 'real farmers, real food.' Celebrating over 20 years, it has evolved from a few stalls to a vibrant hub with over 70 stalls, showcasing a diverse range of fresh, locally-grown produce.
From seasonal fruits and veggies to pasture-raised meats, artisan cheese, and fresh seafood, the market offers a real farm-to-table experience. In addition to the farmers' bounty, you can indulge in the culinary delights of local food artisans presenting the finest regional flavours and drinks.
Where: Butler Street Reserve, Byron Bay
When: Every Thursday, 7:00 am to 11:00 am
Murwillumbah Farmers Market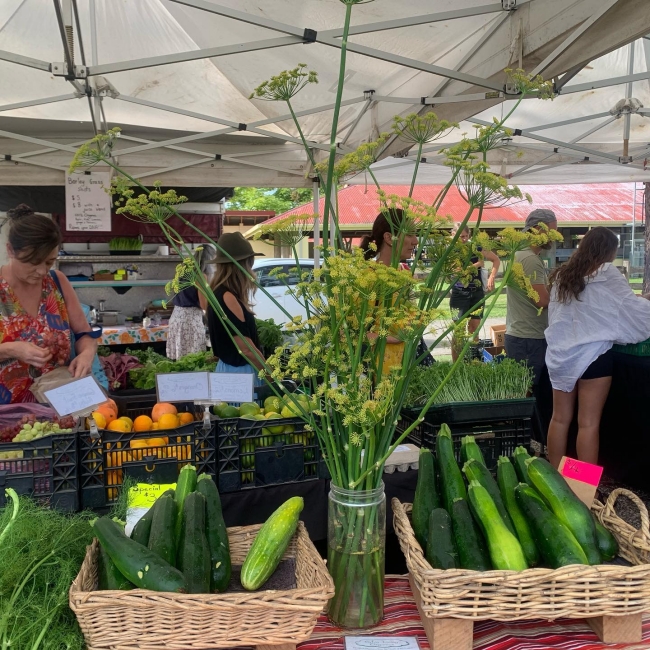 Image source: Murwillumbah Farmers Market
Since its inception in 2011, the Murwillumbah Farmers Market has been a thriving hub for local farmers and producers, offering a wide range of fresh and seasonal produce. Besides being a place to shop, it's a weekly gathering place where the community unites, rain or shine, to celebrate local food and camaraderie.
You can immerse yourself in the lively atmosphere, enjoy tunes from local musicians, and connect with the heart of Murwillumbah. And, as you browse the stalls, you'll gain valuable insights into seasonal eating, enhancing your culinary journey.
Where: Murwillumbah Showground
When: Every Wednesday from 7: 00 am to 11: 00 am
Byron Twilight Market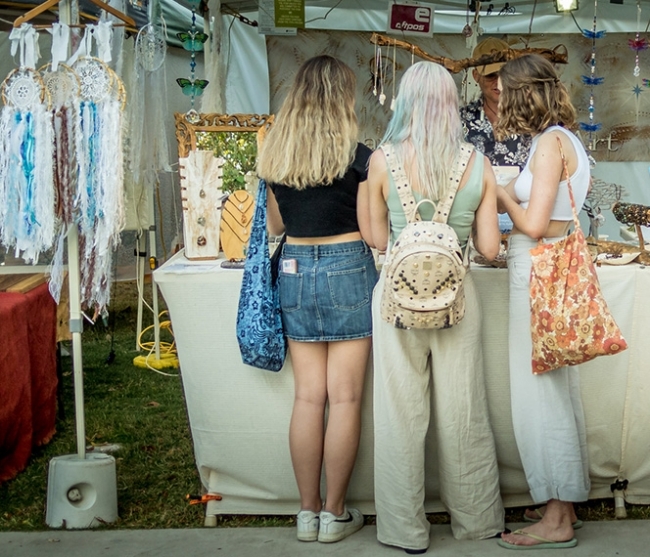 Image source: Byron Twilight Market
If you're looking to spice up your Saturday evenings when staying at Broken Head Holiday Park, the Byron Twilight Market in Byron is your perfect destination. The market is a bustling hub where artists, designers, and healers showcase their talents in a family-friendly environment.
You can wander through boutique stalls featuring local artisans selling unique jewellery, leather goods, clothing, and accessories. Byron Twilight Market offers a cultural experience, complete with live music and an array of delicious food.
Where: Railway Park, Jonson St, Byron Bay
When: Every Saturday, October to April, from 4:00 pm to 9:00 pm
Lennox Community Market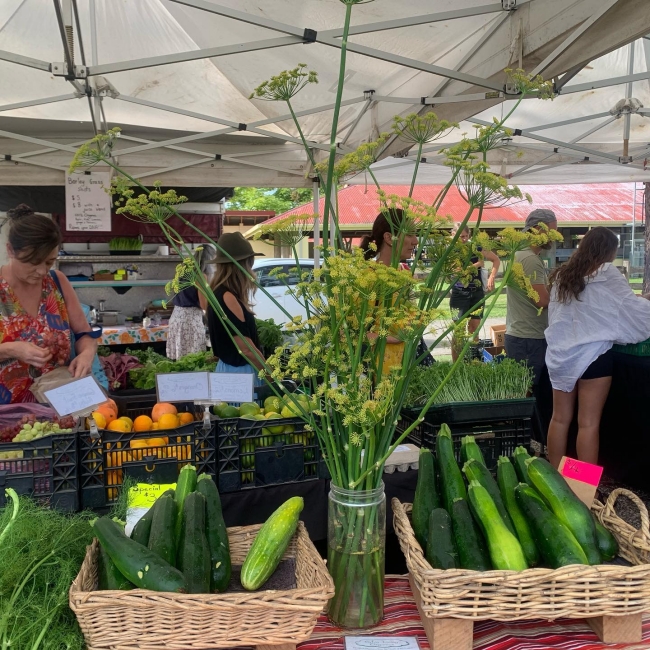 Image source: Lennox Community Market
The vibrant Lennox Community Market has been a staple since the 1980s. Here, you'll find an inviting blend of food, shopping, and live music set in a scenic locale.
It's a place where you can relax on the grass, savour a meal, and soak up the laid-back vibe of this friendly beachside town. Discover unique arts and crafts and catch a glimpse of Lennox's life at this charming community gathering.
Where: Williams Reserve, Lennox Head
When: Every 2nd and 5th Sunday of the month, from 8:00 am to 2:00 pm
Murwillumbah Makers and Finders Markets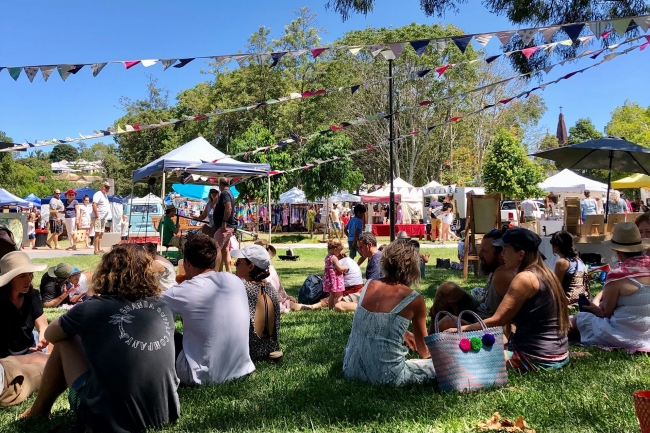 Image source: ByronBay.com
Discover the eclectic charm of the Murwillumbah Makers and Finders Markets, where local craftsmanship and sustainability come to life. This market brings together a unique mix of local craftsmen, artists, and vintage enthusiasts, turning the park into a bustling hub of creativity and nostalgia.
You can pick up fresh, farm-to-table produce, discover art that captivates, and find recycled and vintage items with stories to tell.
Where: Knox Park, Murwillumbah
When: 3rd Saturday of the month From 9:00 am to 2:00 pm
Bangalow Flea Markets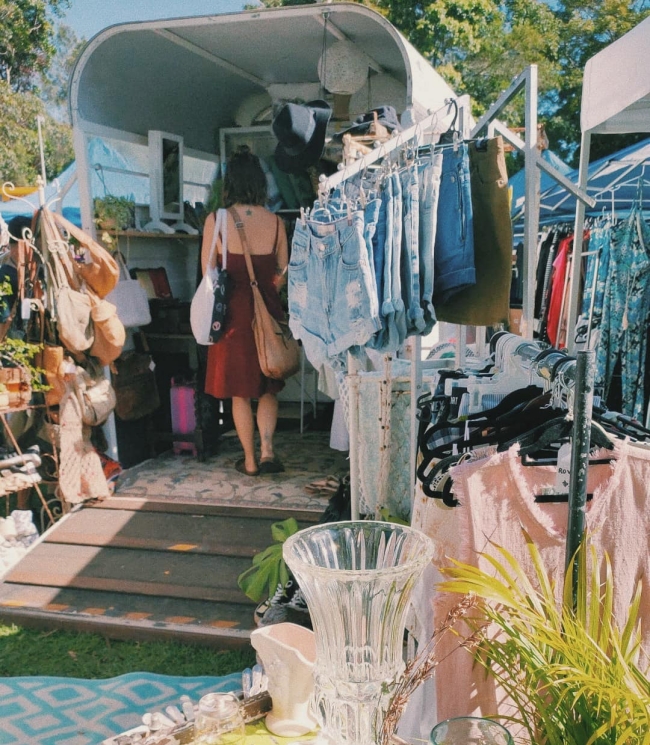 Image source: Bangalow Fleamarkets
At the Bangalow Flea Markets, you'll find various stalls blending established businesses, regular vendors, and locals with pre-loved treasures. This market fosters a community spirit, supporting small businesses and families from the surrounding areas, all while creating a lively and inclusive atmosphere.
Browse through an eclectic mix of new and retro clothing, furniture, self-care items, and other unique finds. It's the perfect spot for a fun day out, whether you're on a bargain hunt, spending time with family, or catching up with friends.
Where: Uniting Church and RSL Hall, Station St, Bangalow
When: 2nd and 5th Saturday of each month, from 8:00 am to 2:00 pm
Explore Byron Bay markets while staying at Broken Head Holiday Park
Exploring Byron Bay's markets is a journey into the heart of local culture, creativity, and community spirit. The best thing is that these markets are conveniently located within Byron Bay or just a short drive from Broken Head Holiday Park.
Whether you're sourcing fresh groceries for your camping adventure with us, seeking a fun day out with the kids, or hunting for the perfect gifts for loved ones at the end of your stay, these markets provide an abundance of options.
Besides an unforgettable shopping experience, you will enjoy the community spirit, meet local artisans, and immerse yourself in the vibrant atmosphere that makes Byron Bay truly special. Book your stay with us today and embark on this unique journey.