6 Healthy and Delicious Skewer Recipes

When it comes to versatile meals, nothing quite compares to skewers. Skewered on sticks and grilled to perfection, they are not only simple and fuss-free but also a brilliant way to pack in a bounty of flavours and nutrients.
Moreover, these easy-to-make delights can easily charm both kids and adults. But wait, skewers don't have to be just chunks of meat or plain vegetables.
Ditch the mundane and dive into the world of exuberant skewer recipes! With a little creativity, some fresh ingredients, and simple culinary techniques, you can rustle up lip-smacking skewers that are also nourishing.
Get ready to be inspired by these wholesome skewer ideas!
1. Greek-style Chicken Skewers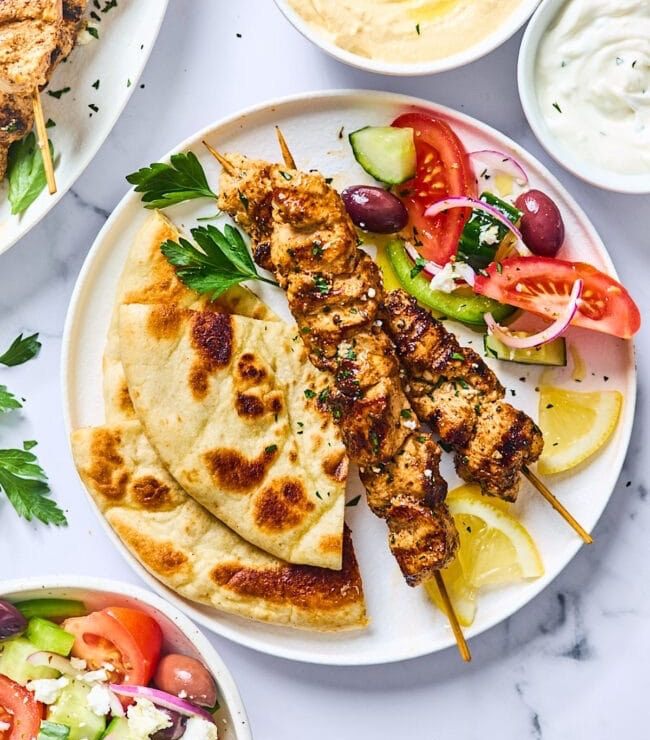 Invoke Mediterranean vibes with these Greek-style chicken skewers. Marinated in yogurt, lemon, and herbs, these skewers are a delightful medley of tender chicken and fresh vegetables.
Ingredients
400 grams chicken breast, cubed
1 cup Greek yogurt
2 tbsp olive oil
1 tbsp lemon juice
2 garlic cloves, minced
1 tsp dried oregano
Salt, to taste
1 capsicum, cubed
1 courgette, cubed
Cherry tomatoes
Directions
Combine yogurt, olive oil, lemon juice, garlic, oregano, and salt in a bowl. Add chicken cubes and marinate for at least 1 hour. Thread chicken and vegetables onto skewers. Grill until the chicken is cooked through and vegetables are tender.
Adapted recipe source: Twopeasantheirpod.com
2. Honey-glazed Salmon and Veggie Skewers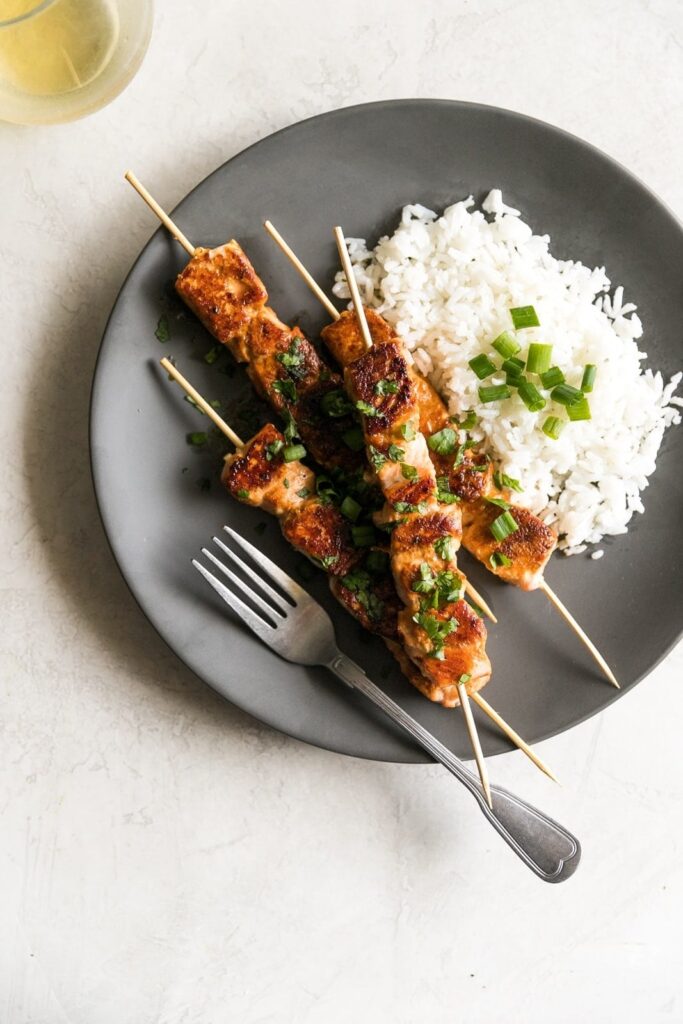 Elevate your skewer game with this scrumptious combination of salmon and veggies, all tied together with a honey glaze.
Ingredients
400 grams salmon, cubed
2 tbsp honey
2 tbsp soy sauce
1 tbsp olive oil
1 clove garlic, minced
1 bell pepper, cubed
1 red onion, cubed
Zucchini slices
Directions
Whisk together honey, soy sauce, olive oil, and garlic in a bowl. Toss salmon cubes in the mixture and let marinate for 30 minutes. Thread salmon and vegetables onto skewers. Grill until salmon is flaky and vegetables are tender, brushing occasionally with the remaining marinade.
Adapted recipe source: Asassyspoon.com
3. Tempeh and Pineapple Teriyaki Skewers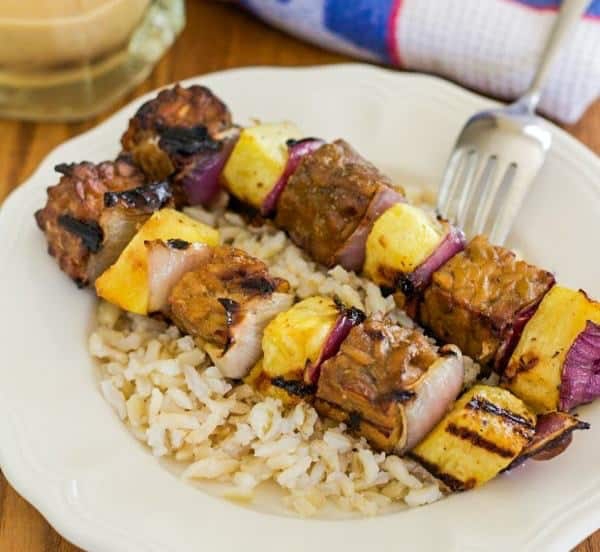 Go meatless with these Tempeh and Pineapple skewers, slathered with a homemade teriyaki sauce.
Ingredients
200 grams tempeh, cubed
1 cup pineapple, cubed
¼ cup soy sauce
2 tbsp maple syrup
1 tbsp rice vinegar
1 clove garlic, minced
Directions
In a bowl, mix soy sauce, maple syrup, rice vinegar, and garlic. Marinate tempeh in this mixture for 1 hour. Thread tempeh and pineapple cubes onto skewers. Grill, frequently basting with the marinade until tempeh is golden and pineapple is caramelized.
Adapted recipe source: Lettyskitchen.com
4. Spiced Shrimp and Mango Skewers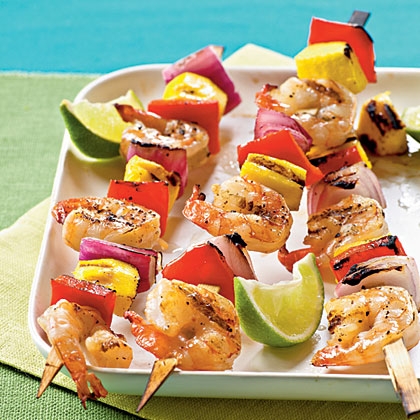 This tropical twist on skewers with plump shrimp and juicy mango will transport your taste buds to an exotic island.
Ingredients
300 grams shrimp, peeled and deveined
1 mango, cubed
2 tbsp olive oil
1 tbsp lime juice
1 tsp paprika
Salt, to taste
Fresh cilantro for garnish
Directions
In a bowl, mix olive oil, lime juice, paprika, and salt. Toss shrimp in the mixture. Thread shrimp and mango cubes onto skewers. Grilluntil shrimp are pink and opaque. Garnish with fresh cilantro.
Adapted recipe source: Myrecipes.com
5. Vegan Hot Dog Skewers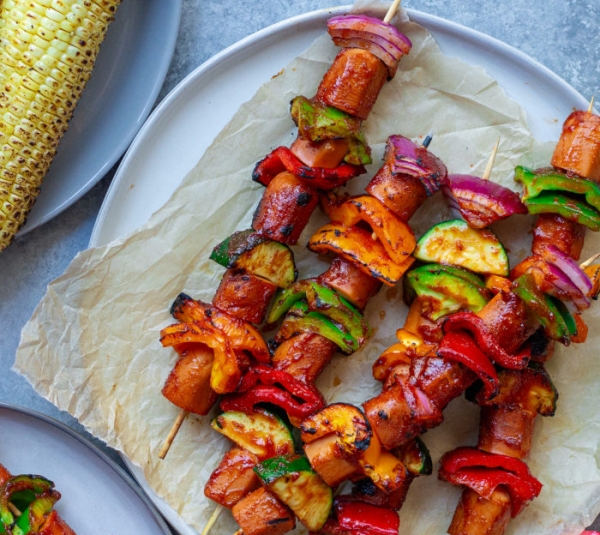 For those who love the smoky, savoury flavours of hot dogs but prefer a plant-based diet, these Vegan Hot Dog Skewers bring both taste and health to the plate. Paired with colourful veggies, it's a treat for the eyes and the palate!
Ingredients
1 pack of plant-based hot dogs, cut into thirds
1 capsicum, cut into chunks (mix of red, green, and yellow for colour)
1 red onion, cut into chunks
Cherry tomatoes
2 tbsp olive oil
1 tbsp balsamic vinegar
1 tsp smoked paprika
1 tsp garlic powder
1 tsp onion powder
Salt and pepper to taste
Fresh basil or parsley for garnish
Directions
In a mixing bowl, combine olive oil, balsamic vinegar, smoked paprika, garlic powder, onion powder, salt, and pepper. This will serve as a simple marinade to enhance the flavors of your skewers.
Toss the cut-up hot dogs in the marinade, ensuring they're well-coated. Let them marinate for about 15-20 minutes to absorb the flavors.
Begin threading your skewers. Start with a piece of red onion, followed by bell pepper, a chunk of hot dog, and then a cherry tomato. Repeat this pattern until the skewer is filled up.
Preheat your grill to medium-high heat. Once hot, place the skewers on the grill, cooking them for about 5-7 minutes on each side or until the hot dogs have a slight char and the veggies are tender yet slightly crisp.
Remove from the grill and place them on a serving platter. Garnish with freshly chopped basil or parsley for added color and flavor.
Serve these skewers with a vegan aioli or your favorite plant-based dipping sauce. They also pair well with a fresh green salad or roasted potato wedges.
Enjoy this delightful twist on traditional hot dog skewers, offering a fusion of savory, smoky, and fresh flavors. Perfect for summer BBQs or any time you're in the mood for some grilling fun!
Adapted Recipe Source: Eatfigsnotpigs.com
6. Asian-Style Tofu and Vegetable Skewers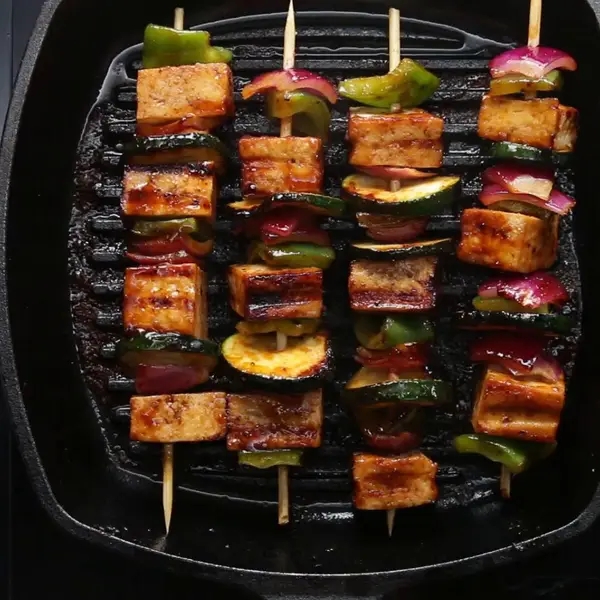 For the veggie lovers and those seeking a protein-packed meat alternative, these Asian-Style Tofu and Vegetable Skewers are bound to become a favourite.
Ingredients
400 grams extra-firm tofu, cubed
1 capsicum, cut into chunks
1 courgette, sliced
1 red onion, cut into chunks
2 tbsp soy sauce
2 tbsp hoisin sauce
1 tbsp sesame oil
2 cloves garlic, minced
1 tbsp fresh ginger, grated
1 tbsp honey or maple syrup
Green onions and sesame seeds for garnish
Directions
Start by pressing the tofu to remove excess water. To do this, wrap the tofu in a clean cloth or paper towel, and place a heavy object on top for about 15-20 minutes.
Meanwhile, in a bowl, whisk together soy sauce, hoisin sauce, sesame oil, garlic, ginger, and honey or maple syrup to create the marinade.
Cut the tofu into cubes and toss them in the marinade. Let them soak up the flavors for at least 30 minutes.
Preheat the grill on medium-high heat. Thread the marinated tofu and the cut vegetables onto skewers.
Place the skewers on the grill and cook them for about 7-10 minutes on each side or until the tofu is crispy and golden, and the vegetables are tender.
Garnish with chopped green onions and a sprinkle of sesame seeds. Serve hot with a side of brown rice or a fresh salad for a wholesome meal.

Adapted Recipe Source: Tasty.co
Cook your skewer recipes at Broken Head Holiday Park
And there you have it! Six exciting, healthy, and absolutely scrumptious skewer recipes to add flair to your meals. The key is to not just focus on taste but to create a harmonious balance between flavours and nutrition.
So, pick up those skewers and embark on a culinary adventure at Broken Head Holiday Park that pleases your taste buds while taking care of your well-being.