6 Best Waterproof Camping Tents
To make the most of your next camping trip, you need the right gear. But, buying a tent can be overwhelming. There are so many options to choose from!
This guide will explain the key factors to consider when choosing a tent, and provide an overview of the six best options out there. We're sticking to waterproof camping tents, as these will allow you to camp comfortably no matter the weather!
Factors to consider when choosing a tent
Size – The first thing to consider is what size tent you need. Tents come in sizes to accommodate a solo traveler or couple, or up to nine people. When selecting a tent size, think not only about how many people you'll be camping with, but how much time you anticipate spending inside the tent.
If you want to be more comfortable with a little extra space, especially if you're camping as a family, you may want to get a larger tent to be sure you can accommodate everyone's belongings and give everyone some breathing room. 
Season – You'll see tents advertised as "two-season," "three season," "four-season" and "all weather," but these names can be slightly misleading.
A two-season tent is suitable for warm weather and will not withstand rain heavier than light showers.
Three-season or all-weather camping tents will withstand wind and rain and are a good option for anything but the coldest weather conditions. 
A four-season tent is intended for winter camping in snowy conditions.
Style – Tents come in many different styles, from pop-up or instant tents to cabin-style tents with multiple rooms. There are also tents that can be set up in the back of a truck or on the roof of a vehicle. When choosing a tent style, consider how many people you're camping with, and how much gear you can reasonably carry with you.
For example, if you're driving to your campsite, you might not mind having a heavier tent in tow, but if you're walking or hiking to your camping spot, you might want something lighter. 
Budget – Tents are available at many different price points, from less than one hundred dollars to thousands of dollars for high-end harsh-weather tents. The right price for a tent depends on your needs; if you camp often in all sorts of conditions, or if you value extra comfort features, it may be worth spending a little more on your tent.
If you camp infrequently and only in summer, you might be able to get away with something basic. Keep in mind that more expensive tents are often more durable and better made, meaning you'll get more use out of your investment for years to come. This guide will offer a variety of options at different budgets. 
6 Best Waterproof Tents for Camping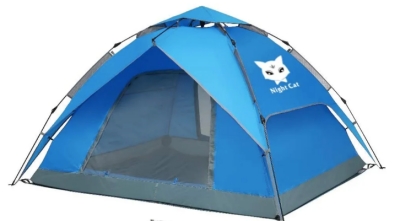 One of the best-rated waterproof camping tents on the market, Night Cat's Waterproof Camping tent comes at an affordable price.
Two sizes available
Advanced hydraulic pressure for quick and easy setup and take-down
Waterproof
Night Cat also makes a range of ultralight backpacking tents that will keep out wind and rain with enough space for one to two people.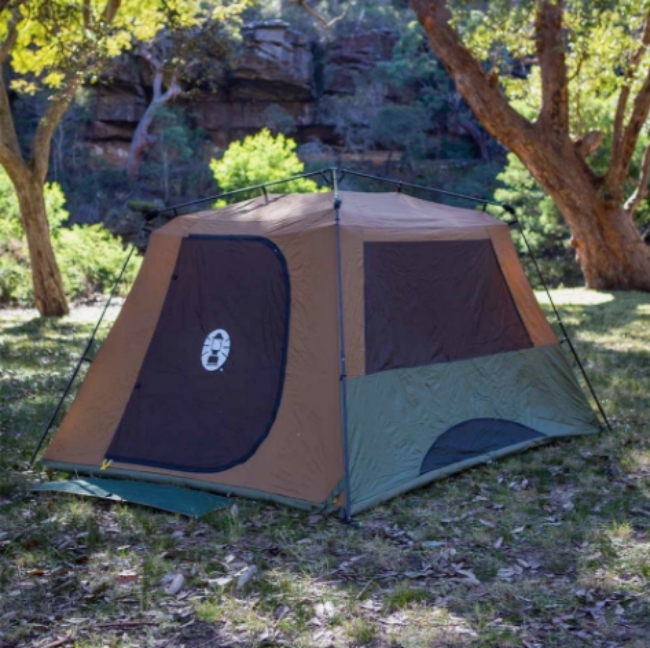 Coleman is one of the most trusted makers of outdoor gear and camping equipment, so it's no surprise that their tents top our list of the best. The Coleman Gold series of quick-pitch camping tents offers a range of different sizes; the 6P can fit up to six people, but is recommended for four. It's got:
Front awning that provides a small amount of shelter at the entrance
Heavy-duty floor
Fine-mesh window screens for privacy and protection from bugs
Six feet of headroom.
Coleman's Silver series is also very popular, and slightly less expensive than the Gold series. .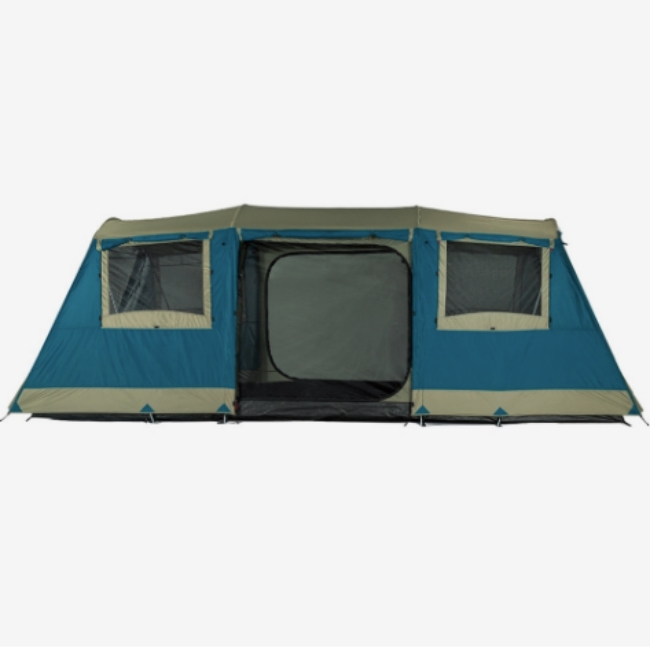 If you're camping with the family or just want a little more breathing room for the duration of your camping trip, the OZTrail Bungalow 9-P Dome Tent is a great option. It is easy to set up and even easier to move around in, with multiple entry and exit points. It also comes with:
Six feet of headroom
Side, rear and front awnings for plenty of extra shade
Heavy duty flooring to keep ground moisture out, making this tent suitable for wet weather conditions (but not heavy down pours).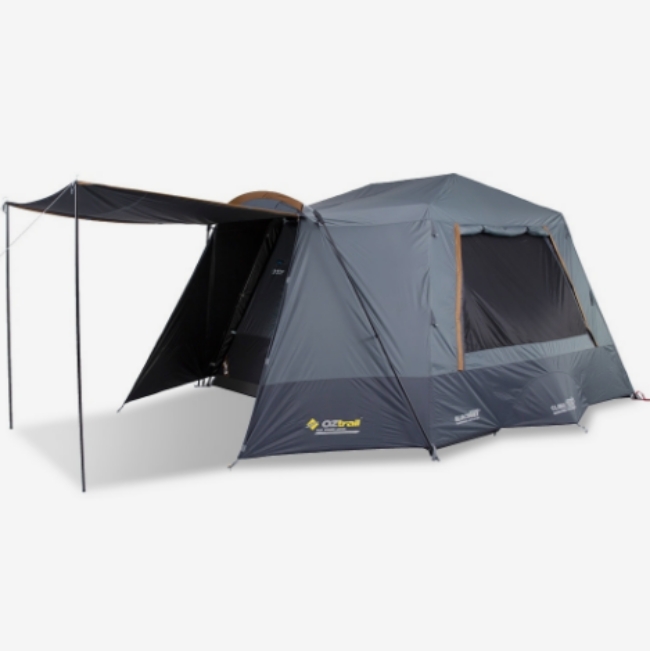 Also from OzTrail, the Fast Frame Lumos Integrated Lighting Tent comes with:
Built-in LED interior lighting with three brightness settings
BlockOut coating on the fly to help diffuse daylight and regulate the temperature inside your tent
3000mm Waterhead rating, so it's sure to keep you dry and comfortable in the rain.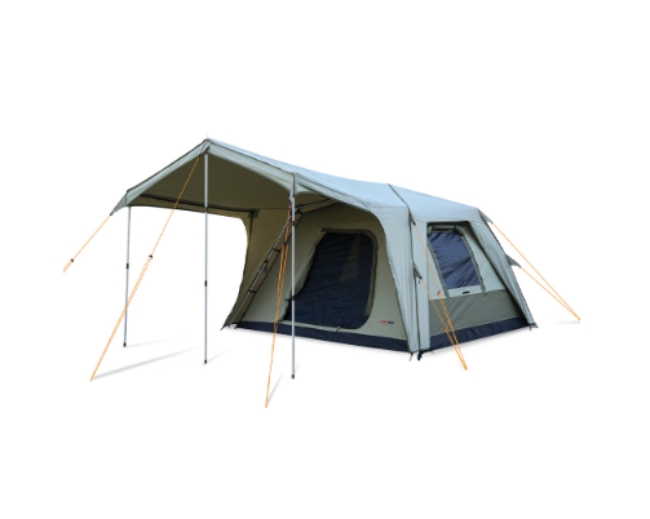 The BlackWolf Turbo is significantly pricier than the other tents on this list, but it offers superior construction and quality materials.
PVC storm flaps and improved weather protection
Six feet of headroom
Awning that expands your covered living space by an additional six feet.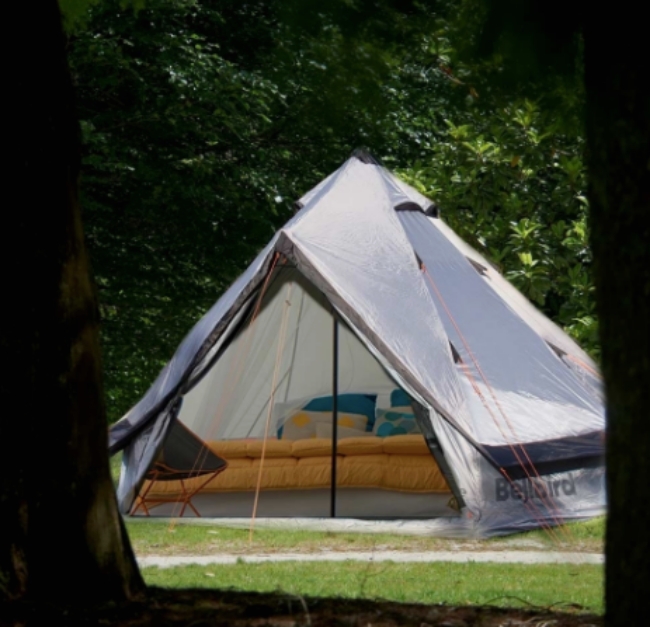 This modern yurt-like tent is a different style than the others on this list, and appeals to those who enjoy a more luxurious camping experience. It is also the tallest of the tents on this list with 8 feet of standing room. Still, it is sturdy and is equipped with:
Coating which helps absorb the heat from the sun while keeping the warmth in during the evening
SPF50+ UV coating to ensure longevity
2000mm waterhead rating for water protection
Come camping at Broken Head Holiday Park
A waterproof tent makes camping a suitable activity in all weathers. Set up in one of our powered or non-powered camping sites at Broken Head Holiday Park and explore Byron Bay!
Want some more tenting tips? Check out our article on 30 tips for tent camping. We hope to see you soon!