10 Healthy Camping Meals That Taste Good Too
Cooking using a camp oven or BBQ is a fun part of camping. But, when you're on a camping trip without a full kitchen, it can be difficult to plan meals that are easy, healthy, and delicious. Just because you're in the great outdoors doesn't mean you need to sacrifice nutrition or flavour. These 10 camping meals will give you the nutrients you need to fuel your adventures and taste great too.
1. Stuffed Grilled Avocados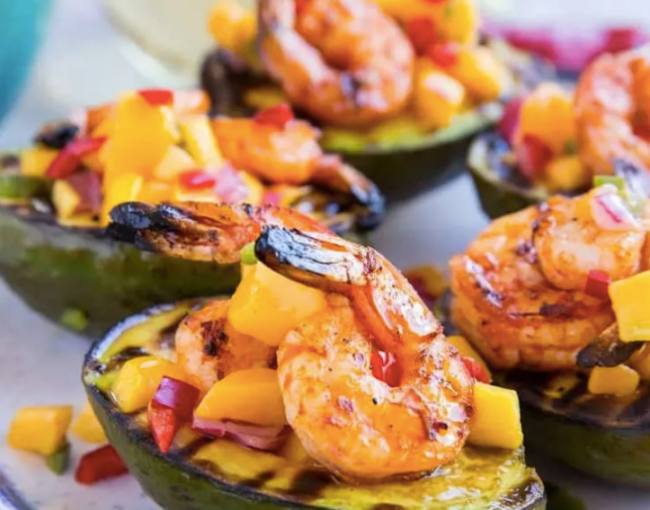 Source: The Roasted Root
Did you know you can grill avocados? It turns out that these superfoods are the perfect vehicle for a healthy and delicious camp meal. The mango salsa adds a pop of fresh tropical flavour and spice.
Ingredients
For the Grilled Shrimp:
1 pound raw shrimp, peeled and deveined
2 tablespoons avocado oil, or olive oil
1/2 teaspoon garlic powder
1/2 teaspoon paprika
1/4 teaspoon sea salt
For the Grilled Avocados:
4 to 6 ripe but firm avocados, halved, pits removed
avocado oil or olive oil, for coating
sea salt
Mango Salsa:
1 cup fresh mango, diced
1 chili, seeded and finely chopped
2 tablespoons red onion, finely chopped
1 tablespoon fresh lime juice
1 pinch sea salt, to taste
Instructions:
Grill the Shrimp and Avocados:
Preheat the grill to a medium-high temperature. While the grill is preheating, add all ingredients for the shrimp to a sealable bag and shake well to combine. Coat the flesh side of the avocados with avocado oil or olive oil and sprinkle with sea salt.
Place avocados on the grill cut-side down. Grill 2 minutes, flip, and grill another 2 minutes. Place grilled avocados on a plate and set aside.
Place shrimp on the grill and cook until grill marks appear, about 2 to 3 minutes. Flip and continue grilling another minute or two, until shrimp are cooked through. Transfer shrimp to a plate.
Make the Mango Salsa:
Stir together all ingredients for the mango salsa in a bowl.
Stuff the avocados:
Stuff each avocado half with mango salsa and top with 2 or 3 grilled shrimp. Serve and enjoy! Note: you will have leftover shrimp, which you can place in a bowl and serve to guests who want more.
2. Mediterranean Salmon Foil Packs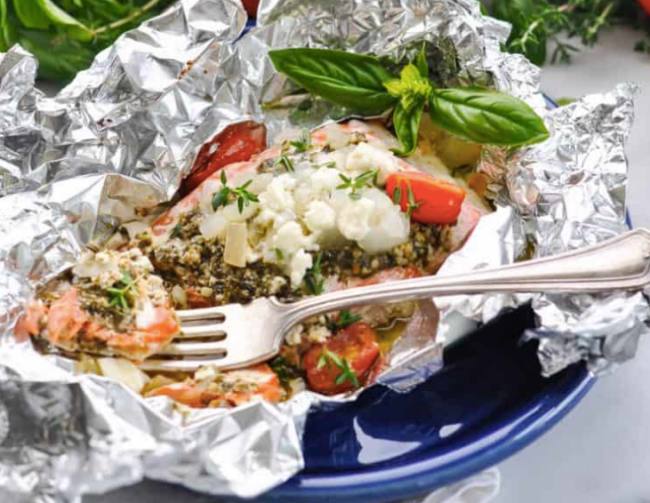 Source: The Seasoned Mom
Foil pack meals are the ultimate camping meal hack. These salmon packets are filled with protein and healthy fats, and only have five ingredients! This recipe uses an oven, but you could easily cook on a grill instead.
Ingredients:
4 salmon fillets
1/2 cup prepared pesto
1 onion chopped
Cherry tomatoes halved
½ cup crumbled feta cheese
Instructions:
Heat oven to 180C. Spray 4 large pieces of aluminium foil with cooking spray.
Place each salmon fillet on top of a piece of aluminium foil. Top each fillet with about 2 tablespoons pesto, ¼ cup of onion, ¼ of the tomatoes, and approximately 2 tablespoons of feta cheese. There's no need to measure the ingredients — just use as much or as little as you like!
Seal the aluminium foil packets by folding them over the fish and pinching tightly to close. Place the foil packets on a large baking sheet and bake for approximately 25 minutes. Fish is done when it flakes easily with a fork.
3. Italian Chicken and Veggie Foil Packs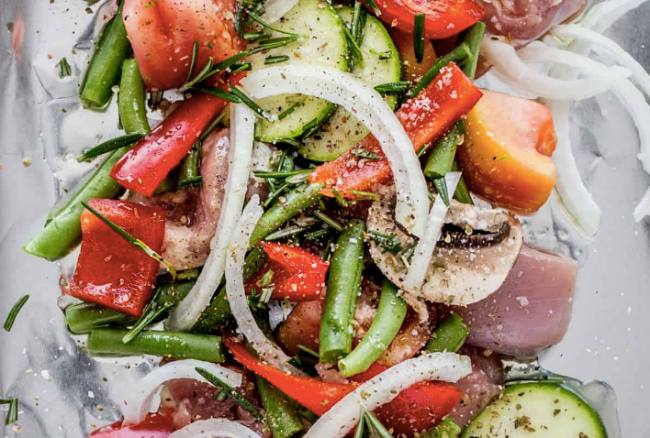 Source: Hello Glow
Another easy foil pack dinner, these Italian chicken and veggie packs are keto-friendly, too! This low-carb meal is easy to assemble, and full of protein and vegetables. Again, this recipe calls for an oven, but could easily be prepared over a grill.
Ingredients
500 grms boneless, skinless chicken thighs, cut into chunks
1 medium zucchini sliced
1 medium-sized red capsicum sliced
1 cup chopped green beans
1 medium tomato cut into large chunks
1/4 cup thinly sliced onions
50 grms sliced mushrooms
1 clove garlic minced
1/4 cup avocado oil
1 tablespoon chopped fresh rosemary
1-1/2 teaspoons salt
1 teaspoon dried oregano leaves
1/2 teaspoon black pepper
Grated Parmesan cheese for serving (optional)
Instructions
Preheat the oven to 200°C. Cut 4 pieces of aluminium foil each about 12 inches square.
In a large bowl, combine the chicken, zucchini, capsicum, green beans, tomato, onions, mushrooms, and garlic. Drizzle the oil, then sprinkle with the rosemary, salt, oregano, and pepper. Toss to combine well.
Divide the mixture evenly among the pieces of foil, arranging it down the centre of each piece. Bring up the two sides of the foil and fold over together twice to seal. Fold up the ends tightly.
Place the packets on a rimmed baking sheet and bake for 25 minutes, or until the chicken is cooked through.
Remove the packets, and open the top seams. Sprinkle with grated Parmesan cheese, if using. Eat directly from the packets or transfer to plates.
4. Loaded Veggie Breakfast Skillet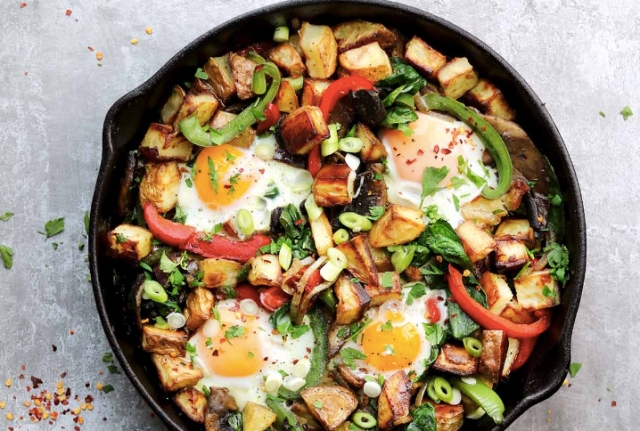 Source: The Last Food Blog
A skillet breakfast is an easy way to start your day when camping. This one is full of comforting potatoes, healthy veggies, and protein-packed eggs.
Ingredients
450 grms potatoes, scrubbed, skin on and cut into 2cm cubes
3 tablespoons olive oil, divided
½ teaspoon sea salt, divided
½ teaspoon cracked black pepper, divided
1 small onion, (100g) cut in half then thinly sliced
1 medium green capsicum (110g) pith and seeds removed then thinly sliced
1 medium red capsicum (110g) pith and seeds removed then thinly sliced
230 g portobello mushroom (3 large mushrooms) wiped clean then sliced
1 teaspoon dried oregano
2 cloves of garlic minced
A scant ¼ teaspoon dried red chilli flakes optional
90 grms spinach
4 large eggs
2 tablespoon freshly squeezed lemon juice
For serving:
A small handful fresh flat leaf parsley chopped
2 spring onions chopped
Lemon wedges
Dried red chilli flakes
Instructions
Place the potatoes on a baking tray, pour over 2 tablespoons of oil add ¼ teaspoon each of salt and black pepper. Toss well then bake for 30 minutes turning the potatoes halfway through cooking.
While the potatoes are roasting, cook up the veggies.
Heat the remaining oil in a skillet, add the onion and cook over a medium heat until soft, about 10 minutes.
Add the peppers and cook for 5 minutes. Once the peppers are a little soft add the mushrooms, garlic, oregano, salt, pepper and chilli flakes. Cook for another 5 minutes.
Now add half the spinach, let that wilt down then add the remaining spinach. Add the lemon juice and stir well.
Once the potatoes are cooked transfer them to the skillet and give everything a good stir. Check the seasoning now and add more if necessary.
Make 4 little wells in the skillet, break one egg into each well. Place a lid over the skillet, this will help cook your eggs quicker. Once the eggs are cooked to your own taste, turn off the heat.
Sprinkle over the parsley and chopped spring onion and serve.
Serve with lemon wedges and more red chilli flakes if you like.
5. Healthy Tuna Salad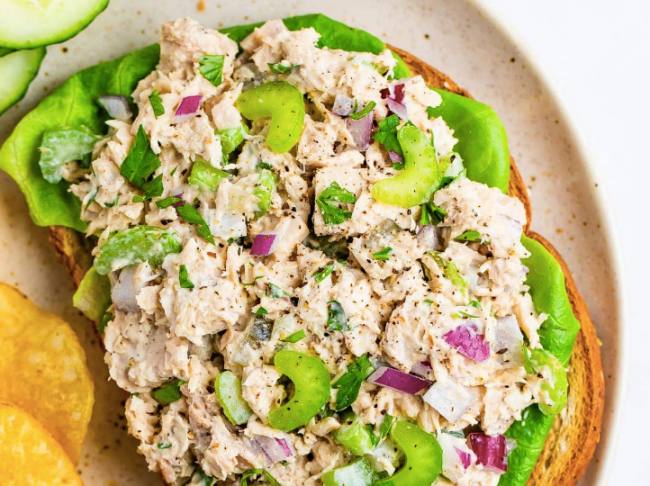 Source: Eating Bird Food
Tuna salad makes a great camping meal because it can be prepped ahead of time and easily packed in a cooler. Put it in a wrap, a sandwich, or eat it on its own for an easy, healthy lunch!
Ingredients
2 cans of tuna, drained
1/4 cup plain Greek yoghourt
1 stalk, 1/4 cup chopped celery
1/4 cup diced red onion
1/4 cup diced pickles
1 tablespoon mayonnaise, optional
1 tablespoon Dijon mustard
1 tablespoon chopped parsley
1/2 teaspoon ground pepper
1/4 teaspoon sea salt
Instructions
Combine ingredients: Add drained tuna, yoghourt, chopped celery, diced onion, chopped pickles, mayonnaise, mustard, parsley, pepper and salt into a large bowl. Toss to combine, breaking up any large chunks of tuna meat.
Serve: Enjoy right away or chill before serving. Serve with crackers for a snack or appetiser, on bread or a wrap for a sandwich or over a bed of greens.
To store: Place salad in an airtight container in the fridge. The salad will keep for 3-5 days.
6. Grilled Chicken & Veggie Wraps
Source: Nutrition in the Kitch
These easy grilled chicken veggie wraps are easy to prepare on a portable grill or on-site BBQ on your next camping trip. They're full of protein and vegetables, and the balsamic vinegar and feta cheese add a pop of Italian flavour. Simply grill the ingredients, assemble, and serve. For an even more cosy meal, press the wraps on a skillet or the grill before serving.
Ingredients
1 tablespoon olive oil
½ cup sliced mushrooms
½ zucchini, cut lengthwise into strips
½ cup cherry tomatoes, halved
¼ cup sliced red onion
½ capsicum, sliced into strips
2 skinless boneless chicken breasts
3 tablespoons balsamic glaze (like balsamic vinegar but a thicker consistency, like honey)
1 teaspoon Italian seasoning
¼ cup chopped fresh basil
salt and pepper
2 tablespoons crumbled feta cheese or dairy free cheese of choice
2 large whole grain or gluten-free tortilla wraps
Instructions
Preheat the grill to 200C.
In a large bowl toss the vegetables with the olive oil, 1 tablespoon of balsamic glaze, ½ teaspoon Italian seasoning, and salt and pepper.
On a plate, season the chicken breast with the remaining Italian seasoning and salt and pepper as well as a drizzle of olive oil.
Spread the vegetables out over the heated grill and place the chicken breasts on the grill next to the veggies.
Close the griddle so the top plate is just resting on the chicken breasts and grill everything for 15 minutes, slightly tossing the veggies every 5 minutes or so.
After grilling for 15 minutes check that the chicken is completely cooked through, and if it's not, transfer the grilled veggies to a bowl and continue cooking the chicken until completely cooked through (cooking time will be dependent on the thickness of your chicken breast).
Once the chicken is cooked, transfer to a plate and let cool for 5 minutes then slice and divide the chicken breast and veggies between two large tortilla wraps.
Sprinkle the basil over the chicken and veggies and add the cheese if using.
Fold in the outer edges of the tortilla wrap and roll to enclose the chicken and veggie filling inside each tortilla wrap.
Place the wraps on the hot grill and close the top to use the griddle as a panini press to grill the wrap on both sides.
Grill the wraps for 2-3 minutes until golden brown.
Remove from heat and enjoy or wrap in foil and save in the fridge for later or to take on-the-go.
7. Shrimp & Broccoli Foil Packets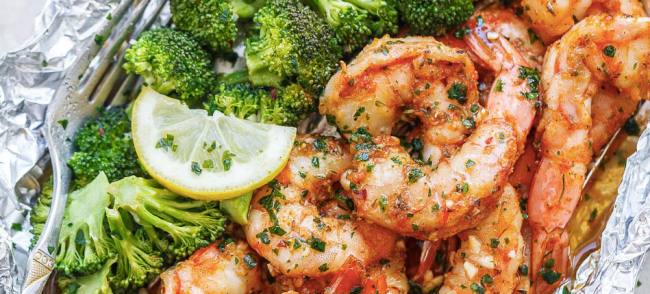 Source: Eat Well
These healthy foil packs are paleo and keto-friendly, and absolutely bursting with flavour thanks to the lemon garlic butter sauce. The recipe instructions are for an oven, but these can be made over a grill as well.
Ingredients
450g medium raw shrimp (peeled and deveined, tail-on or tail-off)
2 tablespoons butter, diced (or ghee, or olive oil)
1 tablespoon minced garlic
1 teaspoon Italian seasoning
1/4 teaspoon onion powder
2 tablespoons vegetable or chicken stock, divided
Salt and pepper, to taste
1/4 teaspoon smoked paprika
Red chilli pepper flakes, optional
Juice of 1/2 lemon
1 large head of broccoli, broken into florets
Fresh chopped parsley, for garnish
Directions
To make these baked shrimp foil packs: Preheat your oven to 220ºC. Cut 2 sheets of 35 x 30 cm heavy-duty aluminium foil then lay each piece separately on the countertop. In a small bowl, combine the ingredients for the spice mix: Italian seasoning, onion powder, salt, pepper, and smoked paprika (plus powdered stock if using, see notes).
In a shallow plate, add shrimp and sprinkle with the spice mix, coating on all sides.
Divide shrimp onto the aluminium foil near the centre then place broccoli florets to one side of the shrimp.
Add garlic over broccoli and shrimp, then sprinkle with lemon juice, red crushed chilli pepper flakes (if using) and finish with salt and pepper. Divide butter pieces evenly among the shrimp foil packets, layering them over the shrimp and broccoli.
Add a tablespoon of vegetable stock in each foil packet and wrap packets in and crimp edges together then wrap ends up. Don't wrap too tight – keep a little extra space inside for heat to circulate.
Transfer to a baking sheet and bake shrimp foil packets in the oven, sealed side upward until shrimps have cooked through, about 15 minutes.
Carefully unwrap the baked shrimp and broccoli foil packets then garnish with fresh parsley and a slice of lemon. Enjoy!
8. Sausage Kale & Potato Skillet Dinner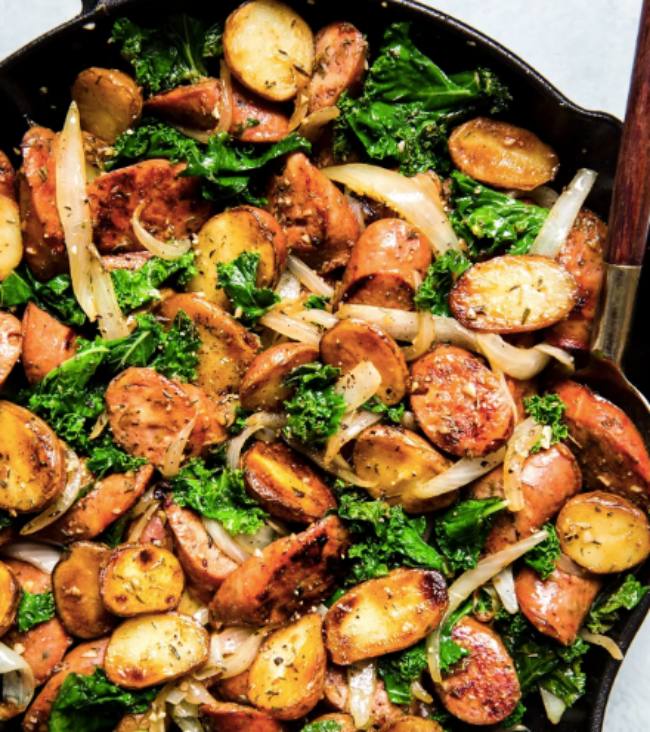 Source: The Modern Proper
This nutritious, filling meal can be made easily over a BBQ under the stars. Warm and hearty, it's the perfect supper at the end of a long day outdoors, especially as the weather gets cooler. The chicken sausage keeps this recipe extra healthy, but you could substitute pork sausage or whatever type suits your diet.
Ingredients:
3 tbsp olive oil
500 grms potatoes, cut in half and boiled in salted water until fork tender
salt & pepper, to taste
2 tsp dried thyme
6 chicken sausage links sliced
1 onion, medium, thinly sliced
1 tbsp garlic, minced
1 bunch curly kale, ribs removed and roughly chopped
1 lemon, optional
Instructions
Heat 2 tablespoons olive oil in a large skillet over medium-high heat . Add potatoes (cut side down) and cook without stirring until they begin to turn golden brown. Stir and continue cooking until all sides are crispy, about 5-7 minutes. Depending on the size of your pan, you may have to do this in a few batches. Season potatoes with salt, pepper and thyme.
Add another tablespoon of olive oil and the chicken sausage to the potatoes. Cook until all sides of the sausage are crispy, about 4-5 minutes. Once crispy, add onions and cook until just tender, stirring often, about 5 minutes.
Reduce heat to medium and add the garlic, stirring until fragrant, about one minute. Add the kale. Stir often and cooking until the kale is wilted, about 3 minutes.
Squeeze a lemon over the top of the dish and serve.
*If the kale overcrowds the pan, remove the potato sausage mixture and sauté the kale by itself before adding everything back to the skillet.
9. Grilled Pineapple Chicken Kebabs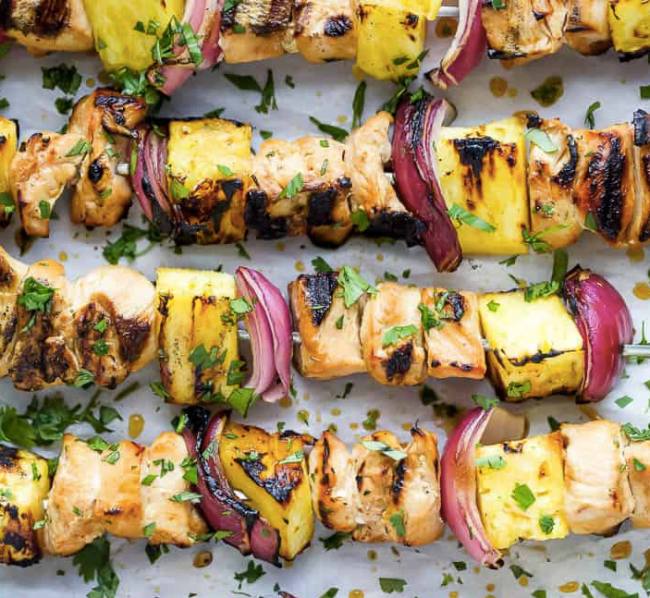 Source: The Joyful Healthy Eats
Kebabs make the perfect camping meal because they're easy to make on the grill and can even be pre-assembled ahead of time. These ones have a bright, balanced flavour profile thanks to the marinade and juicy pineapple.
Ingredients
500 grms boneless skinless chicken breast, cut into cubes
170 grms pineapple juice
1/4 cup tamari sauce (or amino acids)
1 garlic clove, minced
1/2 teaspoon smoked paprika
3 cups cubed pineapple
1 red onion, cut into cubes
Chopped coriander, for garnish
Instructions
To a small bowl add pineapple juice, tamari sauce, garlic clove and smoked paprika. Whisk to combine.
Remove 1/4 cup of the marinade and set aside.
To a medium bowl, add chicken breast and pour pineapple marinade over the chicken. Using a spoon, toss to coat all of the chicken.
Let marinate for 30 minutes.
Preheat grill to medium high heat, approximately 200C.
To assemble kabobs alternate pineapple chunks, marinaded chicken and red onion cubes on a skewer.
Rub grill grates with oil or spray with cooking spray.
Place prepared kabobs on the grill. Grill each side for 4-5 minutes or until chicken is no longer pink.
Remove from grill. Brush remaining pineapple marinade over the kabobs.
Garnish with chopped cilantro and serve.
10. Jaffle-iron (or grilled!) Peanut Butter, Banana, and Jam Sandwiches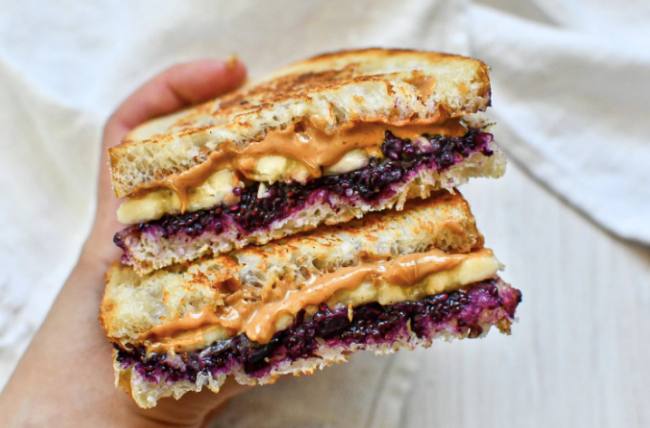 Source: Foodnetwork
These yummy sandwiches are sure to please kids and adults alike. They couldn't be easier to make, and can be served for breakfast, lunch, dinner, or dessert! They can be made with a jaffle-iron, or on a skillet over a BBQ grill. To make them extra healthy, opt for natural or fresh-ground peanut or almond butter and a low-sugar fruit spread.
Ingredients
8 slices good quality white bread
2 tablespoons unsalted butter, room temperature
1 cup peanut butter, smooth or crunchy
1/2 cup jam
2 ripe bananas, sliced
Instructions
Butter the bread slices on 1 side with butter and place them butter side down. Spread 4 slices with peanut butter and top with the banana slices. Spread the remaining slices with jelly and put them, jelly side down, on top of the bananas. Press them gently to flatten them slightly.
Place each sandwich on a preheated panini press and grill until the bread is toasted, about 5 minutes. Alternately, preheat a dry cast iron or non stick pan. Place the sandwich in the pan and weight it down with another pan or a clean brick wrapped in foil. Grill 5 minutes, turn the sandwich over, re-weight it, and grill for another 5 minutes. Serve immediately.
Try these healthy recipes at Broken Head Holiday Park!
We love our campers, no matter what they like to eat. Broken Head Holiday Park is a great place to enjoy your camping holiday and make your healthy camping recipes, so plan to do both while you're here!