Best Camping Headlamps

When camping, a headlamp is one of the most important items in your pack. But how do you choose the right one for you? Here are some of the best camping headlamps available.
Why do you need a camping headlamp?
Headlamps are important for safety. Out in nature, the sun is your only light source. When the sun sets, you need your own source of light. Whether you're in an emergency or simply returning from a hike after sundown, it is critical that you be able to safely light your path.
Every experienced hiker or camper knows to plan for the unexpected. You might plan to return from your woodland excursion long before sundown, but any number of twists and turns could find you out on the trail longer than you intended. After all, nature's unpredictability is part of what makes outdoor adventures so great. But, you still need to be safe.
Or, maybe you need to be able to set up your campsite as the sun goes down, or find your way around after your campfire goes out. If your vehicle breaks down or someone in your party gets injured, a strong, reliable source of light is crucial.
Headlamps have an advantage over lanterns and flashlights when it comes to lighting up the darkness. They are lighter and less bulky than a flashlight or a lantern so they take up less space in your pack. They also offer hands-free illumination, so you can work, cook, climb, read a map, or do whatever you need to do, unencumbered.
Features to look for in a camping headlamp
Lumens – "Lumens" refer to the units of light output by a bulb. The higher the lumens number, the brighter the light will be. How many lumens is enough? For most campers, 100-200 lumens is enough to see around your campsite with ease and find your way in the dark. For more extensive nighttime adventures like backpacking, 300 or higher would be ideal. 
Beam distance – The beam distance measures how far the headlamp will throw light, usually listed in metres. For close-up tasks, you may not need a long beam distance, but for lighting your path while hiking or navigating a campsite, it may be beneficial to invest in a lamp with longer beam distance. 
Battery life – When you're out in the wilderness at night, nothing is more unsettling than the battery on your only light source going out. Look for a lamp with a runtime compatible with how long you plan to be away from a power source to recharge. 
Weight – Consider how much extra weight you can afford to carry; most camping headlamps are fairly lightweight. 
Recommended headlamps for camping
These are some of the best-selling headlights and headlamps for camping, with features built to suit a variety of needs.  
Petzl Tikkina Headlamp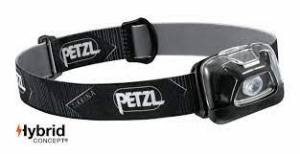 Image source: Snowys
The Petzl Tikkina Headlamp is popular for its lightweight design and easy-to-use features. It comes in four colours, and provides up to 250 lumens of light. 
250 lumens
Compact and lightweight
IPX4 weather resistance
Single-button for easy use
Proximity, movement and distance lighting modes
Comes with 3 x AAA batteries, and is compatible with separately available CORE rechargeable battery
Petzl Actik Core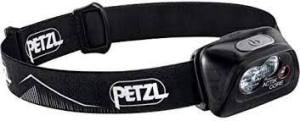 Image source: Snowys
The Actik Core from Petzl is ideal for high-intensity activities like trail running and mountain-climbing. 
450 lumens
CORE rechargeable battery included
Compatible with three separately available AAA/LR03 batteries
IPX4 weather-resistant
Wide or mixed beam patterns
Red lighting mode
Reflective headband
Lock function to prevent accidental activation
Petzl Swift RL Headlamp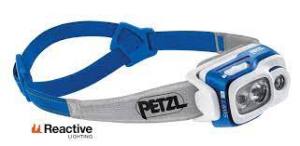 Image source: Snowys
The Swift RL Headlamp from Petzl is distinguished by its reactive lighting technology that allows it to automatically adjust brightness and beam pattern based on your environment. 
Up to 900 lumens
Two beam patterns for proximity vision, movement & distance vision
Ergonomic adjustable headband that's washable & detachable
Headband is reflective for night visibility
Headlamp can be tilted upward
IPX4 Water Resistant
Lithium-ion 2350 mAh battery rechargeable via the type B micro USB port
Five level battery charge indicator
Single-button for on/off lighting modes, brightness and locking
Explore Planet Earth LENZPRO 150 Rechargeable Headlamp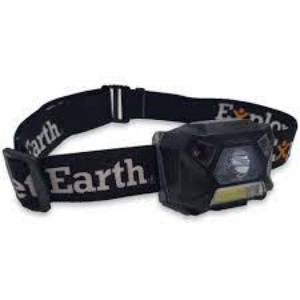 Image source: Snowys
Among the most affordable headlamp options, the LENZPRO 150 Rechargeable Headlamp offers a simple, lightweight, and reliable light source for your outdoor adventures. 
Sensor on/off function
High, low and blink/SOS modes
Rechargeable 1200mAh lithium battery
USB charging cable included
COB and 3W LED
150 lumens from LED and 80 from COB
Beam distance 100m
IPX4 rating
Led Lenser H5R, H7R, H15R, and H19R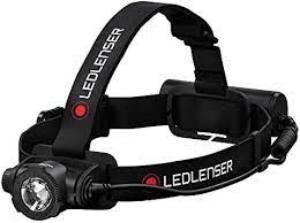 Image source: Snowys
The LedLenser H series offers the most rugged, high-performance headlamps among these bestsellers. The H5 and H7 will be more than sufficient for most campers, but for maximum illumination you could go for the H19, which boasts 3500 lumens. 
IPX water and dust rating of 67 – and 68 for the H19R
Rotating head
Rechargeable battery
Bring your camping headlamp to Broken Head Holiday Park
Book your next outdoor adventure at Broken Head Holiday Park, a secluded beachfront campsite with a range of accommodation options and close to Byron Bay. We look forward to seeing you soon!