What's On? Byron Bay International Film Festival: 20 – 29 Oct

G'day film enthusiasts! If you've got a passion for cinematic masterpieces and crave an experience bathed in sun, surf, and culture, then this is for you. The Byron Bay International Film Festival (BBFF) is back, taking place from October 20 to October 29, 2023.
Set against the picturesque backdrop of Byron Bay, the festival sprawls across a vibrant 10-day journey. Hosted at both the Palace and the Byron Bay Theatre, attendees are treated to a dive into an ocean of stories that resonate with the heart, mind, and soul.
Location: The vibrant heartbeat of Byron Bay
Nestled amidst azure waters, golden sands, and a pulsating arts scene, Byron Bay is more than just a town – it's an experience.
And what better way to soak in its spirit than by indulging in a cinematic extravaganza?
As you catch the latest international and Australian films, let the rhythmic hum of the ocean set the backdrop, adding a touch of tranquillity to the drama on screen.
Festival Programme: A cornucopia of cinematic delights
This year, BBFF has curated a list that promises a whirlwind journey across genres, cultures, and emotions. Let's delve into some of the must-watches.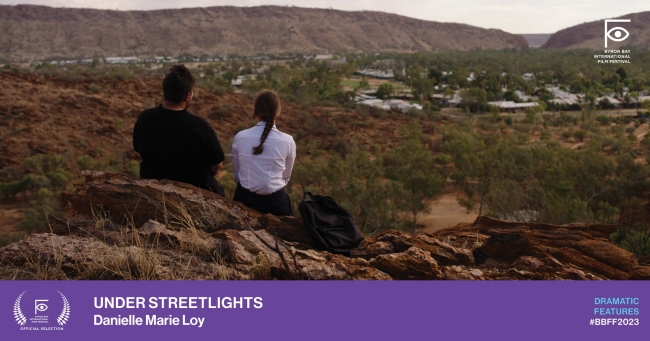 Image source: BBIFF
Dramas to dive into
Let's Get Lost (Ailleurs Si J'y Suis) Venue: Palace Byron Bay + The Regent
In this cleverly spun comedy, when Mathias mysteriously vanishes into the woods, those left behind grapple with their own aspirations, desires, and regrets. His absence becomes a mirror, reflecting the profound questions of existence and societal norms.
Perfect Days Venue: Palace Byron Bay
Master filmmaker Wim Wenders, renowned for iconic films like "Paris, Texas" and "Buena Vista Social Club", presents a soul-stirring tale set amidst the serene landscapes of Japan. This narrative is a homage to the beauty hidden in life's everyday moments.
Radical Venue: Palace Byron Bay + The Regent
The students of Jose Urbina Lopez Elementary confront challenges beyond academics, battling adversity, and hardship. Yet, hope is kindled by Sergio Juarez, portrayed by Eugenio Derbez. Among these students is Paloma, with aerospace dreams. "Radical", a Sundance Audience Award winner, is a testament to the enduring spirit of youth and the transformative essence of learning.
Under Streetlights Venue: Palace Byron Bay
The melancholy of losing her mother engulfs 18-year-old Ella until she encounters Izak, an aspiring Aboriginal hip-hop talent. As they bond over music, they unearth unexpected connections and shared dreams.
Spotlight Segment
Young Australian Filmmaker of the Year Venue: Palace Byron Bay + The Regent
A spotlight on the future of Australian cinema, this competition illuminates the brilliance of budding filmmakers, showcasing narratives filled with innovation, passion, and promise.
Documentary delights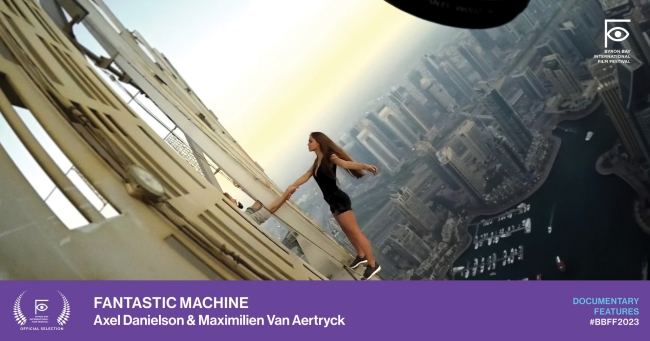 Image source: BBIFF
Set against the soulful Byron Bay, this year's documentary segment promises a tapestry of tales, each distinct yet threaded by the human experience. Here's a deep dive into some of the real-life narratives featured:
Brand Bollywood Downunder Venue: Brunswick Picture House
Journey through over a century of Bollywood's enchantment with Australia. From its early roots to its global expanse, uncover the art, politics, and passion that has ushered in the 'Bollywoodisation' of Australian screens.
Bromley: Life After Dark Venue: Palace Byron Bay + The Regent
Delve into the world of David Bromley, whose art became his refuge, lifeline, and love. This is a tale of creation, discovery, and the salvaging power of art.
Fantastic Machine Venue: Palace Byron Bay + The Regent
Ponder upon the question of what happens when human vanity and unchecked technology collide? A critical look at our relationship with the lens and the evolving definitions of self.
Freedom is Beautiful Venue: Palace Byron Bay + The Regent
Revel in the uplifting journey of two Kurdish refugees, Farhad Bandesh and Mostafa Azimitabar. A testament to resilience, love, and the universality of the human spirit.
Ground Swell: The Other Side of Fear Venue: Palace Byron Bay + Lennox Cultural Centre
Dive headfirst into the 2021-22 big wave season, witnessing fearless surfers challenging nature's behemoths, pushing their limits and redefining courage.
Habana Shakes Venue: Palace Byron Bay
A poetic window into young Cuban lives over ten days. A lyrical exploration of aspirations, dreams, and generational shifts in a city on the brink of change.
Kaugere: A Place Where Nobody Enters Venue: Palace Byron Bay
Amidst the grit and struggle of Papua New Guinea's settlements, witness a tale of tribal men rediscovering identity through the game of rugby league.
Mutiny in Heaven – The Birthday Party Venue: Palace Byron Bay + The Regent
Dive into the chaotic brilliance of The Birthday Party's journey, from their rise to their dissolution, encapsulating genius, conflict, and the duality of creation and destruction.
Point of Change Venue: Lennox Cultural Centre
When perfection disrupts paradise: a story of surfers, discovery, and the ripple effects of unveiling a 'perfect wave' in Nias Island, Indonesia.
The Edge of Nature Venue: Palace Byron Bay
Revisit the 'Anthropause' of the Covid Pandemic, a time when the world paused, allowing nature to breathe and rejuvenate.
The Last Two Weeks at Longlee Venue: Brunswick Picture House
A deeply personal chronicle of love, loss, art, and acceptance, spotlighting the last moments of artist Lee Stephenson.
The Trust Fall: Julian Assange Venue: Brunswick Picture House
Delve deep into the life and legacy of Julian Assange, a relentless voice of free speech, even from behind prison walls.
Seeds of Inspiration: Chronicles of Hope & Change Venue: Palace Byron Bay
Immerse in short environmental documentaries, each narrating stories of hope, rejuvenation, and humanity's intricate dance with nature.
Short films
Beyond the feature-length masterpieces, the Byron Bay International Film Festival has a delightful treat in store. This year, BBFF proudly showcases an eclectic collection of over a dozen short films from around the globe.
These short films serve as both a platform for emerging talents to shine and a space for seasoned filmmakers to experiment and innovate. They are often the breeding ground for fresh ideas, avant-garde techniques, and the film industry's next big names.
Riding the cinematic waves at BBFF 2023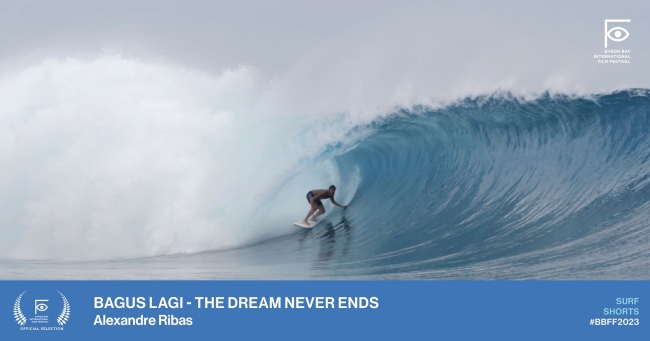 Image source: BBIFF
Surf's up, movie buffs! If the sound of crashing waves and the thrill of surfing runs through your veins, then the Byron Bay International Film Festival has some special cinematic treats awaiting you this year.
Olas y Ondas – Waves and Swells
Venue: Palace Byron Bay

In a special short film session, dive deep into the heart of Luso-Hispanic surf culture. With a collection of 5 robust films, this session promises an immersive ride through the stories, adventures, and passion of surfing across diverse landscapes and narratives.

Point of Change
Venue: Lennox Cultural Centre

Ever thought about the price of chasing perfection? This feature documentary whisks us away to the 1970s, unveiling the dramatic transformation of an island community upon discovering a 'perfect wave'.
Chronicling the journey of the pioneering surfers at Nias Island, Indonesia, the film delves into the ripple effect of their discovery and its profound consequences.

Ground Swell: The Other Side of Fear
Venues: Palace Byron Bay + Lennox Cultural Centre

For those who crave adrenaline-packed adventures, this documentary is a must-watch. Journey with surfing legends like Nic Von Rupp, Kai Lenny, Matt Bromley, Torrey Meister, Vini dos Santos, and the trailblazing Bianca Valenti as they confront their fears and charge towards some of the planet's most formidable waves.

From the towering heights of Nazare in Portugal to the iconic breaks of Jaws, Pipeline in Hawaii, and Mavericks in Northern California, this film offers a raw, unfiltered look into the world of big wave surfing.
Final note
BBFF is more than just a film festival. It's an experience, a celebration of culture, art, and of course, the enchanting spirit of Byron Bay. Whether you're an ardent cinema lover or someone seeking a unique experience, BBFF promises to leave a lasting impression. So, pack your bags and be a part of this cinematic journey!
If you're looking for somewhere local to stay, explore the many types of accommodation at Broken Head Holiday Park, including deluxe beach cabins, beach houses, and camp facilities.
Budget-friendly and ideal for individuals, couples or small groups of friends attending the festival. Get together, share your own stories and make memories that last a lifetime. Book your stay today!