Best Heaters to Keep Warm While Camping

Even though we've ticked over to spring here in Byron Bay, the evenings can still get chilly. If you're the type of person who can't sleep when you're cold then a good camping heater is essential for tenting and caravanning.
Choosing the right camping heater for your needs can be confusing, especially given the many available choices in the market today. Safety, heat source, heat output, weight, and cost are just a few of the things you should think about.
To help you make an informed decision on which heater will suit your needs, we've compiled a list of the three best camping heaters. 
What to Consider Before Buying a Camping Heater
Safety
Safety should be your number one priority when seeking the best camping heater. Never risk your safety in search of a bargain price.
When you are shopping for camping heaters, look for important safety features such as:
Anti-tilt shut-off
Oxygen depletion sensors
Protective front guards.
Cool outer housing
Automatic shut-off if it overheats
A tip-over switch
Heat Source
There are various options available, including butane and propane heaters, 12-volt camping heaters, and chemical heaters.
However, it's worth noting that 12-volt electricity does not produce as much heat as propane or butane.
Heat Output
Not all heaters are suitable for all camping situations. The amount of heat output is often measured in BTUs, which stands for British Thermal Units. The higher the BTU, the more heat you can get.
Size and Weight
The importance of size and weight of a heater will depend on your circumstance and how far you plan on carrying the heater. Always check the dimensions and weight information before purchasing. Generally, camping heaters can weigh anything from 1kg up to 10kg.
Cost
How many safety features a heater has, the range of heat output, and the type of heat source can all affect the price. Cheap is not always better when it comes to camping heaters. Remember that you should never sacrifice safety for price.
List of the Three Best Heaters for Camping
Best For Value
1. Highlander Portable Compact and Lightweight Gas Heater With Safety Grill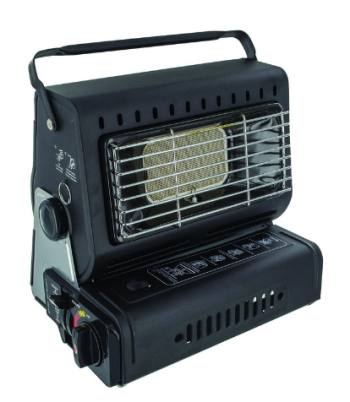 The Highlander Portable Gas Heater is an excellent choice for campers looking to keep warm on cold winter nights. The heater has numerous safety features, and it's easy to use. Plus, it's lightweight enough to carry during long hikes. 
Features
Fuel source: Liquefied Petroleum Gas
Temperature control
Swivel mechanism
Heat output of 1300 Watts
Weighs 2.3kg
Cost
AUS $112
Best For Compactness and Style
2. Kampa Cuboid Low Wattage PTC Fan Heater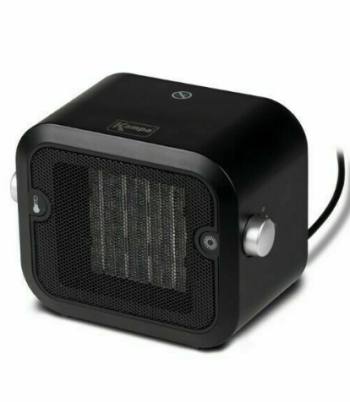 Image: Ebay
The Kampa Cuboid Low Wattage PTC Fan Heater is an excellent heater to bring with you on your camping adventures. This heater can be used inside a caravan and will heat the room extremely fast due to its maximum power of 1500W. Kampa has designed the Cuboid with cool-touch housing, a thermal overheat protection system, and a tip-over safety switch to keep it cool.
Features
Power source: Corded electric
Heat output of 1500 Watts
Safe and compact design
Easy to use
Weighs 1.1Kg
Cost
AUS $132
Best For Warmth
3. Mr Heater Portable Radiant Heater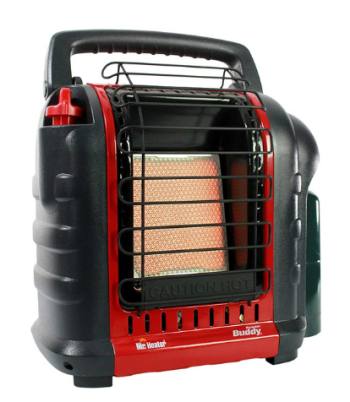 Image source: Amazon
The Mr Heater Portable Radiant Heater is a simple-to-use propane heater which you can use inside tents. The heater has numerous safety features, including automatic shut off if you fall asleep or oxygen levels drop. However, the best thing about this heater is the huge heating surface. The heater can warm up, up to 225 square metres of space. 
Features
Power source: Gas powered
Heats up to 225 square metres of space
It can be used indoors & outdoors
Fantastic safety features, including auto shut-off
Weighs 4kg
Cost
AU $316.31
Bring your camping heater to Broken Head
Are you looking for affordable accommodation in Byron Bay, where you can relax and enjoy a beautiful beach setting?
Broken Head Holiday Park provides a range of accommodation options to match every budget.
If you're seeking a family excursion, a group getaway, or an intimate couples holiday, there is something for you.
Book your stay today at Broken Head Holiday Park.