LGBTIQ+ Friendly Guide to Byron Bay

Byron Bay  is a popular holiday destination for people from all walks of life. Known as the "Rainbow Region", Byron is especially popular among LGBTIQ+ visitors. Here is your guide to LGBTIQ+ friendly Byron Bay.
What makes Byron Bay appealing for alternative visitors?
In Byron, you can feel free to be yourself. Byron Bay has gained a reputation as one of the most gay-friendly communities in NSW. Byron is a laid back beach town with a diverse population and a welcoming atmosphere. Byron has a history as a haven for surfers and hippies, so it has long been a popular spot for those who enjoy an alternative lifestyle or who march to the beat of their own drummer.
Whether you're traveling with a group of friends or taking a solo trip, Byron provides numerous opportunities to meet new people, enjoy the natural scenery, and explore the arts and culture scene.
Places to socialise with local gay community
While there are no designated gay bars or nightclubs in Byron, all are LGBTIQ+ friendly. The Roadhouse and Top Shop are popular spots for coffee, burgers, or brunch. For those who enjoy nightlife, Woody's Surf Shack is a classic spot for late-night dancing. Manna Haven offers creative, delicious vegan fare, and a number of local breweries and distilleries offer tours, tastings, and events.
Tropical Fruits is an inclusive, LGBTIQ+ not-for-profit community group in the Northern Rivers region of New South Wales. Tropical Fruits holds regular social events throughout the year, providing many opportunities for members and guests  to come together in a fun, safe, and inclusive environment. They hold events all year round, but the New Years Eve bash is the biggest of the year.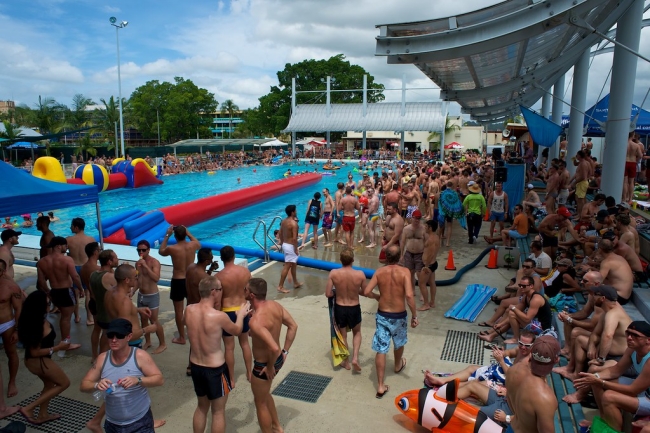 Source
Activities to try in Byron Bay
Whether you seek outdoor adventures, quiet relaxation, or exciting new experiences, Byron Bay has something for everyone.
Beaches
When you visit Byron Bay, be sure to check out some of the country's most beautiful beaches – including some that are clothing-optional like King's Beach and Tyagarah Beach. Main Beach, Belongil Beach, and Clarke's Beach are other favourite spots.
Festivals and Events
You can also find festivals and events in celebration of the LGBTIQ+ community. Queer Ball is a full day festival combining Queer musicians and artists, live music, DJs, and delicious food and drink.
This mini-festival is "a full day to be in your heart, to explore identity and culture, celebrate our artists, and the arts and feel included, connected and seen. An opportunity to stop division and come together to unite in the freedom of expression, connection, art of listening deeply to others' lived experiences and healing and celebrate the history of our community."
Nature Activities
Byron Bay is a paradise for nature lovers, and there are endless ways to explore the natural surroundings in Byron Bay. Go on a whale watching excursion, take surf lessons, rent a bike, paddleboard, or kayak for a guided tour or independent exploration, or hike one of Byron's many lush, scenic trails.
Art and Galleries
If the great outdoors isn't quite your thing, Byron Bay has a vibrant arts scene, as well as numerous shops and local artisans to discover.  Check out the many local galleries in town and along the Byron Arts Trail. Byron also holds a strong connection to the traditional Aboriginal culture.
Relaxing Spas
For a day of relaxation and pampering, Byron Bay has a number of luxurious spas where you can get a massage, a facial, or other treatment in a beautiful facility surrounded by nature. Gaia Retreat and Spa, Buddha Gardens Day Spa, and Crystalbrook Byron are just a few of the options available. Crystalbrook Byron is just a five minute drive from Broken Head.

Source
Where to stay?
Visitors to Byron Bay can make their home base close to the beach and all that Byron has to offer at Broken Head Holiday Park. We provide a range of accommodation options to satisfy any type of traveler.
Whether you're a minimalist who wants to camp under the stars, or you're someone who prefers the comfort of a modern beach house, we will make you feel at home. Accommodation includes powered or unpowered beach campsites, beach cabins, beach shacks, and a beach house ideal for groups. Jump online and book today!