6 Tasty BBQ Recipes for Camping

Camping food is as exciting as you make it. You can whip up almost anything on a campsite BBQ, from full, hearty meals to snacks and sides. There are hundreds, if not thousands, of camping recipes to try, so here are a few to get you started.
Tip: These BBQ meals serve 4 to 6 people, so there's plenty of room to scale up or down to match your camping needs.
1. Charred Chicken with Salsa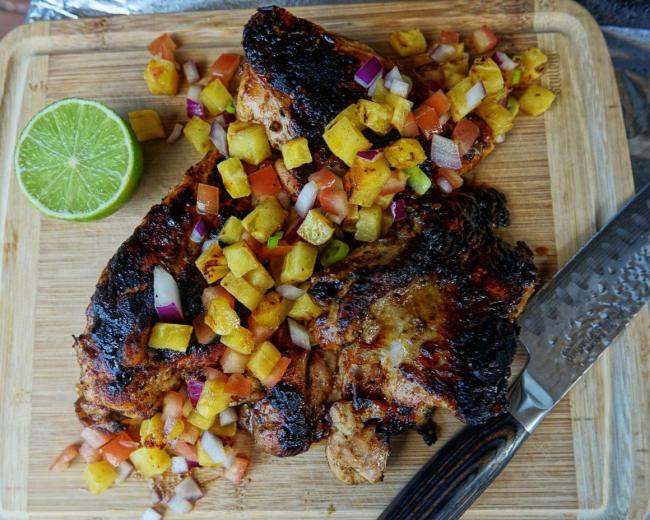 Image source: Campermate
There's something undeniably delicious about crisp, darkened chicken skins grilled on a BBQ. Match that smoky flavour with fresh, zesty salsa for the perfect camping BBQ dinner. Use a whole butterflied chicken or just the wings or drumsticks, but make sure to cook the chicken with the skin on.
Marinate the chicken in brown sugar, salt, pepper and garlic, set it on the BBQ and turn it every 5 minutes or so to cook evenly. Make salsa with grilled pineapple pieces, tomatoes, red onion, and a dash of lemon or lime juice. Serve with the side dish of your choice and enjoy.
View full recipe here.
2. BBQ Beef and Bacon Burgers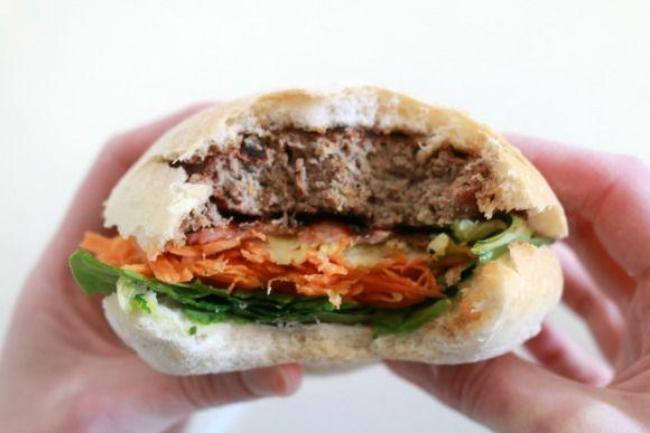 Image source: Best Recipes
Transform plain old minced beef into these delicious burgers for a quick camping lunch. Prepare the burger patties ahead of time by mixing the mince with breadcrumbs, a whisked egg, and finely chopped onion.
Wrap them in foil and throw them in your cooler until you're ready to hit the BBQ. As the patties cook, throw some bacon rashers on the grill too. Assemble the burgers with bread rolls, cheese and fixings of your choice.
View full recipe here.
3. Hot Dogs with Beans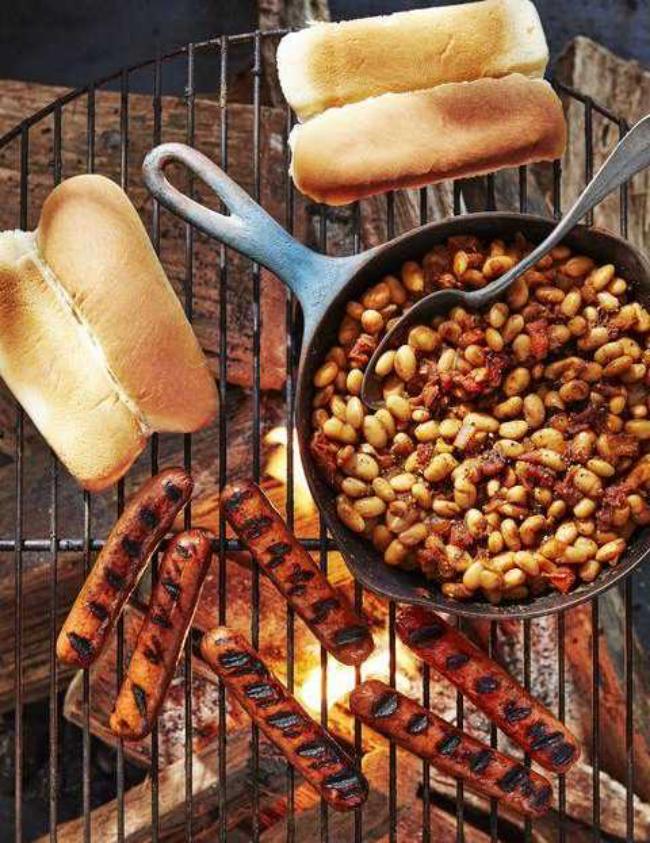 Image source: Country Living
Nothing says BBQ meals like grilled hot dogs, and you can cook them every which way. Grill them gently over the BBQ while your beans cook in a pot. Add Worcestershire sauce, molasses, and red wine vinegar to the beans to make delicious gravy, along with garlic, tomatoes and onions.
Grill the hot dog buns, too, for extra crunch. Serve the hot dogs with mustard, ketchup and relish, alongside your delicious beans.
Tip: Use a cast iron skillet for your BBQ meals over the grill.
View full recipe here.
4. Shrimp Foil Packets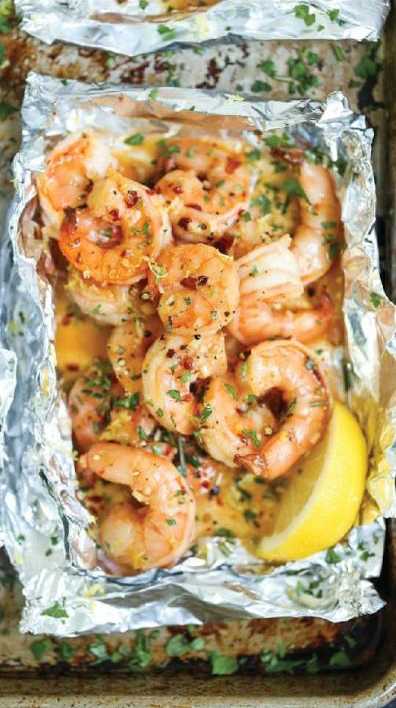 Image source: Damn Delicious
You can't go wrong with foil packet camping recipes, and shrimp foil packets cook super-fast and taste fantastic. Mix your medium shrimp with a bit of butter, salt to taste, lemon juice, red pepper flakes, thyme, rosemary and wine.
Wrap portions of the shrimp mix in foil, placing the shrimp in a single layer. Seal the foil packets tightly, throw them on the BBQ grill for about 10 minutes, and serve with your favourite pasta or crusty bread.
View full recipe here.
5. Camping Mac and Cheese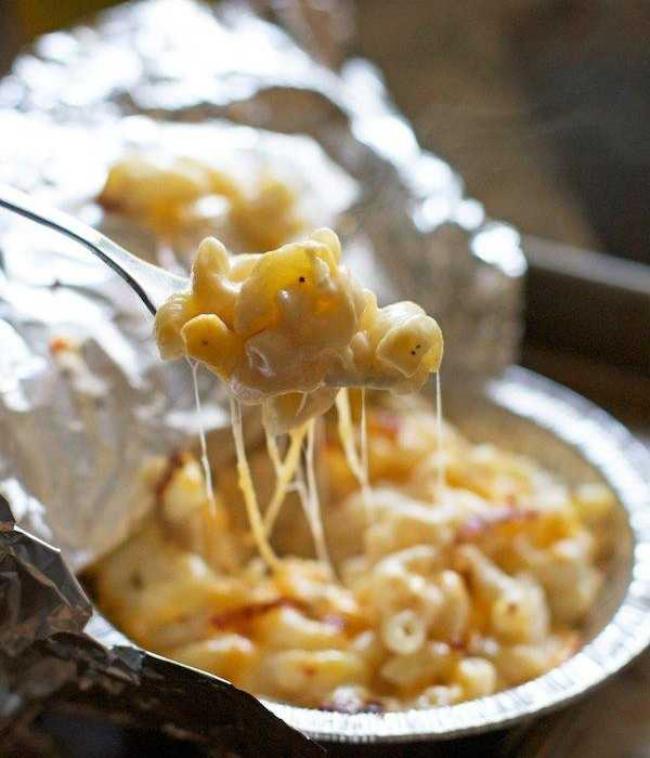 Image source: Lauren's Latest
This is one of those "cheating" BBQ meals that take shortcuts to a delicious outdoor meal. Cook your pasta ahead of time, then mix in your favourite cheeses, like cheddar, parmesan and mozzarella.
Add some alfredo sauce, salt, pepper, bacon bits, jalapeños, capsicum, or anything else you like to flavour up your mac and cheese. Keep the mix ready in aluminium pie tins, and warm them up on the BBQ grill when you're ready to eat. Cook for 8-10 minutes, or until the tops and sides get nice and crispy.
View full recipe here.
6. Breakfast Burritos
Image source: Taste and Tell
You can certainly do better than cereal for your camping breakfast. These make-ahead burritos travel well in your cooler or camping fridge, and they taste great with tea or coffee. Start with frozen hash browns (or make them from scratch), and toss with diced ham, cheese, eggs and seasonings.
Wrap a small portion of the hash and egg mixture with the tortillas and wrap them tightly with foil. Throw the rolls on the BBQ grill for about 15 minutes to cook the tortilla and warm up the filling. Serve them hot with your coffee and tea to start your day of adventure.
View full recipe here.
Bring Your Best BBQ Game to Broken Head Holiday Park
With our BBQ areas and fully-equipped camp kitchen, you'll be cranking out delicious BBQ meals in no time. Broken Head Holiday Park also has a fully stocked camp kiosk, so if you forget any ingredients at home, you can find them right here.
Ready to book your camping getaway? Hop online today.