Ultimate Guide to Markets In and Around Byron Bay

Byron Bay markets are a great way to marvel at the incredible local talent from across the region. These colourful community markets are full of handmade items, from clothes and jewellery to soaps and candles, plus fresh, organic, wholesome produce all grown in and around Byron Bay.
Of course, Byron Bay markets also come with a fantastic selection of international cuisine, refreshing drinks and live music to keep you and your family happy on market day.
Byron Bay markets are a great day trip option because there's almost always a market happening every weekend. Here's our selection of must-visit Byron Bay markets to visit during your stay at Broken Head Holiday Park.
Byron Farmers Market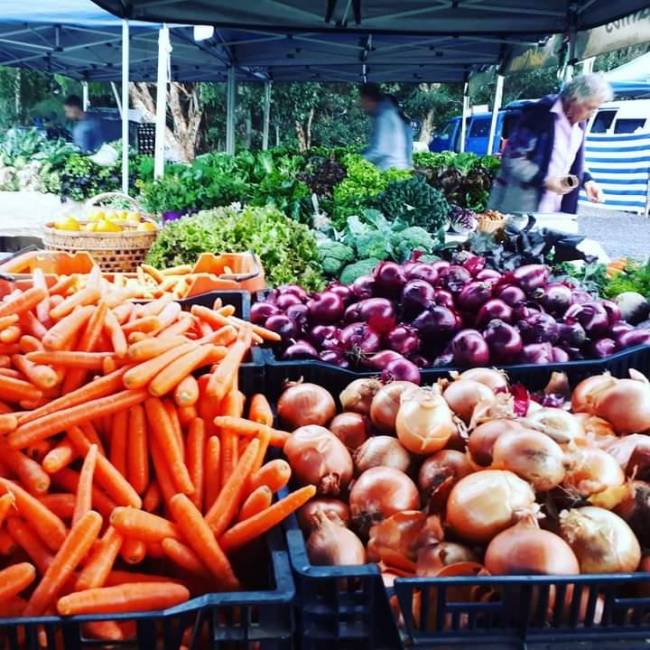 Image source: Facebook
The Byron Farmers Market has maintained the freshest, seasonal produce from local farmers since 2002. "Real farmers, real food" is the Byron Farmers Market philosophy that guarantees authentic produce directly from the local farmers right to your pantry.
There are plenty of staples, like cheese, honey, olives, beef and poultry all year round at this market, plus seasonal fruit and vegetables. On top of that, all proceeds from the Byron Farmers Market go to support amazing local charities and groups, including the Byron Youth Service, Byron Breast Cancer, the local Fire Brigade and lots more.
Where: Cavanbah Centre, Ewingsdale Rd
When: Every Thursday, 7:00 am to 11:00 am 
Byron Community Market
The first thing you'll notice about the Byron Community Market is that it's huge! There are endless stalls with a mix of locally made and imported goods, heaps of great food to choose from, and a wonderful friendly atmosphere.
The Byron Community Market also partners with local charities that set up their stalls on market day to boost their fundraising initiatives. It will probably take you a good couple of hours to explore everything that this market offers, from artwork to tarot readings, and don't miss out on the unbelievable Spanish omelettes stall.
Wear some sunscreen and your most comfortable shoes for your walk through the Byron Community Market.
Where: Foreshore Denning Park, Main Beach
When: 1st Sunday of every month, 8:00 am to 3:00 pm
Byron Artisan Market
The Byron Artisan Market or Twilight Market is full of boutique stalls offering jewellery, leather products, homeware and accessories, all made from sustainable material. If you're looking for unique, creative products for yourself or your loved ones, the Byron Artisan Market has more than enough choices for you.
There's plenty of multicultural food and drinks to try something new. Bring your picnic blanket or chairs to soak up the atmosphere after shopping and enjoy a lovely dinner on the grass.
Where: Railway Park, Jonson Street
When: Every Saturday in the summer, 4:00 pm to 9:00 pm
Mullumbimby Farmers Market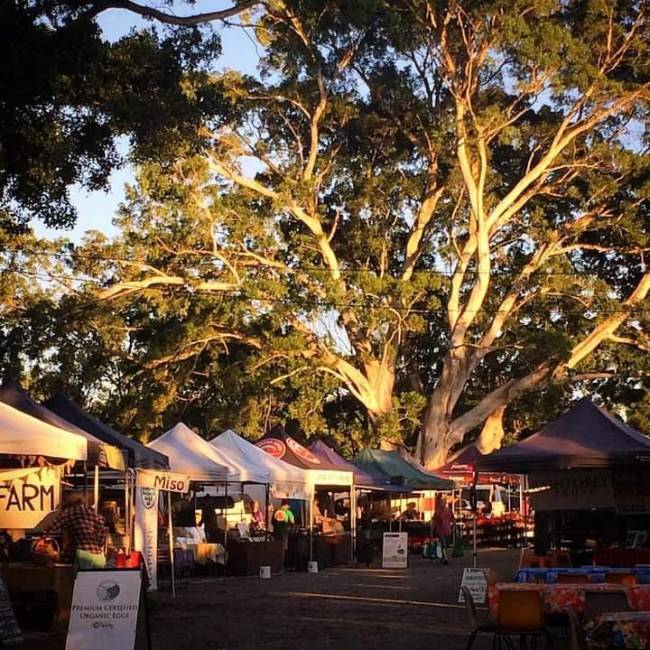 Image source: Facebook
The Mullumbimby Farmers' Market has over 50 stalls showcasing organic farmers, artisan bakers, and the best seafood and fresh fruit to fill up your grocery basket. It's no wonder that this market won the 2020 Delicious Produce Awards.
There's plenty of free parking at the Mullumbimby Showgrounds, so you can bring your friends and family to the market for a wholesome breakfast and carry as much produce as you need for the week. Check out the cooking demonstrations, competitions and kids' events at the Mullum Market every week too.
Where: Mullumbimby Showgrounds
When: Every Friday, 7:00am to 11:00am
Brunswick Heads Markets
Brunswick Heads Markets should definitely be part of your visit to this idyllic town just 15 minutes away from Byron Bay. Start the morning with a walk through the market stalls filled with handmade crafts, coffee, clothing and hot delicious food and snacks.
Settle down for a great lunch at any of the unique cafés near the Brunswick Head Markets, then walk down to the beach for a swim, an ice cream, or even a picnic.
Where: Memorial Park by the Brunswick River
When: 1st Saturday of every month, 8:00 am to 2:00 pm
Bangalow Farmers Market
The Bangalow Farmers Market is fondly popular as the Byron Farmers Market's little sister. It sits right in the heart of Bangalow Town behind the Bangalow Hotel. It's the ideal way to enjoy a Saturday morning, starting with a cup of coffee at the market and then taking your pick of the fresh fruit, baked goods, preserves and nuts to stock up your pantry.
Stop by any of the lovely gourmet cafés in Bangalow after you visit the market and enjoy this quaint town just 20 minutes away from Byron Bay.
Where: Bangalow Hotel Car Park
When: Every Saturday, 7:00 am to 11:00 am
Pottsville Beach Markets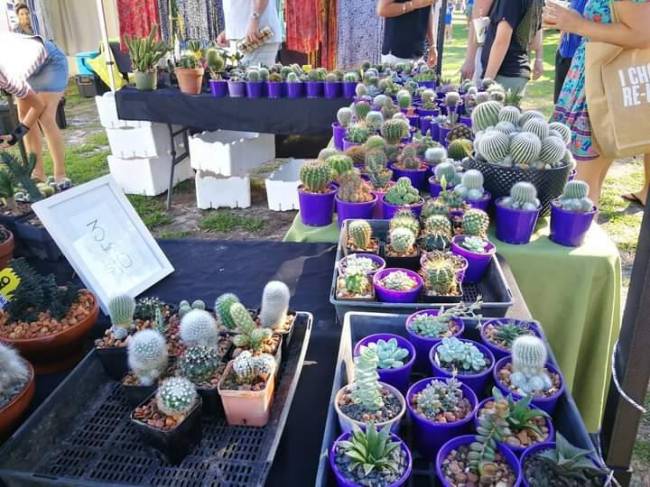 Image source: Facebook
Farm fresh produce, homemade treats, home décor, arts and crafts are just a few of the things you will find at the Pottsville Beach Markets. It is also one of the best Byron Bay markets for gardeners looking for new plants to add to their collections or as gifts for green-thumbed friends and family.
There's live music, fun activities for the kids, and great food and drinks for a memorable Sunday morning at the Potty markets. Bring your dog to the Pottsville Beach Markets too, but keep them on a leash! Pottsville is a 30 minute drive north of Byron Bay.
Where: Phillip Street, Pottsville
When: 1st and 3rd Sunday of every month, 7:00 am to 1:00 pm
Lismore Car Boot Markets
The Lismore Car Boot Markets, locally known as "the Booty", began in 1988 and has grown into one of the most diverse, exciting markets in the whole of the Far North Coast. The markets sit in an undercover car park, so it's perfect for visiting on a rainy day.
Antique lovers will enjoy the selection of rare finds at the Booty, plus vinyl records, recycled clothes and retro toys. There are over 200 unique stalls and over 30 garage sales at the Car Boot Markets, which will certainly fill up your day trip out of Byron Bay. Lismore is a 45 minute drive from Byron Bay.
Where: Lismore Shopping Square, Uralba Street
When: 1st and 3rd Sunday of every month, 7:30 am to 2:00 pm
New Brighton Farmers Market
If you prefer organic produce, New Brighton Farmers' Market has everything you need. This market has fresh fruit and vegetables, eggs, dairy, olives, nuts, baked goods, and of course, excellent coffee. You will also love the riverside and beachfront location with shaded tables for a delicious breakfast at New Brighton Farmers Market.
This market is about 20 minutes north of Byron Bay, and it attracts locals and visitors to socialise, meet and greet the local growers, and simply relax in the easygoing North Coast vibe. This is one of the best Byron Bay markets to spend an unrushed morning before heading out to the sun and surf.
Where: New Brighton Oval, River Street
When: Every Tuesday, 7:00 am to 11:00 am
Nimbin Markets
Nimbin Markets have a mix of the essentials and the unexpected, and can be discovered just an hour from Byron Bay. The vibrant stalls have the usual fresh fruit, vegetables, fresh coffee and delicious meals. However, you'll also find second-hand and upcycled goods, crochet crafts, antiques, spiritual and holistic products, and massage therapy stalls.
Nimbin is popular for its alternative, hipster vibe whose philosophy is "Hand grown, hand made, fair trade, and recycled". It's the kind of market that you can sip a healthy smoothie under the fig trees and enjoy live entertainment. If you get the chance, check out the radio presenters of NIM-FM, Nimbin's local station, as they broadcast and interview shoppers and vendors live from the market.
Where: Nimbin Community Centre
When: 4th and 5th Sunday of every month, 9:00 am to 3:00 pm
The Channon Craft Market

Image source: Facebook
The Channon Craft Market was born in 1976 to trade and barter goods in The Channon Village. Today, the craft market is a nonprofit community organisation with over 250 stalls displaying an incredible range of wares for locals and visitors to explore. These vibrant stalls are available as two concentric circles with live entertainment in the centre.
There is plenty of time to explore the arts and crafts, children's gear, jewellery, clothing and fresh produce at the Channon markets, and grab some wholesome food while you're at it. "Make it, bake it, grow it" is the Channon markets' motto, and they have indeed lived up to it over the last 45 years and counting. This market is just under an hour's drive west of Byron Bay.
Where: Coronation Park, The Channon Rd
When: 2nd Sunday of every month, 9:00 am to 3:00 pm
Alstonville Plateau Market
The Alstonville Plateau Market is yet another lovely Sunday hangout, described as esoteric and exotic. Enjoy some great Australian barbecue, barista coffee, fresh produce, cakes, crystals, books and carpets, and loads more exciting things that you can only find in Alstonville.
The children will also have a blast with face painting, merry-go-round and balloon twisting at the Alstonville Showgrounds. The market's food court and live music are definitely worth the 40-minute drive from Byron Bay.
Where: Alstonville Showgrounds
When: 2nd Sunday of every month, 8:00 am to 2:00 pm
Murwillumbah Markets
Set in an industrial warehouse and community park, the Murwillumbah Makers & Finders Market is an amazing space that the whole family will love. This market is the go-to place for vintage, indie and handmade goods where creators and collectors mingle every 3rd Saturday of the month.
Your children can romp around the Murwillumbah adventure park, then relax on the grass for the live music from homegrown indie bands. Walk across the street to the M-Arts Precinct for incredible handmade artwork, and have a chat with the resident artists during your visit to this unique Northern Rivers market, a 50-minute drive north of Byron Bay.
Where: Wollumbin Street, Murwillumbah
When: 3rd Saturday of every month, 9:00 am to 2:00 pm
Kingscliff Beachside Markets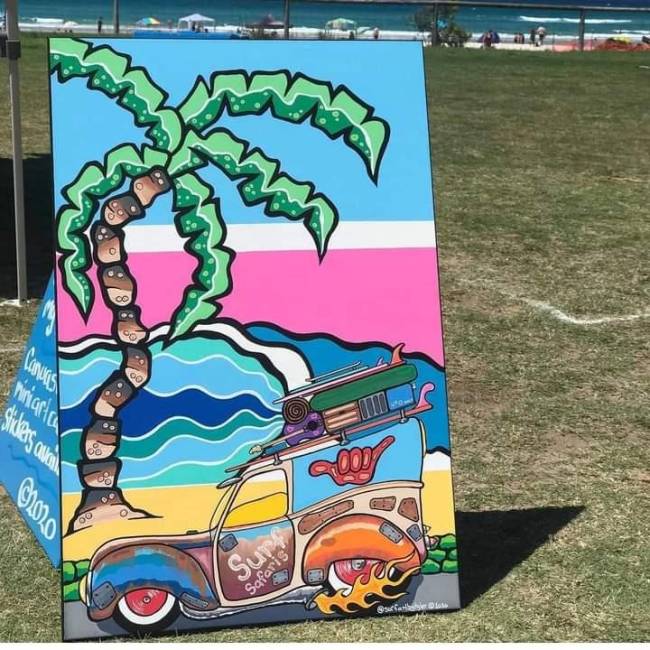 Image source: Facebook
Kingscliff Beachside Markets sit in the perfect spot overlooking Kingscliff Beach, a 45-minute drive north of Byron Bay. Enjoy the fresh ocean breeze as you browse through the stalls; there's plenty of fresh produce to choose from as well as gourmet food, flowers, gifts, fashion, and artwork.
With ample parking at the markets, you can do your Saturday morning shopping, then head on out to the beach for a swim or picnic for a lovely day out with the family. Make sure to bring small changes to make your shopping easier at the Kingscliff Markets.
Where: Jack Bayliss Park, Marine Parade
When: Every 2nd and 4th Saturday of every month, 8:00 am to 1:00 pm
Uki Buttery Bazaar Market
Get ready for a breathtakingly scenic 45-minute trip from Byron Bay to the quirky village of Uki. Drive through farmlands, green hills and endless trees to enjoy a great variety of clothing, books, jewellery and gifts, plus plenty of food and coffee stalls to get your breakfast fix at the market.
There is also live entertainment from Uki's musicians, including the hillbilly group, the Perch Creek Jug Band. Dig through the antiques and collectables, then rest underneath the big trees or by the river at the Uki Buttery Baazar.
Where: Old Buttery, Uki
When: 3rd Sunday of every month, 8:00 am to 2:00 pm
Great markets all around Broken Head Holiday Park
All these great markets are all within Byron Bay or a short drive away from Broken Head Holiday Park. Whether you're looking for fresh groceries during your camping holiday with us, a day out with the kids, or gifts for family and friends at the end of your holiday, you will have more than enough options to keep you occupied.
Keep an eye on these markets on the socials to confirm the venues and events in case of Covid-19 regulations change. These Byron Bay markets do a great job of notifying you well in advance in case of cancellations and updated Covid-19 safety regulations. But don't let that stop you from exploring Byron Bay markets when you stay at Broken Head Holiday Park. Book your stay with us today and don't forget to check out our special deals to save even more!