5 French Toast Recipes for a Delicious Camping Meal

Whether you're backyard camping or looking ahead to your next Byron Bay camping trip, these French toast recipes are delicious and incredibly easy to make. The beauty of backyard camping is that you can whip up one of these treats in your own kitchen and carry it out to your campsite.
We've found some of the best French toast camping recipes out there, so let's take a look!
1. Croissant French Toast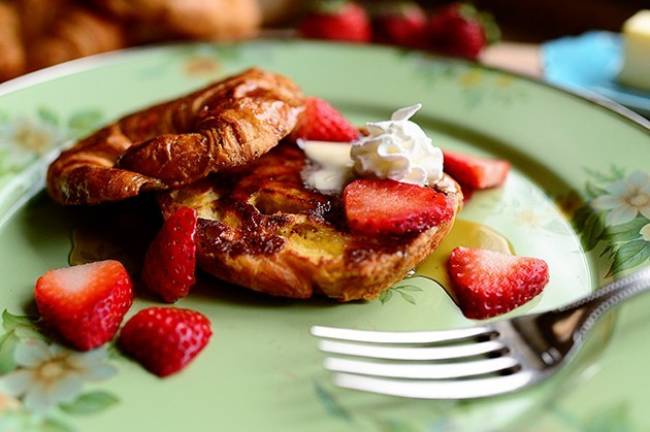 Image source: The Pioneer Woman Cooks
Using croissants to make French toast instead of bread is genius. This camping recipe tastes even better than regular French toast and is so easy to make.
Ingredients:
8 whole croissants
5 whole eggs
1/4 cup half-and-half (milk and cream)
2 tablespoons sugar
1 teaspoon ground cinnamon
2 teaspoons vanilla extract
Butter, for frying and serving
Warm syrup, for serving
Strawberries, for serving (optional)
Whipped cream, for serving (optional)
Method:
Crack eggs into a bowl and then add vanilla. Sprinkle in cinnamon and sugar and then whisk it together.
Cut the croissants into thin slices and dip them in the mix until they are fully soaked.
Heat a non stick frying pan and add a knob of butter.
Put the croissants in the pan cut side down, keep the heat quite low so they cook through but don't burn.
When they start looking brownish then flip to the other side and wait again. When both sides look nice and cooked move your french toast to the plate.
Add some butter and syrup on the top when serving, and any additional toppings, scrummy!
The Recipe Source: The Pioneer Woman Cooks
2. Savoury French Toast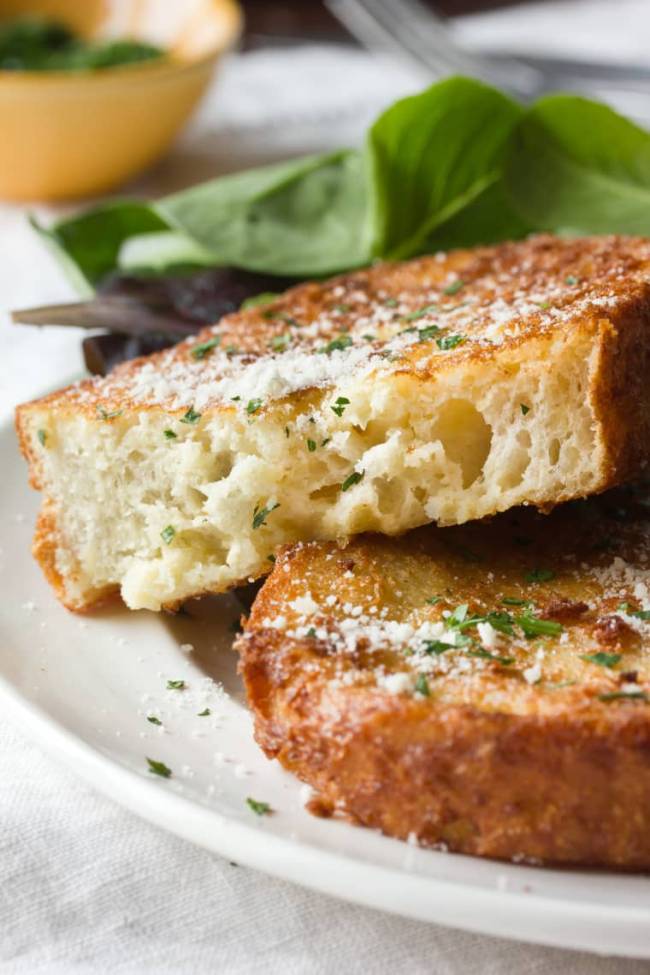 Image source: Kitchn.com
If you feel like something salty rather than sweet, then this is a French toast camping recipe for you. It makes a yummy brunch if you cook up some bacon to go with it, and serve with a salad.
Ingredients:
Neutral cooking oil, such as canola for frying
4 large eggs
1/2 cup whole or 2% milk
1/2 cup heavy cream
1/2 cup grated Parmesan, plus more for serving
1/2 teaspoon dry mustard powder, or more to taste
1/2 teaspoon salt
1/2 teaspoon hot sauce, such as Tabasco
Freshly ground black pepper, to taste
1 large garlic clove, peeled and crushed
6 slices good-quality bread, cut 2 to 3 cm thick
Freshly minced herbs, such as chives or flat-leaf parsley, for garnish
Method:
Warm the oven and line a sheet pan with paper towels and set it near your workspace.
Combine the eggs, milk, and cream and whisk until well combined. Transfer mixture to a baking dish and whisk in the Parmesan, mustard powder, salt, hot sauce, and a very generous amount of black pepper, followed by the garlic clove.
Heat the oil in a non-stick frying pan.
Add two pieces of bread to the batter and soak, flipping frequently, until thoroughly saturated with liquid, 1 to 2 minutes.
Add the bread to the hot oil and cook until the bread is golden brown; flip and continue cooking, about 2 minutes per side.
Gently shake excess oil from the bread and place on the paper towel-lined sheet pan.
Pat the toast with additional paper towels to remove excess oil, if necessary.
Transfer the sheet pan to the oven to keep warm, and continue cooking the remaining bread.
Garnish the French toast with chopped herbs and Parmesan cheese.
Recipe source: Kitchn.com.
3. Banana & Cream Cheese Stuffed French Toast

Image source: This Week for Dinner
This yummy French toast camping recipe could be everyone's new favourite breakfast or dessert. You can swap out the banana for strawberries or raspberries depending on people's tastes.
Ingredients:
Loaf of bread
Cream cheese softened to room temperature and mixed with a bit of vanilla extract, powdered sugar and milk (if needed), to taste
Thinly sliced bananas
Eggs (1 egg per 2 slices)
Dash of milk
Dash of vanilla extract
Method:
Whisk together eggs, milk and vanilla extract and set aside.
Cut off a thick slice of bread and make another cut in the slice to make a pocket.
Spread a thickish layer of sweetened cream cheese inside the pocket, then add a layer of bananas.
Dip stuffed slices as in the egg mixture and cook over medium heat on the stove until both sides are golden brown.
Serve with butter and a sprinkle of powdered sugar.
Recipe source: This Week for Dinner.
4. Mixed Berry French Toast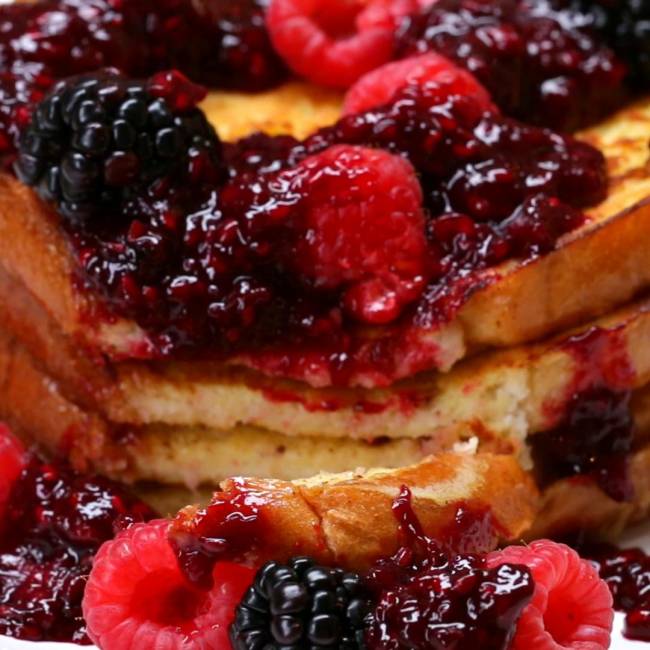 Image source: Tasty.co
A refreshing and healthy French toast camping recipe with juicy berries packed full of vitamins!
Ingredients:
4 eggs
1 cup milk
1 tablespoon vanilla
1 tablespoon cinnamon
2 cups mixed berries, blueberries, raspberries, and blackberries
2 tablespoons lemon juice
⅓ cup granulated sugar
Method:
Beat the eggs in a medium-sized bowl. Then add cinnamon, vanilla, and milk and whisk it all together.
Dunk bread pieces in the egg wash.
Melt a knob of butter in a non-stick frying pan and when it's melted fry the bread for about 3 minutes on each side.
Mix berries, sugar, and lemon juice in another pan and stir over a low heat until it's a delicious compote.
Lay out slices of toast on a plate and pour over the compote, enjoy!
Recipe source: Tasty.co
5. French Toast Sticks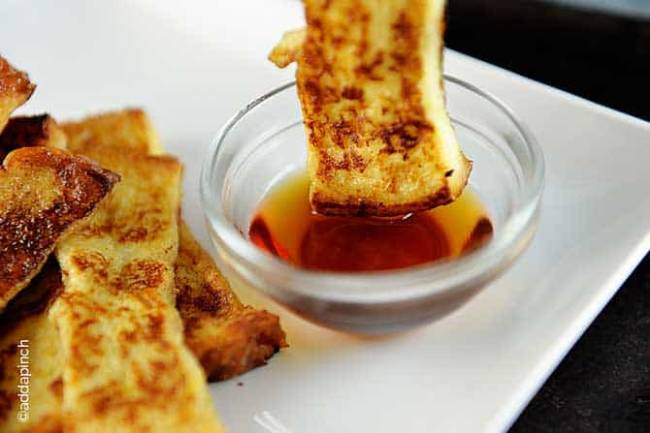 Image source: Add a Pinch
Small bites are always a perfect choice for a group camping meal and these French toast sticks can even be made ahead of time and frozen for a quick breakfast or afternoon treat.
Ingredients
2 eggs
1 cup milk half and half, coconut milk, or almond milk
pinch salt
1 teaspoon vanilla extract
1 teaspoon ground cinnamon
8 slices sandwich bread
2 tablespoons granulated sugar
Butter
Maple syrup
Instructions
Add eggs, salt, milk, vanilla, and cinnamon to a bowl and whisk together. in a flat-bottomed baking dish or pie plate, whatever seems to you like suitable.
Cut bread slices into thirds and dip into egg mixture making sure they're well coated.
Put the granulated sugar on a plate and coat each side of the sticks.
Melt a knob of butter in a non-stick frying pan and cook the sticks until golden brown on each side, around 3 – 5 minutes.
Serve with maple syrup.
If using from frozen, reheat in a hot oven (200C) for 12-15 minutes.
Recipe source: Add a Pinch
Try them out at Broken Head Holiday Park
We look forward to seeing you again at our friendly and well-equipped campsite where you can try out some of these yummy French toast recipes!