10 Hearty Salad Recipes to Feed Your Crew on a Camping Holiday
No one wants to spend a bunch of time slaving over a hot meal—even if you are outside on the BBQ. But, of course, one of the great perks of going on a camping holiday is saving money on making some meals at the campsite.
So, instead of always looking for something hot, why not make a big, hearty salad for lunch or dinner? Salads are an excellent way to get your 5+ a day vegetable servings!
We gathered 10 recipes for great salads—and by salads, we don't just mean the lettuce kind, we're roping in the pasta salad kind, too—that should feed everyone on your camping holiday.
1. Southwest Camping Salad
This recipe can be doubled if you have more than two to three people in your party, and you can add some grilled chicken breast if you'd like!
Ingredients:
2 cups frozen corn, defrosted
1/4 cup red onion, finely chopped
1 (15 oz.) can black beans, rinsed and drained
100g feta cheese, crumbled (Note: If you make this ahead and bring along for the first day of your holiday, then store the cheese separately and toss just before serving.)
Small bunch fresh coriander, chopped
Dressing:
1 lime, zest and juice
2 tablespoons olive oil
1 tablespoon honey
1 teaspoon ground cumin
1/8 teaspoon cayenne pepper
Salt and pepper, to taste
Combine salad ingredients and then toss with dressing.
Recipe: Camping for Foodies
2. Creamy Pesto Summer Pasta Salad
Ingredients:
400g fusilli or rotini pasta

small jar of 

mayo

small jar of basil pesto 

2

 t

bsp

 

fresh lemon juice

1 

tsp

 

sugar

pinch salt
pinch pepper
500g 

cherry tomatoes

100

g walnuts

100

g

Parmesan cheese

fresh

basil

generous pinch salt
generous pinch pepper
Method:
Boil pasta until al dente. Drain and run under cold water until pasta has completely cooled. Set aside.
For the dressing: Combine a heaped spoon mayo, pesto, lemon juice, sugar, salt and pepper. Place in fridge until needed.
Chop 1 cup walnuts. Place walnuts in a small pan for 5-7 minutes on medium-low. Stir the walnuts often to prevent burning.
Chop 2 packages of cherry tomatoes into quarters.
Place cooled pasta in large bowl and add the dressing along with the chopped tomatoes, toasted walnuts, Parmesan cheese, and generous pinch of salt and pepper. Stir until completely combined.
Chop 1 cup of fresh basil. Serve pasta salad with freshly chopped basil and additional Parmesan cheese.
Recipe: The Rustic Foodie
3. Smoked Corn, Red Quinoa, and Black Bean Salad
Ingredients:
1 cup red quinoa
2 cups vegetable broth
2 x 400g cans black beans, drained
1 1/2 cups corn (~ 2 ears fresh corn)  or frozen then thawed
1 avocado, cut into 1/2 inch chunks
1 jalapeño, finely diced
1 small red onion, finely diced (~ 3/4 cup)
1/2 cup coriander, chopped
1/4 cup olive oil
1 lime
sea salt
black pepper
Method:
Cook quinoa according to package directions, replacing water with vegetable broth. (If it's easier, you might consider making this ahead of time.)
While quinoa is cooking, prepare the rest of the ingredients. For the corn, either use frozen or plan to grill on the BBQ when you're here.
Once quinoa has cooked, combine with all remaining ingredients.
Season with salt, pepper or additional lime juice if desired.
Toss well and serve warm, room temperature or cold.
Recipe: My Impossibly Tiny Kitchen
4. Chopped Salad in a Cup
This doesn't have a set recipe, just make a combination of chopped veggies that you and your mates like.
Ingredients:
Here are some ideas:
celery
radishes
onion
cherry tomatoes
chopped broccoli
mushrooms
carrots
hard boiled eggs
snow peas
red and green capsicums
cheese, crumbled or shredded
cauliflower
cucumbers
sunflower seeds
bacon bits
bean sprouts
pickles
jarred peppers
ham cubes
It is easy to put any number together at once, assembly line fashion. Pack the dressing separately. Chopped veggie salads hold up to the summer heat better than lettuce based salads. Vinaigrette dressings work really well too. Because they are thinner, the dressing is easier to get to the bottom of the cup.
Recipe: 24/7 Low Carb Diner
5. Greek Chicken Salad
The recipe suggests making the chicken or even all of it ahead of time to save on campsite dishes and work. Plus, like many salads, it tastes better if the sauce is allowed to soak in over time.
Ingredients:
2kg package of frozen chicken breasts
1 cup Greek yogurt
1/2 cup olive oil
6 garlic cloves, minced
1 frozen lemon shredded with a micro plane or fine cheese grater
1 large sprig of fresh thyme
1 teaspoon salt
1/2 teaspoon pepper
Method:
Combine all ingredients except chicken in a bowl and whisk together.
Put the frozen chicken breasts into a sealable container or bag, pour this mixture in, and place the bag in your in ice chest. As the chicken defrosts, it will marinate in the sauce.
Cook the chicken via your preferred method: grill it, skewer it for shish-kebabs, cook it in a cast-iron skillet, or bake it in a Dutch oven.
If the chicken is being cooked in the marinade itself, such as in a skillet, allow the marinade to simmer for 20 minutes after the chicken is cooked through. If you're not cooking the chicken in the marinade, discard any of the sauce left in the bag.
Salad portion: 
5-7 Roma tomatoes sliced in wedges
2 cucumbers, sliced
1 oz. crumbled feta cheese
1/2 cup Kalamata olives
2 tablespoons olive oil
3 tablespoons red wine vinegar
Salt and pepper to taste
Toss all ingredients together in a sealable container or bag.
Recipe: Eureka!
6. Crab Salad
Ingredients
1 bag of coleslaw
1 package of crab meat
6 slices of bacon, cooked and crumbled
6 mozzarella cheese sticks
1/2 bag of frozen peas or 1 can of peas
1 pint cherry tomatoes
1 cucumber
1/2 – 1 cup mayonnaise
salt & pepper to taste
2-4 spring onions
Method:
Precook the bacon and set aside.
If using frozen peas, you can heat and let them cool before adding to the salad or just use the peas frozen.
Place the coleslaw mix into a large bowl.
Chop up the crab and place it ion the bowl.
Crumble the cold bacon and add it to the bowl.
Cut the cheese sticks into small round pieces and add to the bowl.
Add in the peas.
Chop the tomatoes in half and add.
Dice the cucumber and add to the bowl.
Chop and add the green onion.
Stir the contents of the bowl together.
Add in the desired amount of mayonnaise.
Salt and pepper to taste.
Recipe: Let's Camp S'more
Image: Serious Eats
7. Yellow Tomato Salad with Roasted Red Pepper, Feta, and Mint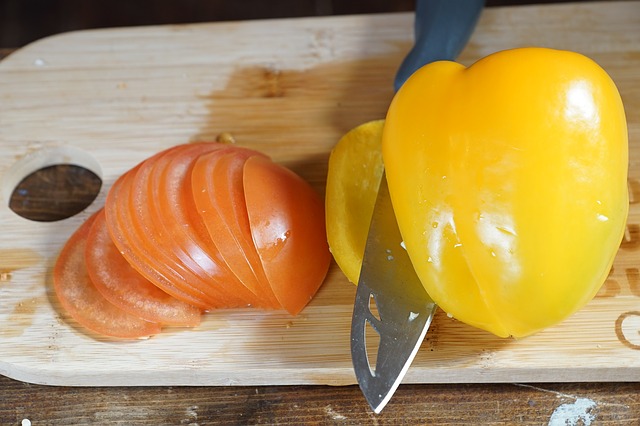 Ingredients:
4 to 5 large yellow tomatoes (or any vine-ripened tomato)
1 cup coarsely chopped roasted red bell peppers
1/4 cup chopped fresh mint
2 tablespoons crumbled reduced-fat feta
Sea salt and fresh ground black pepper to taste
4 teaspoons olive oil
2 teaspoons fresh lemon juice
Method:
Chop red peppers and place in small bowl.
Whisk together olive oil and lemon juice, stir into peppers and let them marinate while you prep other ingredients.
Wash tomatoes, wipe dry, cut out stem end, then cut into bite-sized pieces. (If the tomatoes are extra juicy, you may want to drain them in a colander for a minute, although this juice is the most flavourful part of the tomato, so if you don't mind having a juicy salad, skip this step.)
Wash mint and chop, and crumble feta.
Put tomatoes, peppers with dressing, and mint into a bowl and gently combine.
Arrange salad on individual plates, crumble feta over, and serve at room temperature.
Recipe: Serious Eats
8. Wild Rice Salad with Cranberries and Pecans
Ingredients:
1 cup wild rice, rinsed
1 teaspoon salt
1/2 cup dried cranberries
3/4 cup pecans, toasted and coarsely chopped
2 scallions, finely sliced
2 tablespoons extra virgin olive oil
2 tablespoons apple cider vinegar
3/4 teaspoon orange zest and 2 tablespoons juice from one orange
1 teaspoon honey
Freshly ground black pepper
Method:
Add rice, salt and 3 1/2 cups water to a pot and bring to a boil.
Turn heat down low, cover and simmer until rice is done, about 50 minutes.
Transfer rice to strainer to drain any excess water, then set aside to cool.
Combine rice with cranberries, pecans, scallions, olive oil, vinegar, orange zest, orange juice, and honey.
Season to taste with salt and pepper, then serve.
Recipe: Serious Eats
9. Bacon Pecan and Apple Salad
Ingredients:
6 cups red leaf lettuce, washed and torn
1 sweet apple, diced
4 slices bacon, cooked and crumbled
4 tbsp pecans, toasted
1 chicken breast, cooked and cut in strips
For the dressing:
½ tsp diced garlic
2 tsp dijon mustard
2 tbsp balsamic vinegar
4 tbsp olive oil
salt & pepper, to taste
 In a small bowl, combine all of the ingredients for the dressing and set aside. Place all salad ingredients into a large bowl. Toss dressing with salad and serve.
10. Dessert Salad: All Fruit Salad

Here are some options for fruit to combine: 
watermelon
cantaloupe
green or red grapes
apples
pineapple
strawberries
blueberries
raspberries
oranges
grapefruit
Mix all fruit together – sweeten with sugar if you want and then top fruit with bananas around the edge and in the centre. Serve in bowls, and top with whipped cream and a cherry.
Recipe: KOA
Bring your salads and plan to stay at Broken Head
With our excellent facilities here at Broken Head Holiday Park, you easily can make these recipes and serve up delicious meals for your family or friends while you're on your camping holiday. By saving money on both the accommodation and not going out to eat every meal, you'll be able to check off more of the to-do list in Byron Bay. Plan your stay soon!