5 Top Wineries, Craft Breweries & Distilleries to Visit in Byron Bay

There's nothing better than sipping on a great glass of wine or enjoying an ice-cold craft beer after a day in the sun. If this sounds appealing to you, why not consider including a visit to one of these nearby wineries, craft breweries, or distilleries on your next holiday to Byron Bay?
Byron Bay is part of the Northern Rivers wine region and there's an excellent winery within an hour's drive. Our craft brewing and distilling scene is also exploding. So, make a note to add one of these day trips into your Byron Bay holiday plans. You'll be glad you did!
Wineries
1. Imogen's Farm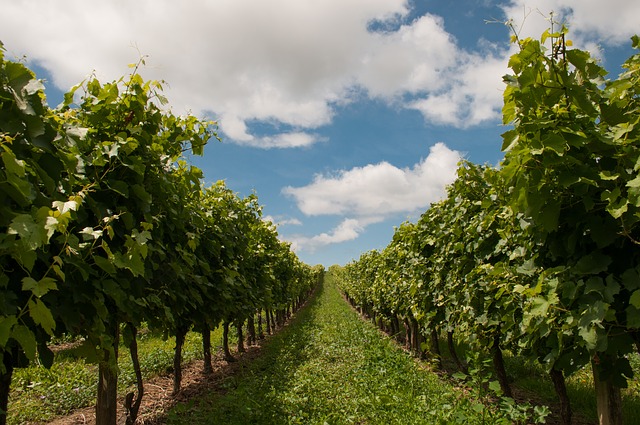 Image source: Imogen's Farm 
Located in Whian Whian, which about is about an hour from Byron Bay, Imogen's Farm sells its wine at The Channon or Bangalow Markets so you can taste before you buy.
This family farm started in memory of a sister and daughter who passed away in 1998. The vineyard came from Imogen's parents, Douglas and Christine Kesteven, who previously ran The Deli Byron in Byron Bay.
The winery now produces several fruit wines, including its award-winning limoncello, made from fermented lemon juice that produces a fortified fruit wine. Other wines also feature a fruity flavour, including:
Wine of Lime – Fortified fruit wine that makes a great dessert wine
Sweet Jaboticaba – A Brazilian berry that grows well in the area and becomes a sherry-like wine
Chambourcin 2013 – Dry, fruity wine

Sweet Chambourcin – The winery recommends serving this wine chilled
In order to visit this winery, you'll need to make arrangements ahead of time by contacting them on (02 6689 5839) or email to wine@imogensfarm.com.
Breweries
2. Stone & Wood Brewing Co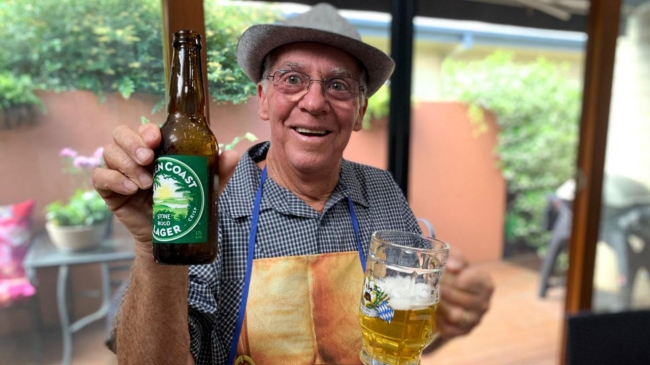 Image Source: Stone & Wood Brewery
Stone & Wood is a local, independently owned brewery in Byron Bay. The brewery was started in 2008 by three friends who decided to leave the corporate brewing industry to start a place of their own! Stone & Wood is a community-centered, approachable brewery with a laid-back atmosphere and some incredibly delicious brews. 
The brewery has a solid range of lagers, ales, and ciders year-round. If you come at the right time, you may even be lucky enough to try some of their seasonal rotations. 
If you just want to come for a beer, relax and enjoy it on the sunny brewery patio. However, if you're more interested in learning about the brewing process, you can join Stone & Wood for a tour. 
Tours last around 60-90 minutes and are a fun experience for all beer-lovers. Group numbers are limited to 12 people.  

All tours begin with a fresh beer of your choice, followed by a conversation about Stone & Wood's commitment to sustainability and community, the history of their beers and how they are brewed. 
Then, guests are escorted to the brewing room where all the magic happens! Tour guides will talk you through the brewing process talk about how their beer is made.

You'll end your tour in the tasting room where you'll get to sample a delicious flight of five pilot beers. 
Tours run two/three times every day of the week except Tuesday. The brewery recommends booking your spot as early as possible. You can book here. 
3. Seven Mile Brewing Co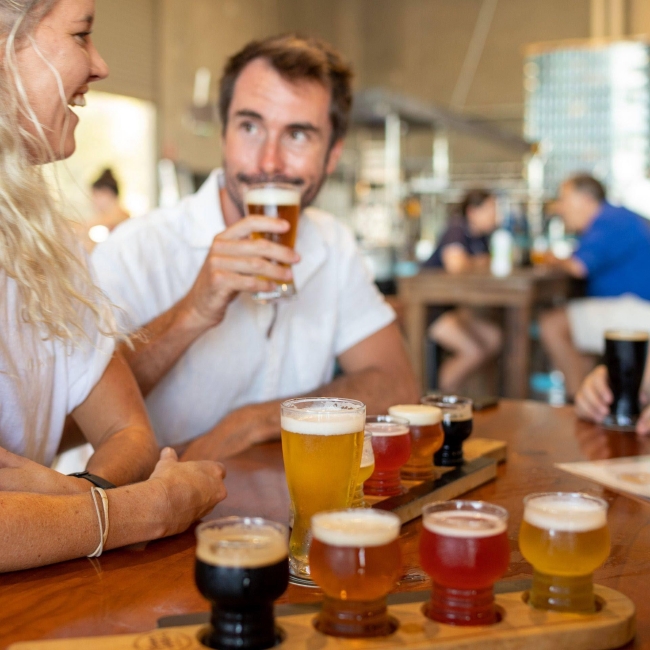 Image Source: Seven Mile Brewing
Seven Mile Brewing is a family-run brewery in nearby Ballina. Father and son duo Matt and Lou Wilson started their brewery after Matt spent some time at both Sydney's Riverside Brewing Company and Manly's 4 Pines. 
The Seven Mile's core range of beers consists of: 
Australian Summer, a light and superbly drinkable brew. 

Cali Cream, an American Pale full of piney US hop character

and their most popular— West Coast IPA
There are also four taps dedicated to seasonal rotations. The brewery is located within a very convenient distance from Ballina Byron Gateway Airport and open from noon to 6pm, Wednesday to Sunday. 
If you're looking for a nice, easy lunch, the brewery features a range of different local food trucks each day.
Distilleries 
4. Lord Byron Distillery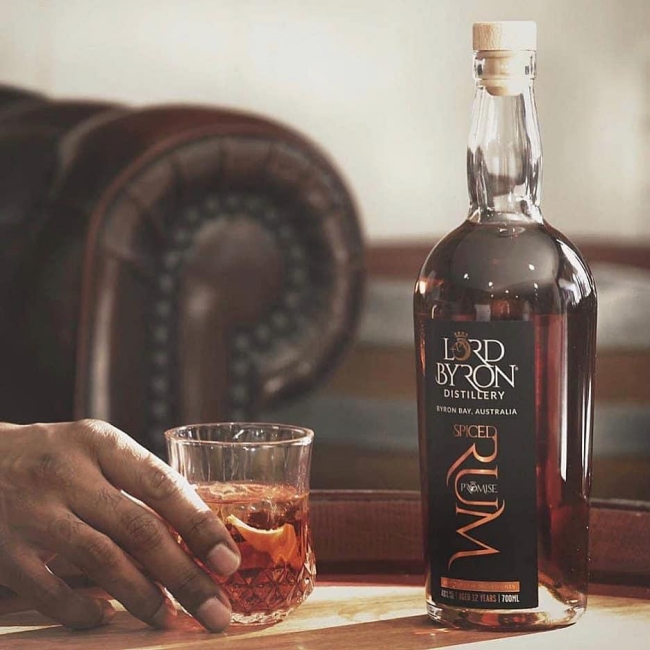 Image Source: Lord Byron Distillery Facebook Page
If you're more of a liquor connoisseur, Lord Byron Distillery is must-see.  This local Byron Bay Distillery distils artisanal spirits from ingredients sourced on their own family farm and from other local growers. 
Lord Byron Distillery has a spirit for every taste — rum, vodka, limoncello, silver cane, and kokomo are among their most popular products. 
The distillery offers a few different tasting experiences. Visitors can go on a tour (which includes a complimentary tasting flight) or sip expertly crafted cocktails in the distillery's cellar door.
The distillery is open Tuesday through Saturday from midday to 5pm. If you are able to stop by during opening hours, the staff welcomes you to check them out in-action working the artisanal process. As the website states: "their traditional methods are an equal measure of engineering and art."
5. Cape Byron Distillery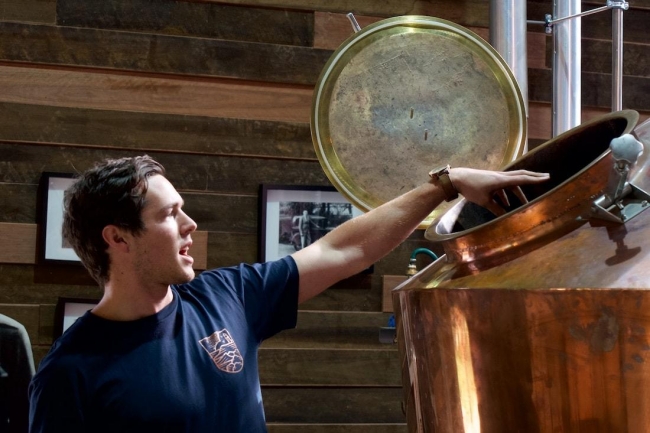 Image Source: Cape Byron Distillery 
Cape Byron Distillery, home of the famous Brookies Gin, can be found just a stone's throw outside of Byron Bay. The distillery focuses on classic spirits like Gin, Moonshine and Whiskey. 
Cape Byron is housed on the site of an old-dairy farm turned rainforest oasis. The site is now a haven for birds and wildlife, and the distillery is committed to rainforest regeneration. 
The distillery has three main tasting options:
A Rainforest and Distillery Tour

which kicks-off on the balcony with a Gin & Tonic garnished with Native Finger Lime & Aniseed Myrtle. The tour guides will lead you through the distilling process and take you on a short stroll through the sub-tropical rainforest. During the tour, you'll see botanicals that are used in the award-winning Brookie's Byron Dry Gin.
A Tasting Session that includes flights for $16 and include a Brookie's Gin & Tonic plus a sample of our Brookie's Byron Dry Gin, Brookie's Byron Slow Gin and Mac. Liqueur. Tasting sessions last around 10 minutes.
Cocktail Sessions can be done anytime out on the distillery's patio. Enjoy choice cocktails crafted with the finest spirits from Cape Byron. 
Cape Byron Distillery is currently open for booked tours, tastings and cocktail visits! Visit this link to book, or for private group session you can email: cellardoor@capebyrondistillery.com.
Book your Byron Bay holiday at Broken Head!
Broken Head Holiday Park makes the perfect home base for your Byron Bay holiday. We're in close proximity to Byron Bay, but offer more peace and quiet. The various types of accommodation we have will work for whatever kind of holiday you're looking for and provide an economical stay.
Come visit Byron Bay and pick one of the above wineries, breweries or distilleries to check out (or even more than one). Don't forget to visit Byron Bay's newest and best stocked wine shop the Beach Bottle in Bay Street too if you're a wine lover. We look forward to seeing you soon!