16 Genius Byron Bay Camping Tips!

Experienced campers know all the usual hints and tips for Byron Bay camping. But even the most stalwart campers can learn from one another. Below are 16 tips that you may not know about to make your camping trip more comfortable and efficient!
Before you leave
A little bit of planning before you leave can help make your trip to Byron Bay Camping a success. Before you set out, use these handy tips to get your packing organised, so that you arrive ready for adventure.
1. Make a List
Ever go to open a can of food when camping and realise you left the can opener behind? Don't feel embarrassed, even the most experienced campers can forget to pack everything that they need for their Byron Bay camping trip.
Have a camping checklist on hand so that you can ensure that nothing essential is left behind. The list will also ensure you don't leave any of your gear at the campsite. You can download and print great camping lists from the internet.
2. Decant Your Liquids
If you are bringing drinks along for your trip, decant them into liquid freezer bags to save space. This also means that you won't have to lug heavy bottles around with you. This trick works best for non-carbonated drinks. Choose the double-sided freezer bags that are specifically designed for liquids to avoid leaks.
3. Use Sauce Containers for Your Toiletries
If you have small reusable containers, like those used to hold sauces or baby food, transfer small amounts of your shampoo, shower gel, and toothpaste into them instead of taking the full bottle. Not only will this save you space in your packing, but they are also easier to transport to the showers when it is time to get washed up.
4. Organise Your Packing with Sealable Bags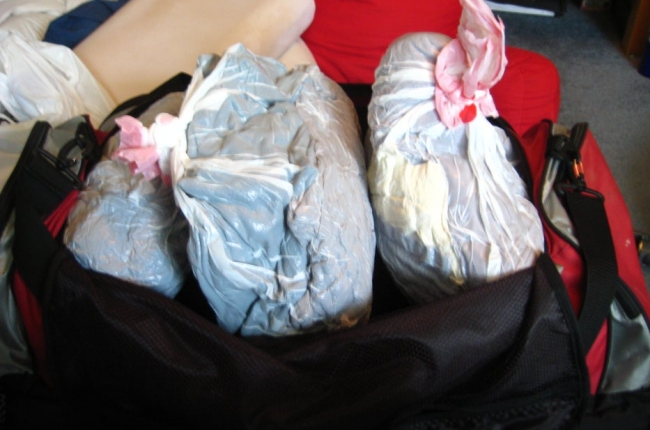 Image source: Instructables.com
When you are living out of a backpack in a tent, it can be hard to keep things organised and find what you need. Make your life easier by dividing your packing into smaller bags inside your main one – extra-large freezer bags are ideal.
Organise your clothes into outfits, including socks and underwear, and pack them into individual bags. Do this for every person on your trip, especially the kids. That way, when you are at the campsite, you can just grab out a new bag each morning and have everything you need in one place. Extra points if you are organised enough to label the bags too.
5. DIY Waterproof Matchstick Box
Hopefully, the rain will keep away during your camping trip, but there's always the chance that things might get wet – even when the weather is good, outdoor adventures often involve water (especially when you are close to the sea).
To keep your matches dry, transfer them from their cardboard box to a small waterproof food storage container. Tape sandpaper to the lid to use for lighting them when you are ready to start up your BBQ.
6. Alternative Ice Packs
Instead of using traditional ice packs to keep your cooler box or bag cold, freeze water in 2 litre or gallon jugs instead. Although these bottles may take up more space in the cooler, they will remain frozen for longer, keeping your perishable goods fresh.
Alternatively, fill resealable bags or vacuum seal packs with liquid dishwashing detergent and freeze them. They take up less space and can be frozen to conform to corners or fit into tight spaces.
7. Wrap Cans in Socks
There is nothing worse than a long car journey with an annoying rattling noise in the boot. To prevent your food cans irritating you for the whole trip to the campsite, put them inside your socks. This stops them from making noise without needing to bring additional packaging.
Setting up your tent
You've arrived at the Byron Bay campsite with your perfectly organised and space-saving packing – it is time to set up your tent. Whether you are an experienced camper or trying it out for the first time, these clever tricks will help you keep the tent comfortable and organised.
8. Foam Floor Tiles
We've all seen the colourful floor tiles that fit into one another and are used in children's bedrooms or playrooms. Take a few of these along and use the tiles to floor your tent. Apart from providing a more comfortable night's sleep, the foam will absorb moisture and condensation that accumulates in the tent while you sleep.
9. Alternative Lantern
Lighting up the dark is essential for every camping experience. As an alternative to an electric lantern, you can take your head lamp and attach it to a soda or water bottle with the light shining inward. The light will refract through the water, providing a warm halo of light at your Byron Bay camping site.
10. Loo Roll Holder
Take a plastic coffee can and cut a slit down one side, insert your toilet roll with the edge of the paper protruding from the slit and voilà! You have a damp-free loo roll holder for your Byron Bay Camping trip. You can also attach string to the coffee can to act as a handle.
11. Shoe Organiser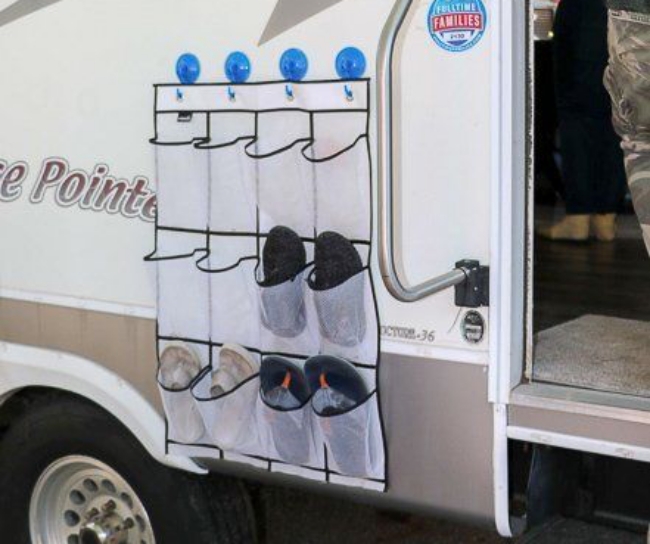 Image source: Mumstrife
Multi-pocket shoe organisers are lightweight and easy to pack down small, they also have many uses when it comes to keeping your tent tidy. Instead of keeping your shoes in them, use them to keep your kitchen supplies organised and easy to find.
12. Pop-Up Wash Basket
Small pop-up wash baskets are great for camping trips – they fold down small, so won't take much space in your packing. Bring two; one for your dirty clothes and one for rubbish. This helps to keep your tent clean and organised, so you aren't constantly having to do the sniff test to determine if a pair of socks has already been worn or not.
13. Pool Noodles
Those colourful tube floats you use in the pool are great for camping too. But not for swimming. Cut them into smaller sections and thread them onto your tent's guy lines to make them more visible. Even during the daylight, it can be easy to trip over the lines, and they are practically invisible at night.
The pool noodles will prevent accidents by making it obvious where the potential trip hazards are. Which is good news if you need the loo in the night.
14. Bring Duct Tape
Duct tape has so many uses when you are camping. Tape the bottom of your trousers before you go walking, use it as a makeshift bandage, protect your feet from blisters, or use it to repair your tent if you find any tears.
You can also use it to keep your tent organised by taping lighter items to the wall of your tent or suspending them from the tent poles (just watch your head).
Enjoying your camping trip
Once your tent is set up and organised, you are all set to enjoy your camping adventure, without the disruption of having to hunt for what you need every morning. We have two last camping hacks for you to help your camping trip go smoothly:
15. Dry Shoes with Newspaper
Hopefully, you've brought some beach appropriate shoes to your Byron Bay camping trip. But if you find your walking shoes have gotten wet, you can help them dry out by stuffing them with newspaper overnight.
16. Tortilla Chips
If you are struggling to get your BBQ to light so that you can cook your dinner, corn tortilla chips make an unexpectedly good firelighter. Pile them on top of the charcoal in the centre of the BBQ and use one of your (dry) matches to light them. You may just have to fight the kids for the chips first.
If you have any other Byron Bay camping tips that our campers can use feel free to leave a comment on our Facebook post. We look forward to seeing you soon!