7 Hearty But Healthy Camping Breakfast Ideas

Holiday camping meals don't necessarily have to come out of a can or a box. There are plenty of fun and interesting ways to serve up delicious camping food for you and your partner or family. And by delicious, we don't mean a bunch of pastries. We've rounded up camping recipes that are both easy and healthy, many of which are either vegetarian (or can easily be converted to be vegetarian) or even vegan. Breakfast is the most important meal of the day (and you need plenty of fuel to take in all the awesome Byron Bay sights), so plan your shopping list and get ready to serve up some delicious holiday food.
1. Breakfast in a Jar
This quick and healthy breakfast is something easy to make ahead of time and bring along in the cooler. These jars will give you a good way to kick off your holiday.
Makes 1 serving
Ingredients
2 Tbsp old fashioned oats
1 Tbsp chia seeds
1/2 banana, mashed
1/2 cup non-fat greek yogurt
2 tsp natural peanut butter (or any nut butter, or even coconut spread)
1/2 cup unsweetened almond milk (or milk of choice)
20 drops stevia
Directions
In a mason jar, combine all ingredients. Add additional milk if it seems too thick. Close jar tightly, shake vigorously, and place in fridge to set overnight.
Source: Busy But Healthy
2. Whole Wheat Pancakes
Serves: 4
Ingredients
2-1/2 cups whole wheat flour
1 tablespoon and 1 teaspoon baking powder
2 servings of egg replacement (equivalent to 2 eggs)
2 1/2 – 3 cups organic, unsweetened soy or almond milk, plus more if necessary
1 teaspoon salt
2 tablespoons brown sugar, honey, or applesauce
1 tsp cinnamon
1 tsp vanilla (optional)
1 cup blueberries (optional)
2 tbs wheat germ or flax seed (optional)
Directions
Stir together the flour and baking powder. Beat together the egg replacer, milk, salt and brown sugar in a bowl. Stir all together, add blueberries, and stir to incorporate.
Preheat a heavy-bottomed skillet over medium heat, and use vegan butter or cooking spray. Pour approximately 1/4 cup of the batter into the pan for each pancake. Cook until bubbly, about 1 1/2 minutes. Turn, and continue cooking until golden brown.
Source: Eat to Thrive
3. One-Pan Big Breakfast Omelette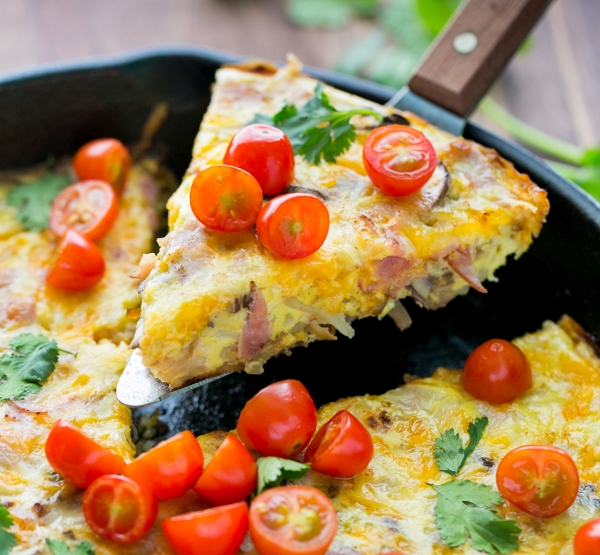 Ingredients
4 rashers of bacon, roughly chopped
handful of mushrooms, chopped roughly
6 eggs beaten (salt and pepper to season)
handful of cherry tomatoes cut in half
generous handful of spinach
grated cheese
butter or oil
Instructions
Heat up a medium size fry pan with butter or oil. Add bacon and cook until it begins to crisps (5-6 minutes). Add the mushrooms and stir for a further 5 minutes.
Drain the excess liquid from the pan and make sure the mushroom and bacon is evenly spread. Pour the eggs carefully so that they fill in the gaps between the ingredients.
Add the tomatoes and spinach. Top with cheese. Cut slices of the Big Breakfast Omelette straight from the pan and enjoy.
Source: Turu.com.au
4. Vegan French Toast
Ingredients
6 slices day-old ciabatta bread, sliced about ¾-inch thick*
1 cup Almond Breeze Almond Milk
1 tablespoon maple syrup, plus more for serving
2 tablespoons millet flour (or spelt or whole wheat)
1 tablespoon nutritional yeast**
1 teaspoon cinnamon
¼ teaspoon freshly ground nutmeg
tiny pinch of salt
coconut oil, for the pan
Toppings
Powdered sugar
Vegan butter
Maple syrup
Fresh fruit
Instructions
In a small bowl, whisk together the almond milk, maple syrup, flour, nutritional yeast, cinnamon, nutmeg and salt.
Place the bread in a shallow dish (with sides) that holds all of the bread. Pour the mixture over the bread, then lift or flip the bread over to make sure both sides are evenly coated.
Heat a drizzle of coconut oil in a large skillet over medium heat. When the pan is hot, add the bread slices and cook for a few minutes per side, until golden brown.
Serve with powdered sugar, a dab of vegan butter, maple syrup, and fresh fruit.
Source: Love and Lemons
5. Ham, Egg and Cheese Breakfast Muffin
A simple camping breakfast that carries enough protein to make it healthy and filling!
Ingredients (for one person):
one English muffin
one egg
one slice ham
one slice cheese
butter, salt and pepper
Instructions:
Any ham (or other breakfast meat) can be used
The eggs are fried as hard eggs, so be sure to break the yolks when you fry them.
Melt the cheese by placing it on the eggs as soon as you turn them.
Toasting the muffins:
If you are using a BBQ grill, just lay the muffins on the grill, and turn once, to toast both sides – then butter the inside of each half.
You can also toast the muffins in a skillet – just make sure it is already hot, and butter the muffins before you toast them.
Source: Camping with Gus
6. Banana Oatmeal With Hazelnut Butter, Raisins and Baobab Powder
This dairy-free and vegan breakfast is another great option for starting your morning while on your Byron Bay holiday.
Serves 1
Ingredients
1 1/2 cups water
1/3 cup + 2 tablespoons steel cut oats
Pinch Himalayan Salt
1 tablespoon hazelnut butter
1 tablespoon maple syrup or preferred sweetener
1/2 teaspoon vanilla powder or extract
1/4 teaspoon cinnamon
1 tablespoon baobab fruit powder
1/4 cup raisins
1 large sliced banana
1 tablespoon hemp seeds
Instructions
Pour the water into a pot and stir in the salt. Throw in all the oats and bring the water to a boil, stirring occasionally. Once boiling, bring the temperate down to low and simmer until the oats absorb the water.
Throw all the other ingredients – except the banana and raisins, into the bottom of a bowl, then pour on your oatmeal and mix everything together.
Top with banana slices, raisins, and hemp seeds.
Source: One Green Planet 
7. Smoothie in a Jar
Smoothies are an excellent way to have a quick, healthy breakfast quickly before you head out on a fun, exciting day of exploring the Byron Bay area.
Ingredients
Method:
Blend, and pour into a freezer safe jar – only up to 3/4 full, as you need to leave room for freezing expansion. Then freeze.
Take to the campsite and it will start to defrost in your esky/fridge over a day or two (depending on the weather). Shake before drinking. (Unless, of course, you're having it the first day of the holiday then just shake.)
Source: Go Camping Australia
Enjoy some healthy camping breakfasts while staying at Broken Head!
You can test out these camping meals and more while you holiday at Broken Head Holiday Park. Use these easy camping recipes to give you a meal plan for your holiday — figure out what to buy ahead of time, what you can make at home to save time at the campsite and what you can bring along to make a healthy and delicious breakfast when you get here. We look forward to seeing you here!