Come Camping This Christmas at Broken Head

Create a relaxing and fun Christmas this year by booking a stay at Broken Head Holiday Park, where you and your family or mates will be within walking distance of the beach and near all the fun activities of Byron Bay. You and your family will never forget your beach Christmas holiday!
Christmas Events in Byron Bay
Depending on when you arrive at your budget accommodation in Byron Bay for the holidays, you and your family might enjoy one of these activities to put you in a festive mood.
Carols By the Sea – 8 December 
Byron Bay's Apex Park is the site of this annual tradition. This free Byron Bay Christmas event takes place from 6:30 to 8:30 pm, and attendees are encouraged to bring blankets and picnics to enjoy on the beach as they listen to all the great music. If you walk towards the main beach on Jonson Street, head across the park towards the beach where you won't be able to miss the stage set up. Lay out your blanket and get comfy for a fun family-friendly evening of holiday cheer!
Twilight Markets and Christmas Celebrations – 13 December 
Brunswick Heads puts on a fun evening of Christmas cheer on Wednesday, 13 December for the whole family from 3 to 9 pm. Plus, do some shopping at the stores or have a nice dinner out at any of the restaurants before you head over for the festivities.
Christmas Feast
If you like preparing the meal for Christmas, not to worry! You can still have an excellent Christmas lunch or dinner at Broken Head Holiday Park. You and your family can dine on a yummy dinner while enjoying the beautiful weather, if you just do a little planning. For example, it is possible to cook an entire roast in the BBQ. See how here. Or perhaps if you're looking for something a little simpler, like cooking up fresh fish or steaks on BBQ along with some vegetables. Add some favourite pre-made family treats that you brought along, and you're ready to have a wonderful Christmas meal.
If you'd prefer just to let someone else do the work, then here's a few options for a delicious meal to complement your Christmas in Byron Bay:
Italian at the Pacific
This Byron Bay restaurant offers two times for seating, 12-2:30pm or 3-5:30pm, for Christmas lunch. To start, guests will be served a selection of canapés, and then guests will be able to pick one entree and one main course. To finish the lunch, a duo of desserts will be presented. The lunch costs $165/adult. Bookings are essential.
The Balcony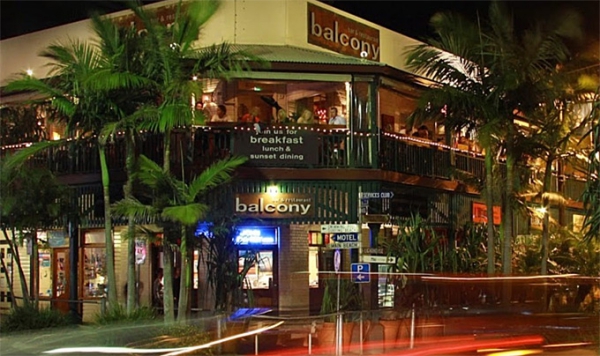 Make your reservation with this Byron Bay restaurant for the whole family to dine on a three-course Christmas lunch. When you and your guests arrive, you'll be greeted with Tyrells Sparkling for the adults and for the kids all the soft drinks or juice they can drink. You'll be able to taste the premium seafood platter before sitting down to an entree and sides. You'll finish with Sean's Eaton Mess and a cheeseboard to share. Price is $180 for adults and includes a half of a bottle of wine. Children 5-18 cost $70 per head, and children under 5 years eat at no charge. Lunch will begin being served at noon with three booking times of noon, 12:30 pm and 1 pm. Space is limited so be sure to make a booking.
The Graze at Elements of Byron Bay
If you haven't booked this already, you might be out of luck, but the website does say that you are welcome to call the restaurant on Christmas Day and check for any last-minute availability. There are buffets available for breakfast, lunch and dinner. The buffets for lunch and dinner will consist of pizza oven breads, cured meats, prawns, wide selection of salads, roasted turkey, pork, glazed ham, baked salmon, selection of vegetable sides, desserts, fruit platters and cheese. Breakfast buffet is served 7-10:30am for $25 for continental and $35 for a la carte; lunch and dinner buffets both cost $140 per person ($70 for children 12 and under) with lunch served from noon to 3 pm and dinner from 6 to 8 pm or 8:30 pm onwards.
Go Ahead and Book Your Christmas Stay
Booking a Byron Bay camping holiday this Christmas is sure to produce memories for your family to cherish for years to come. Your whole family might have so much fun that you might want to make it an annual tradition!