Come Camping This Christmas at Broken Head

Make Christmas a relaxing and memorable event this year by booking a stay at Broken Head Holiday Park, where you can enjoy all the fun things to do in the Byron Bay area. Imagine how good it will feel to spend the Christmas holiday with the beach just a few steps away and tons of fun activities nearby. You and your family will never forget your beach Christmas holiday!
Christmas Events in Byron Bay
Depending on when you arrive at your budget accommodation in Byron Bay for the holidays, you and your family might enjoy one of these activities to put you in a festive mood.
Carols By the Sea – December 9
Byron Bay's Apex Park is the site of this annual tradition. This free Byron Bay Christmas event takes place from 6:30 to 8:30 pm, and attendees are encouraged to bring blankets and picnics to enjoy on the beach as they listen to all the great music. If you walk towards the main beach on Jonson Street, head across the park towards the beach where you won't be able to miss the stage set up. Lay out your blanket and get comfy for a fun family-friendly evening of holiday cheer!
Twilight Markets and Christmas Celebrations – December 14
Brunswick Heads puts on a fun evening of

Christmas cheer on December 14

for the whole family from 3 to 9 pm. Plus, do some shopping at the stores or have a nice dinner out at any of the restaurants before you head over for the festivities.
Bangalow Christmas Eve Carnival – December 24
From 5 to 9pm on Christmas Eve, head over to nearby Bangalow to enjoy some yummy food and lots of fun family activities such as carnival rides and face painting, as well as street performers and musicians playing. The

enjoyable free family event

also typically includes a visit from Santa Claus and carol singing. Check the website for more details as the closer we get to Christmas Eve.
Christmas Feast
If you like preparing the meal for Christmas, not to worry! You can still have an excellent Christmas lunch or dinner at Broken Head Holiday Park. You and your family can nosh on a yummy dinner while enjoying the beautiful weather, if you just do a little planning. For example, it is possible to cook an entire roast in the BBQ. See how here. Or perhaps if you're looking for something a little simpler, like cooking up fresh fish or steaks on BBQ along with some vegetables. Add some favourite pre-made family treats that you brought along, and you're ready to have a wonderful Christmas meal.
If you'd prefer just to let someone else do the work, then here's a few options for a delicious meal to complement your Christmas in Byron Bay:
Italian at the Pacific
This Byron Bay restaurant offers two times for seating, 12-2:30pm or 3-5:30pm, for Christmas lunch. Guests will be able to pick one entree and one main course and then will be served a duo of desserts. The lunch costs $165/adult, $80/child 8-14 and $30 for children 0-7 (there is a separate children's menu). Bookings are essential.
The Balcony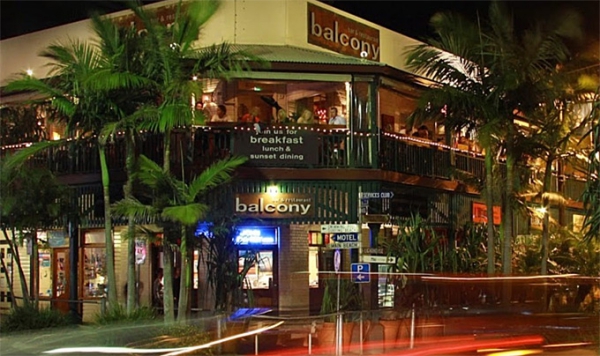 Every year, the Balcony offers a Christmas lunch. This Byron Bay restaurant will provides French champagne upon arrival, a "Christmas feast with all the trimmings" and live entertainment. The cost is $180/adult.
Go Ahead and Book Your Christmas Stay
Booking a Byron Bay camping holiday this Christmas is sure to produce memories for your family to cherish for years to come. Your whole family might have so much fun that you might want to make it an annual tradition!