Broken Head Holiday Park Accommodation Byron Bay
Broken Head Holiday Park, everyone knows where Byron Bay is, now come and enjoy Broken Head. We're at the southern end,  of Byron Bay and just a few minutes from the main street in Byron Bay. Leave the hussle and bussle and the noise of traffic where it is. Visit one of the more peaceful settings in this eastern most corner of Australia. Our facilities are well maintained and are constantly being improved, all aimed at increasing your enjoyment when you take a few precious moments out of your lives to kick back and relax. Our staff are committed to ensuring your stay is enjoyable, we aim to be as friendly and professional as we can possibly be, and if you need help with anything, we'd like you to just ask and we'll see what we can do to improve your holiday with us.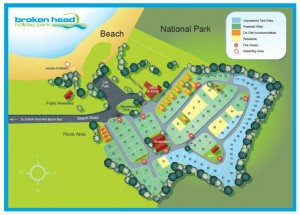 Download the Park Map in PDF
here
.
Broken Head Holiday Park offers a range of accommodation styles to suit your budget. Some will appreciate the true 'beach holiday experience' with one of our more affordable Beach Cabin options, others may prefer to 'upgrade' a little and seek a Beach Cabin with an En-Suite. Looking for more comfort, try our two bedroom Beach House, or the Beach Shacks, now offering a microwave in every Unit to add to their small basic kitchenette.
Families come back year after year and now their children are sharing their childhood memories by bringing their children. It may have something to do with our setting (surrounded on three sides by National Park) with the beach literally at your front door. Please review and check our accommodation options;
Beach Shacks
Beach Cabins
Beach House – 2 bedroom
Powered Camping Sites
Non-powered Camping sites.
All of our guests enjoy free access to our wi-fi wireless internet service within the Park.
**Please note park policy requires you to have current ID and a valid credit card for all cabin accommodation.  Unfortunately if you can not provide these, we are unable to accept your booking.
Terms and conditions apply to all bookings made at Broken Head Holiday Park.  As of 1st August 2014 we require a refundable $200 credit card security for all cabin accommodation.  This $200 will be returned to your credit card within 2-5 days of departure.  Any damages to the cabin or inventory will be deducted from the security bond.
To view the Broken Head Holiday Park site map, please click here.