What's On? Byron Spirit Festival 31 March – 2 April

If you're looking to come to Byron Bay to experience its famous laid-back attitude and excellent yoga offerings, then be sure to book your next holiday here for the upcoming Byron Spirit Festival, 31 March-2 April. This three-day Byron Bay festival features tons of workshops on yoga, dance, music, healing arts and much more.
The Spirit Festival will be held in Mullumbimby, which is only 15 minutes north of Byron Bay's town centre. The town refers to itself as the "Biggest Little Town in Australia," and this little town doesn't disappoint. If you read other posts on this blog, you'll see that we are big fans of Mullumbimby; in fact, we recommend going there as a day trip from Byron Bay. We also highlight it in several other blog posts, so getting to spend a couple of days here attending the Byron Spirit Festival is highly recommended.
For the second year, the festival also includes a four-day retreat following the festival where you'll experience a deep immersion in mind, body and spirit through daily yoga, 5Rhythms Dance, chanting, bodywork, satsang and breathwork. You will stay on site and be served three organic meals per day. Cost varies (depending on your preferred sleeping arrangement) between $545 and $695.
For those who just want a short deep dive, you can attend the pre-conference Breath of Bliss workshop on Thursday, March 30. You can attend for $55, which includes an hour-long lying down breathwork journey.
Tickets are selling out quick for the Byron Spirit Festival so you should check out your options, especially if you're looking to go for the whole weekend. A full weekend now costs $249.26 per person whereas individual day and evening tickets cost $111.24 per person or for just evenings you can come for $36-39 per person.
If you don't have your car, it's easy to get to Mullumbimby for any of the days the Byron Bay festival is going on with the help of the public bus. Or if you're staying for a longer holiday, then it might make sense to hire a car so you can check out all of what the Byron shire has to offer holiday visitors.
Schedule highlights
The three-day event lineup runs the gamut with yoga sessions, meditation, dance workshops, music and all kinds of other interesting sessions. The following are just a few of the highlights that this Byron Bay festival offers for visitors.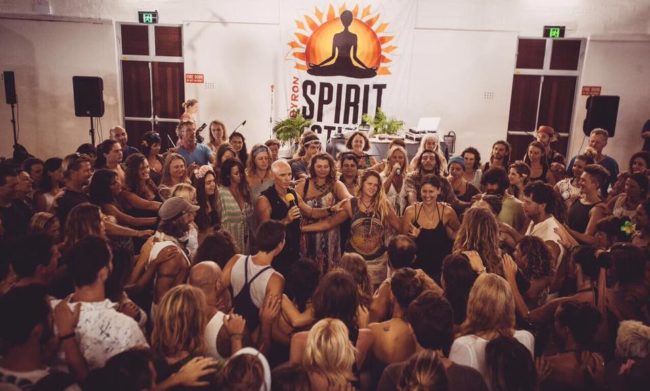 Friday
Lakota John will give a talk about his journey from the "dark world he used to live in" and how he was able to restore his life. He helps guide others out of that place now.
Teachings from the Mesa:

Explore the power of carrying a medicine bundle. Inspired from Andean traditions, generously shared by their elders.

Yoga Meets Chinese Medicine: This class wants you to have less of THIS and more of this.

This class will look at "postural patterns, the lungs and large intentine meridians and invite you to be courageously honest…using the tools of Breath, movement and mindful touch."

4 on the Floor, a Yin Yoga Class: This class involves four yoga poses and a long guided shavasana in the yin style of yoga.

Didgeridoo Sound Journey: "Deep transcendental sound healing journey with Eshua Bolton on didgeridoo."

Friday Night Concert: This concert will "present an array of international and Australian musicians and ceremonial masters that live and give connection via their special musical gifts."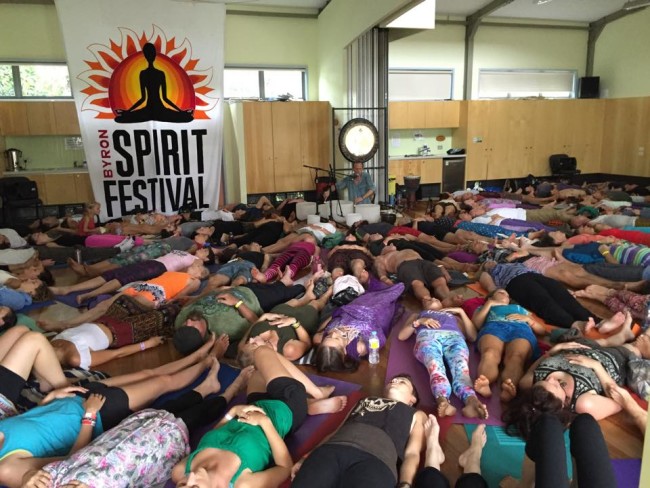 Saturday
Soul Vibing Experience: "

A transformational journey using ancient ritual, shamanic breath work and live sound immersion with didgeridoo, drums, gongs, crystal bowls, channeled vocals and Tibetan bells."

Connect with your Divine Feminine (Moon Flow Yoga): Learn about the practice of "chandra namaskar," which in sanskrit, chandra means moon. Moon flow yoga should be practiced at night, especially during a full moon and is intended to cooling and soothing.
Songlines and the Planetary Grid:

Deya Dova presents an "audio visual talk on the science, origins and experience of the Earth's energetic field –  the Planetary Grid. Exploring how the  crystaliline planetary grid relates to indigenous songlines around the globe."

Contact Dance Improvisation:

Baptiste Sejourne will lead the group from tango to acrobatic and expressive dance forms of lindy hop before finally reaching free form movements of "contact improvisation."

Cuddle Party: Hugs are involved. "

Depending on culture, context and relationship, a hug can indicate familiarity, love, affection, friendship or sympathy."

Vocal Body Jamm:

Renowned NSW troubadour Murray Kyle guides this "playshop of discovery into body and voice. Fun and interactive, we will play together with harmonies, full body listening, vocal interpretation, contact improv and toning."

Saturday Night Concert: This evening starts with the "Raw Food Goddess" Jemma Gawned presenting the "Cacao Ceremony, a transformative experience," followed by musicians Elijah Ray and Deya Dova.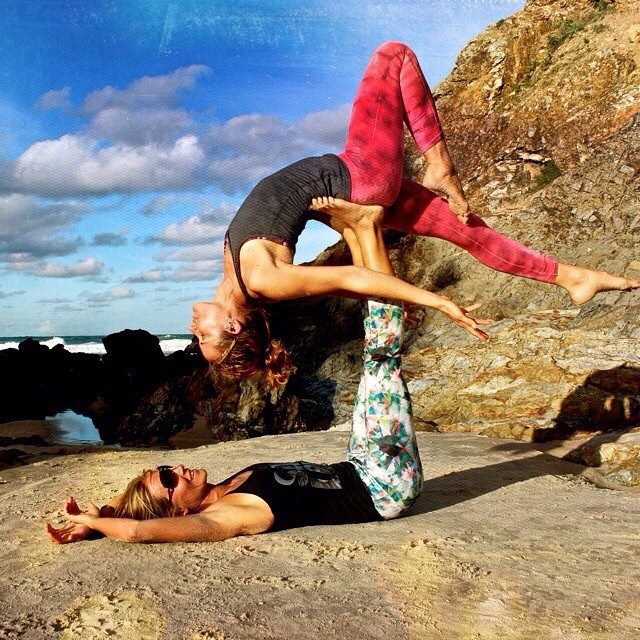 Sunday
Vinyasa Hips and Twists Workshop: This workshop focuses on opening the hips, relaxing and strengthening the quads, the thighs and stretching the hamstrings. In addition, participants will work on untwisting the spine, releasing lots of tension.
AcroYoga Partner Flow: AcroYoga is a blend of three practices: yoga for flexibility of body and mind, acrobatics for agility and strength building and Thai Massage to balance the active and dynamic with nurturing therapy.
Hawaiian Shamanic Healing : This shamanic breath and movement practice believes that we "journey deep within and far beyond, expanding our awareness, raising our frequency and shifting patterns gracefully." The journey is supported by heart opening music and tribal beats in sacred space.
Embodying the Sacred Masculine: This workshop, for just men, will examine the masculine archetypes in a "safe and sacred container that offers a clear grounded constellation of the mature masculine." Hamilton Barnett will combine movement meditation and instinctual dance with an inspired mix of global shamanic music during the workshop.
The Totem Pole Process: This workshop explores, with the use of the medicine drum and deep imagery, the animal guides that reside within your 7

energetic centres (chakras). The Totem Pole Process was developed by Dr. Eligio Stephen Gallegos, and it blends the theory of active imagination, which was created by Dr. C. G. Jung; the Eastern theoretical orientation which understands the human being as a system of interrelated energies (or chakras); and the Native American practice of speaking to and learning from the animal kingdom.

YogaRhythms (NZ) Ancient, Free & Wild: YogaRhythms is "fast becoming a regular fixture on the transformation festival circuit across Australia and NZ as a crew who delivers heart opening, foot stomping, yoga-dance experiences." Workshop participants will move to a guided yoga flow and dance with an amazing playlist mixed live by DJS.
Make Broken Head your base for the Byron Spirit Festival
Skip the crowds in Mullumbimby during the Spirit Festival, and instead stay at Broken Head Holiday Park. Our tranquil setting and affordable accommodation makes a perfect spot to rest after your sessions at the Byron Spirit Festival. Plus, you can take in some of Byron Bay's sights before or after you attend the festival!